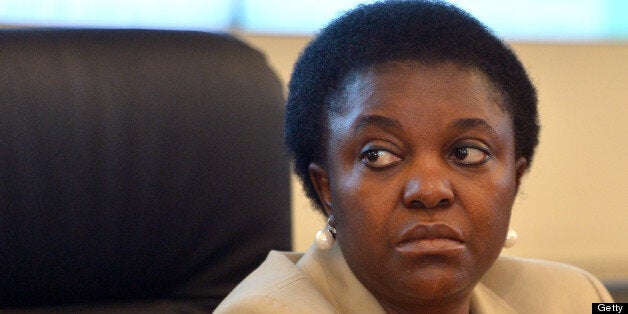 ROME, Aug 1 (Reuters) - Italy's first black minister has pulled out of a debate with the anti-immigrant Northern League after its leader refused to condemn a barrage of racial insults she has faced from his party's members.
Integration Minister Cecile Kyenge, who wants to make it easier for immigrants to gain Italian citizenship, was due to discuss the issue with Veneto Governor Luca Zaia at a Northern League festival near Cervia on the Adriatic Coast on Saturday.
Kyenge, an Italian citizen born in Democratic Republic of Congo, was speaking at a rally in Cervia last Friday when an audience member threw bananas at her, a few weeks after a Northern League senator compared her to an orangutan.
It is unclear who threw the bananas, which narrowly missed the stage where Kyenge was speaking. Local prosecutors have opened an investigation into the incident.
Since her appointment to Prime Minister Enrico Letta's left-right coalition government in April, Kyenge, an eye doctor, has been the target of racist and sexist slurs, many from League members.
In June, a local League councillor suggested Kyenge should be raped so she could know how victims of crimes committed by immigrants feel. The councillor has received a suspended jail sentence and a ban from holding public office.
Kyenge is backing a law that would automatically make anyone born on Italian soil a citizen. A Northern League member of the European Parliament, Mario Borghezio, has accused her of wanting to impose "tribal traditions" in Italy.
This week Kyenge appealed to League leader Roberto Maroni to speak out against the insults after local councillors from the party in Cantu, north of Milan, walked out of a meeting to protest her attendance.
Letta has also demanded that the Northern League take action, saying the insults were damaging Italy's standing abroad.
Maroni has so far refused to speak out, so Kyenge's office said on Thursday she would no longer be attending the immigration debate.
Kyenge "remains open to dialogue and confrontation, as long as the right conditions exist for it," her office said.
League parliamentarian Gianluca Pini said in a statement that the party was "very disappointed" with her decision as they had wanted a "civil and frank" discussion on immigration. (Editing by Robin Pomeroy)
Calling all HuffPost superfans!
Sign up for membership to become a founding member and help shape HuffPost's next chapter
BEFORE YOU GO
PHOTO GALLERY
Cecile Kyenge