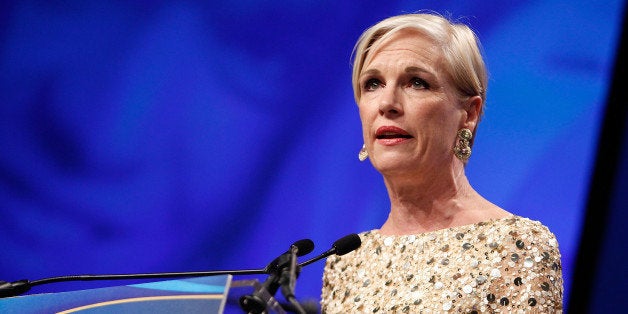 Planned Parenthood president Cecile Richards paid tribute to two college sexual assault activists during her commencement address at Barnard College on Sunday.
Richards spoke to the female college graduates in a speech themed around the progress women have made, largely due to activists who challenged authority on a range of issues. The Planned Parenthood leader is the daughter of former Texas Governor Ann Richards.
"That's the thing about women," Richards said during her speech. "Give us an inch and we just won't quit."
Richards went on to highlight Annie Clark, a University of North Carolina-Chapel Hill graduate, and Andrea Pino, a current undergrad at the Tar Heel state flagship institution. Clark and Pino cofounded End Rape On Campus and have assisted a number of students, faculty and alumni in filing federal complaints against their universities over institutional handling of sexual assault cases.
A portion of Richard's speech, according to prepared remarks:
And then there's Annie Clark and Andrea Pino, who met after they had each been sexually assaulted as students at UNC and realized what happened to them was happening everywhere. And no one was talking about it.

The first time they pitched their story to a national reporter, the reporter laughed.

Two months later they were on the front page of The New York Times.

That's when the floodgates opened. They heard from hundreds of survivors all over the country.

And then this March, Annie and Andrea showed up at Senator Kirsten Gillibrand's office without an appointment and said, "Let's talk about ending sexual assault on campus."

As Annie tells it: "We started talking – and she listened."

Today they've formed a national network of survivors, working with Congress and the White House to end campus sexual assault and demand justice.

The common theme?

These women didn't wait to be asked. They just jumped headfirst.
Richards also discussed accomplishments by Ory Okolloh, Congresswoman Bella Abzug and Reshma Saujani, among others.
"So I'm here to tell you -– just do it. Whatever it is. Say yes," Richards said. "You're Barnard women and certainly have the smarts and training to figure everything else out. As the late great Nora Ephron advised, 'Be the heroine of your life, never the victim.'"
Popular in the Community