"Wherever I lay my jewels, I lay my head."
-- HSH Princess Cécile zu Hohenlohe-Langenburg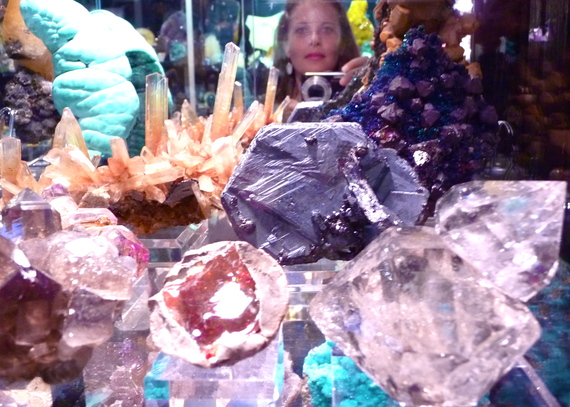 It was on one of those stereotypically crisp, sunny late afternoons that are so emblematic of springtime in the City of Angels that I first met HSH Princess Cecile zu Hohenlohe-Langenburg for coffee on an outdoor patio at the heart of West LA's tony Brentwood Country Mart. Fresh faced with her hair pulled loosely back and dressed casually in a fitted leather jacket and jeans, my regal coffee date looked more like one of the chic Santa Monica locals buzzing around the popular shopping plaza than one might expect of the progeny of one Germany's oldest royal families.
As the eldest daughter of Prince Kraft Alexander Ernst Ludwig Georg Emich and Princess Charlotte of Croy, the granddaughter of Princess Margarita of Greece and Denmark (who was herself the was the first great-great-grandchild of Queen Victoria), the great niece of Prince Phillip, Duke of Edinburgh and Queen Elizabeth II, the cousin to Princes William and Harry and the ex-wife of French Count Cyril Amédée de Commarque, son of Princess Marie Clotilde Bonaparte, to say that Cécile zu Hohenlohe's royal connections are not only significant but dizzyingly fascinating, if almost impossible to follow, would be something of an understatement. And yet, though she can count her place in the royal succession to the throne of England, the most discernibly royal quality about the woman sitting across from me clutching a warm beverage and a bag of jewels on that picturesque Southern California afternoon was the beatific nature of her smile and the unconsciously effortless graciousness of her demeanor.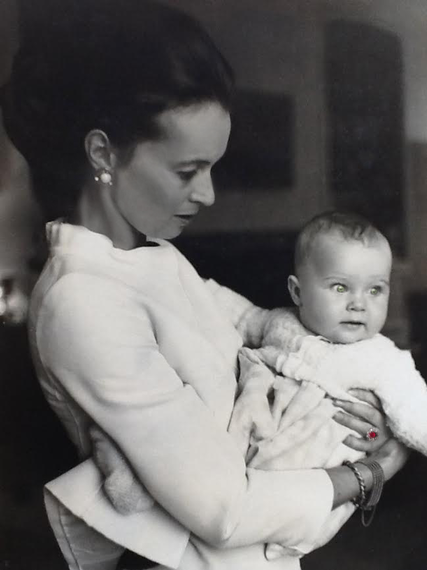 In fact, it is immediately obvious within minutes of conversation with Her Serene Highness (who actually in a nod to modernity eschews any of the pretense of titles beyond their association with her work) that while she readily acknowledges the unique and privileged nature of her heritage, she is far less enamored of her royal ties than others (myself included) seem to be. She is even quick to admit to not knowing her family history well enough, much to the chagrin of her mother. Which is not to say that she takes it all lightly, because, in truth, her family history is in large part the reason we had convened to chat.
After a lifelong interest in art and beauty that began at boarding school and then continued through her study of sculpture, prop making and stage design at art school in London, Cécile has created a singularly glittering exhibition of one-of-a-kind "hand sculptures" called In the Space Between that can currently be seen through Labor Day at Grey Area in East Hampton, NY. A collection of rings filled with contrasts, in which that which is old is made new, while that which is high is commingled with that which is low, In the Space Between combines precious and semi-precious stones along with other elements that have been culled from the Hohenlohe family estate and grounds, Langenburg Castle in Germany and Cécile's extensive travels to exotic and sacred locales around the world to give birth to artistic creations that seemingly float on the hand while simultaneously providing vessels for telling stories, which is what interests their designer most.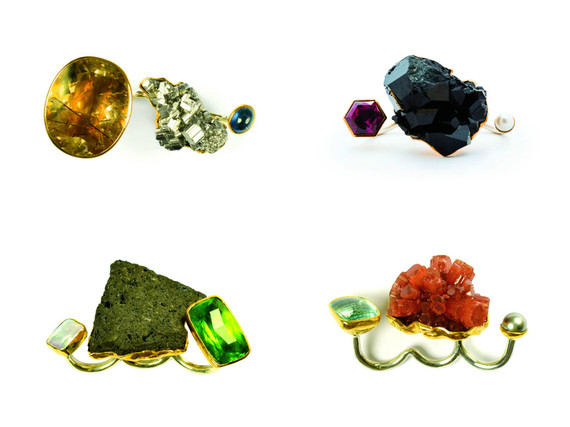 "I like using things which may not traditionally be set together or be what we perceive of as valuable objects or materials," Cécile explains with a certain air of delight. "It can be a pebble or piece of old concrete but you set it with an amazing stone and suddenly a completely different kind of dialogue begins to happen for both pieces. I like the contrast. I [like] allowing these pieces to come into conversation with each other."
Conversation and stories are in fact the very foundation of Cécile's collection beginning with the intimate discourse she entered into with nature at a very young age in the scenic Hohenlohe region of Germany. "Growing up [at Langenburg Castle] was just a very protected upbringing in the sense that it was wholesome. There was a lot of contact with the nature that was around the place and that for me was a big part of my refuge as child," Cécile recalls of the centuries old childhood home where she still maintains the studio to which she returns to create with the help of local master goldsmiths and silversmiths whose connection to her family traces back more than a century. "Being in the castle which also had a certain rigidity ... which was quite conservative and conventional... freedom or inspiration was often found in the woods where I could just be free because I didn't have to be the person that I had to be in the castle. Everyone in the village knew who you were, of course. With the name in German you're sort of branded so to speak. So to me the moment of freedom was always when you were allowed to just be without any of that on one's back. That was found out in nature."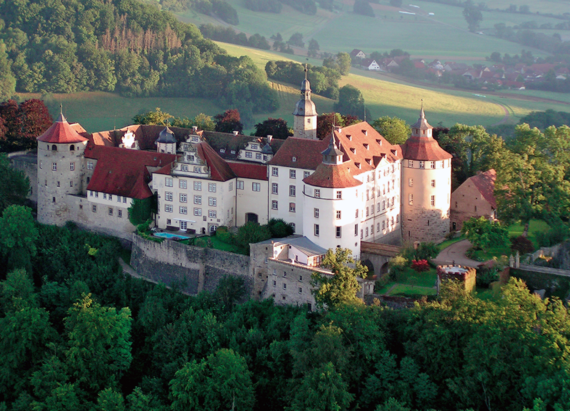 Meanwhile back at the castle, a different and perhaps equally formative conversation was taking place between Cécile and her royal forbears. "There were these family events or bigger balls or things that my parents or my aunt or grandmother attended," she recalls. "As a little girl of course there was just this thing when all the preparation started and all the dresses came out. They would all discuss which dresses they were going to wear, then who was going to wear which tiara and which jewels would go with what. When I was smaller and we were in London for the wedding of Prince Charles and Lady Diana, we were able to be there and watch from Buckingham Palace. I was still too young to go to any of the balls or anything, but it was special watching my mother getting dressed up and putting these things on. [It was special], just sitting there and staring at these things and getting to see them and grow up with them - not just in the trays but actually still worn which I think is rarer and rarer these days."
Of particular note to a young Cécile was a jewelry casket she found while rummaging through the castle's many cupboards and drawers, a practice which remains one of her favorite pastimes at Langenburg. "The box was just so beautiful because for the one thing it had this Yves Klein blue lining on the inside and then there were the three trays," she says. "It was empty of course because the jewels had been being sold to support Russian family members after the revolution and then what wasn't sold had been burned in the castle fire in 1963. So it was up to my imagination to fill the boxes because there was nothing in there other than the imprints which were sort of like echoes of past times. That box was certainly a big part of my inspiration. It wasn't the absence or the lack of, it was that blue that gave the possibility of new things arising from it."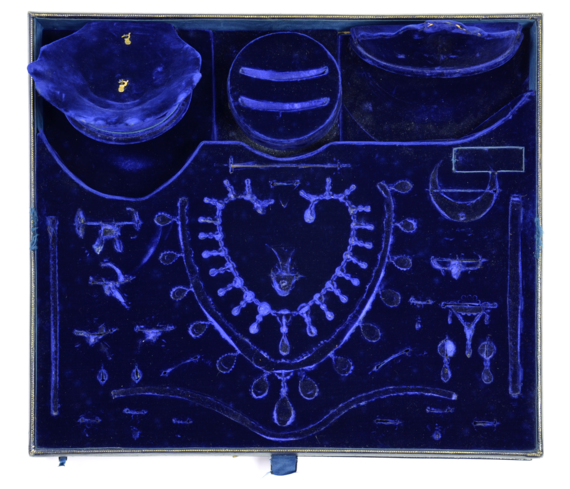 "My grandmother, Margarita of Greece, the sister of Prince Philip, she would often show me pieces and tell me stories," she continues. "So it was always about the connection of the stories attached to [the gems], which I think made them even more special because it wasn't just about the piece but it was the story that made the piece special. It was who gave it to her and on what occasion. She lost a whole bunch of things when the castle burned down in 1963 and so sometimes she just had photographs of herself with these pieces that were then gone. There was a lot of movement and displacement in her life, having fled from Greece to Paris and having married in Germany but part of the way of connecting with her was me sitting with her looking at these things and her allowing me to play with these things as well. So as a little girl to be able to put on these big rings which obviously wouldn't hold on the fingers and slip bracelets over the arms was just a way of having a special moment with her as well."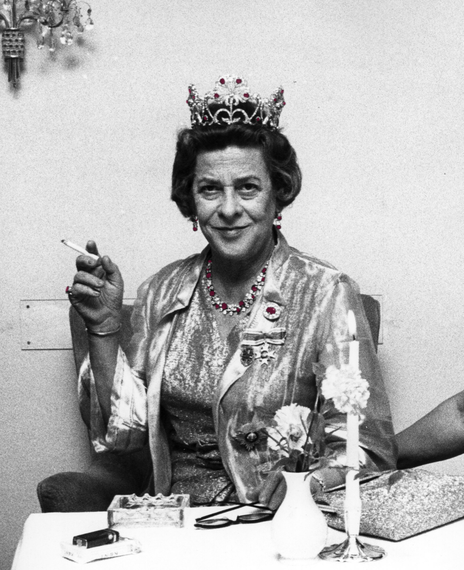 Today, Cécile continues the tradition of telling stories through well-traveled jewels with the collection of her creations with which she has been making her way around the world for more than a year. "There are pieces that I found on various beaches such as in Jordan on the Red Sea, on the Black Sea in Bulgaria, in Greece on some of the islands, little pebbles from the Ganges and also from a lot of sacred sites as well that I've been to visit... Things that meant something to me," she offers in explanation of the make-up of her collection. "I just always have my eyes peeled. It's really funny that. Just the other day I was on the beach at a house in East Hampton that had been gutted and there were some really great chunks of concrete in there all crumbled up. I just never know where I'll find something that could end up in one of these pieces but it's just a constant way of me being in contact with my environment where ever I am. So I sort of schlep these bags back from wherever I go with stones or rocks and this that and the other," she says with obvious amusement at herself.
Perhaps more than any other, one particular ring captures the spirit and beauty of In The Space Between, because of the journey from the past to the present it tells. "I call it the Lotus Ring and It includes the engagement ring that my father gave my mother on a big chunk of molten bronze that I found in the ashes [of the castle]," the artist says of the piece.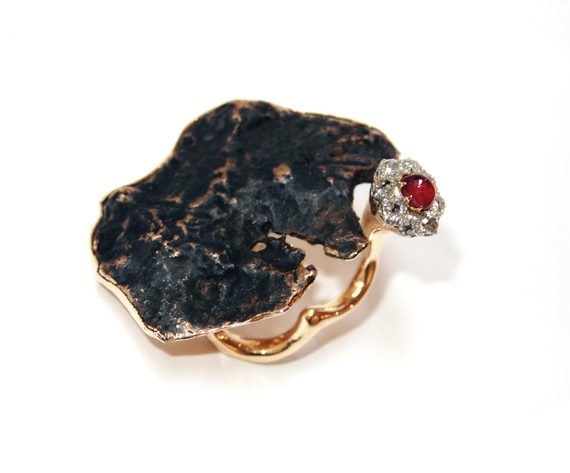 "My mother gave me that engagement ring after my father passed and I never wore it. It was just sitting in a box in a drawer and yet it meant a lot to me and I kind of regretted that I didn't use it. So when I was making the other pieces, it was sitting there right with all the other stones and I kept on wondering what I would do with it. I set it with other stones and it just wasn't happening. And then the contrast of where it came from came to mind. It was the only piece that was left out of that whole box of jewels. Everything else had been sort of lost, sold or charred so it sort of found its natural place with that charred piece of bronze. Symbolically of course, it's very much like the Phoenix rising from the flames, which is our family crest, and also a little bit like the symbolism of the Lotus rising from the mud unstained."
Like a Lotus rising from the mud indeed. Just as might be said of the entire In The Space Between collection, an eclectic array of pieces that have traveled from places both significant and inconsequential to tell unique tales from a most compelling life.
See a full range Cécile zu Hohenlohe's stories told through her art at Grey Area in East Hampton through Labor Day and then keep your eyes peeled for upcoming exhibitions around the world in Bangkok, Hong Kong, Delhi and Mumbai.
To visit Langenburg Castle or find out more about its history click here.
Popular in the Community