By VERENA DOBNIK, Associated Press
As first lady of France, Cecilia Sarkozy sat in a desert tent with Libyan dictator Moammar Gadhafi, winning the release of five Bulgarian nurses and a Palestinian doctor sentenced to death on charges of injecting children with HIV.
Three years later, she's a New Yorker -- leading a conference on women in distress and supporting a nun in Queens who rebuilds the lives of ex-convict working moms.
Check out this picture of Cecilia her husband Richard Attias at Monday night's premiere of "Redlight" in NYC and scroll down to keep reading!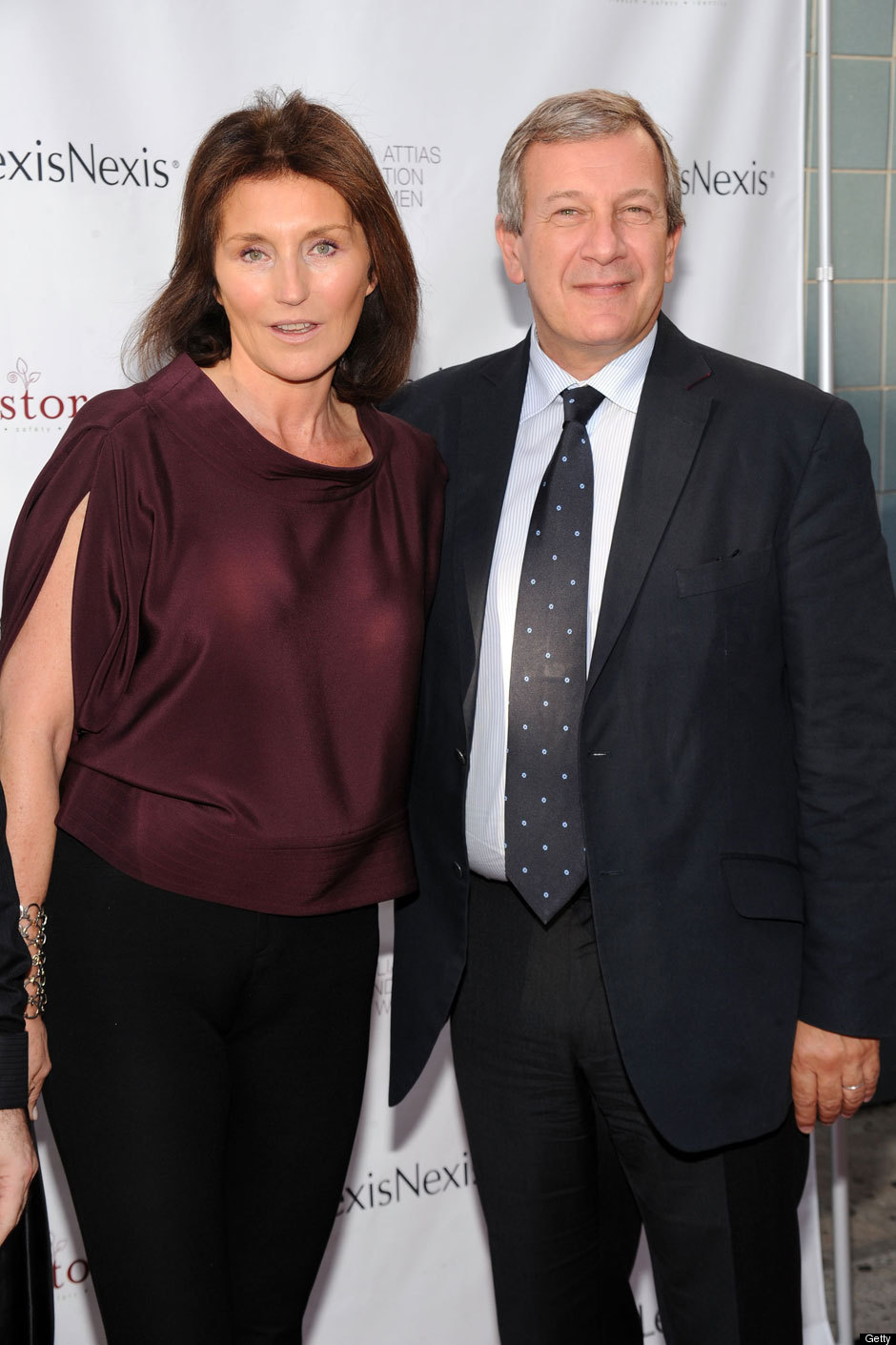 She says it was easy to promote her causes while married to French President Nicolas Sarkozy.
"Of course that helps -- enormously," says the former first lady, now Cecilia Attias, wife of global events organizer Richard Attias. "You have a lot of power, and you can really help a lot -- a lot!"
Her 11-year marriage to Sarkozy ended in October 2007, but that hasn't slowed her down.
Attias, 52, heads a new foundation sponsoring Thursday's daylong Manhattan seminar, "Dialogue for Action." Participants include former sexual slaves from Ukraine and Cambodia who are now activists. Also to be tackled are challenges facing Muslim women in America and genital mutilation in Africa.
In New York, "I'm not any more the wife of ... I'm just me," Attias told The Associated Press in an interview.
But she added, smiling, "Everything is possible in the United States. I mean, you can do it!"
As Cecilia Sarkozy, she championed struggling women when her husband was a senior government official.
As first lady, she persuaded Gadhafi to free five female Bulgarian nurses and a male Palestinian doctor who were on death row despite having denied they injected children with HIV.
Attias says it was the response to her two trips to Libya in July 2007 that brought her Cecilia Attias Foundation into being: People and organizations from Iran, Afghanistan, Cambodia and elsewhere contacted her, begging for attention.
She and Richard Attias, her third husband, moved to New York two years ago and share an apartment on Manhattan's East Side and a home in Greenwich, Conn. Living with them is her 13-year-old son with Sarkozy, Louis, who attends the Lycee Francais de New York, a French-language private school in Manhattan.
"I didn't flee from France," she says. "I love my country, I love French people; it was a decision to live in New York."
Her husband is Jewish, while she and Louis are Roman Catholic. They go to church and synagogue and celebrate Christmas and Hanukkah, which she jokingly calls Chrisnukkah.
"Everyone is happy," she says. "The key word for the world is tolerance."
Attias is a tall, slender woman with shoulder-length brown hair; on this day, she's sporting elegant jeans. She answers questions in lively English and French, sometimes switching in mid-sentence.
But she stiffens when asked how she weathered the relentless media scrutiny of events leading to her divorce.
"For more than two years, I didn't even open the newspaper," she says. "I don't care, it's a long time ago. Come on!"
Besides, "we're in a very fast civilization and you zap from one subject to the other," she says. "I'm not a subject anymore."
In 2007, she didn't campaign for Sarkozy, but paparazzi still tracked her. Photos of her with the Moroccan-born, French-educated Attias fed a relentless gossip mill until the divorce.
In March 2008, she and Attias wed in a ceremony atop a Rockefeller Center skyscraper. (Sarkozy had married ex-model Carla Bruni the month before.)
Although she had been first lady for barely six months, the name Cecilia Sarkozy was already familiar to the French as an advocate for battered women and for greater efforts to integrate Muslim women into Western society. A month ago, Sarkozy's government outlawed the wearing of full-face veils in public -- a measure she strongly defends.
Many Muslims argue it's wrong to force a woman who prefers a veil for religious reasons to bare her face. Attias says it "makes a woman disappear; she's a woman who is erased."
Her foundation's coming-out New York session will follow a two-day conference of the New York Forum, produced by her husband, who for years has been organizing brainy, star-studded events such as the World Economic Forum in Davos, Switzerland, and Bill Clinton's Clinton Global Initiative.
Cecilia and Richard Attias have quickly become a power couple at such high-profile gatherings.
"I'm OK everywhere," she says.
She comes from families that had crossed borders and cultures.
Cecilia Maria Sara Isabel Ciganer-Albeniz was born in France, the daughter of a Spanish Catholic mother and a Russian Jewish father she believes was part Gypsy. Her great-grandfather was the Spanish composer Isaac Albeniz.
As a teenager, she became a prize-winning pianist but gave it up because, she says, as an Albeniz, the expectations of her were too great, "which is ridiculous, because now I miss piano so much."
Her dynamic manner briefly gives way to wistfulness -- "That is something I will always regret. ... I play when I'm alone" -- and then she's back to talking about the foundation, which serves as a "platform" linking non-governmental organizations with academic and business experts to generate funding, media exposure and volunteers worldwide.
And, of course, there's Sister Teresa Fitzgerald, whom she calls "fantastic!"
The nun's Queens-based Hour Children charity has cared for 7,000 families, reuniting mothers behind bars with their children and deploying mentors to help them with housing, education, jobs and clothing.
On her visit to Queens last year, Attias "was learning about America," says Fitzgerald.
Attias says she also learned something from negotiating with Gadhafi and his aides:
"When it comes to human lives," she says, "one must try to leave official diplomatic methods behind and try to speak another language, which is more the language of the heart" -- "le langage du coeur."
Copyright © 2010 The Associated Press. All rights reserved.
Related