They call her "the Mozart of fashion."
Actually, they were calling 14-year-old Cecilia Cassini of Encino, Calif. that when she was 10 and then beginning to take the fashion world by storm, designing for such celebrities as Taylor Swift, Sofia Vergera, Miley Cyrus, Kelly Osbourne and Heidi Klum.
Billed as "the youngest fashion designer in the country," by the age of 12 Cecilia was starring on the Style Network show, "Confessions of a Fashionette" during the middle of New York Fashion Week where she was trailed by a German TV crew.
"I started designing when I was four years old when I started cutting up clothing and began repurposing the material," says Cecilia, who is Latina on her mom Michelle's side and Italian from her dad Lionel's family.
"I then asked for a sewing machine when I was 6 years old and have been designing ever since."
And that first piece of clothing Cecilia cut up was no ordinary dress. It was a Betsey Johnson design.
There's a story behind the sewing machine," says her mother, Michelle De Castro Cassini, a yoga instructor. "Cecilia's older sister Annabelle was given a dress by their grandmother. Cecilia adored that dress and wanted it, and we were stunned one day to find that she had cut it down to fit her and put it together with pins.
"'Well, if I had a sewing machine,' she told us, 'I could have sewn it to look so much better.'"
So for her sixth birthday, Cecilia received a sewing machine.
Teen designer Cecilia Cassini had her start at trunk shows
By the age of 10, Cecilia Cassini was the toast of trunk shows at upscale Los Angeles boutiques and, along the way, attracted the attention of agent Pilar DeMann, who now represents her and whom the Los Angeles Times describes as "the woman who plotted the Kardashians' path from C-level obscurity to branding juggernaut."
Mom Michelle and dad Lionel, a photographer, have made sure to keep their youngest of three children grounded.
Much of Cecilia's earnings from her trunk shows is contributed to homeless shelters, and the young designer donates her time and creations to helping give underprivileged children back-to-school clothes.
This year she was California's middle-school recipient of Prudential's Spirit of Community Award for her volunteer work.
Somehow, Cecilia also finds time to play competitive tennis, and this coming fall she will be a cheerleader at Sierra Canyon High School in Chatsworth.
And still, Cecilia also manages to make mostly A's in school, while never bringing home any homework.
"While everyone's at recess, I go in the library and do my homework," she says, "so when I get home from school I can sew for the rest of the day."
"Education is still first," says Lionel Cassini. "At the same time, if she can start on a career path so that she already has something when she's 20, why shouldn't we encourage it?"
And to hear Cecilia tell it, if anyone was born to be a designer, it was her.
"I have known that I wanted to be a fashion designer from the second I was born," says Cecilia, who talks as if ahead of her years, a big smile on her face and often a large fabric rose — signature flourish — in her hair.
Mom and dad remember much of the same.
"When she was a baby, before she could walk, before she could talk, she was pointing to the outfits she wanted," said Michelle. "As soon as she could use scissors, she was turning clothes into something new."
There has also been no denying she is different at school. When she was seven, she wrote her first letter — to her idol Coco Chanel. When she was eight, she designed a logo based on the Eiffel Tower. In the third-grade, she wrote a book report on consummate fashionista novel that became a film, "The Devil Wears Prada."
"I am definitely the belle of the ball every day at my school," she says. "What other girls would wear to a party is what I wear to school.
"I don't want to be like everybody else. I want to be me and let my personality come out."
To that end, Cecilia's girls line — retailing for $60-$150 and sold through Fred Segal Santa Monica — are brilliantly-colored, extravagantly-patterned dresses decorated with ruffles and bows of all sizes.
"My signature piece is my big-bow dress," says Cecilia. "Bows are chic, and they add something amazing to everything.
"I'm bringing a very modern, high-fashion look for kids from a kid's eye. I want to be the Coco Chanel for kids, and I know what girls my age want to wear."
Here's a look at Cecila Cassini at age 10, when she was introduced to the world on "The Today Show:"
Cecilia Cassini makes her mark in fashion at age 10
Before You Go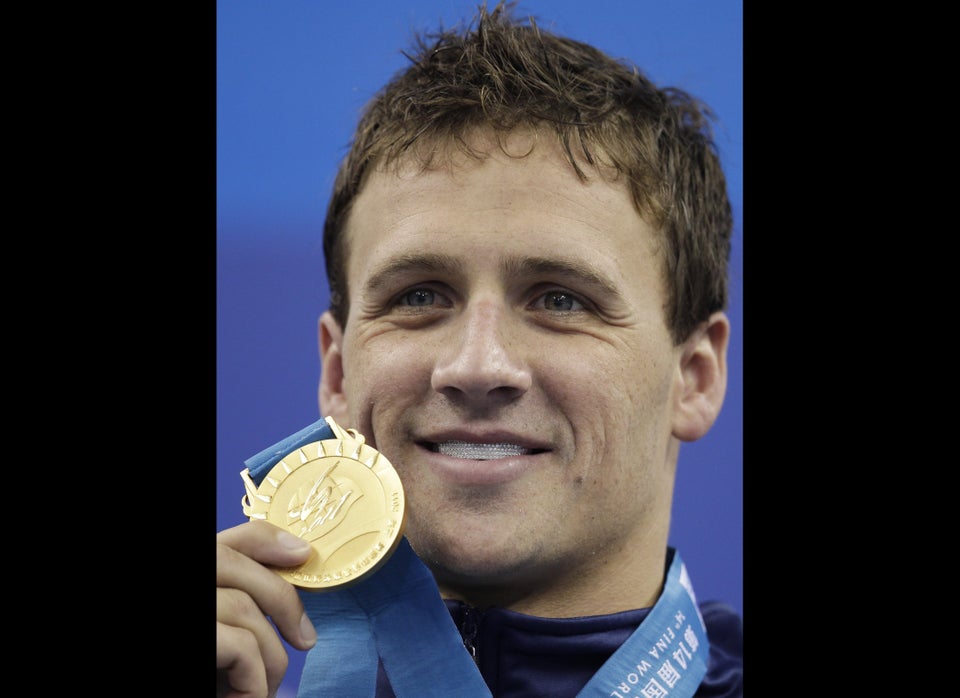 27 Celebs You Didn't Know Were Latino