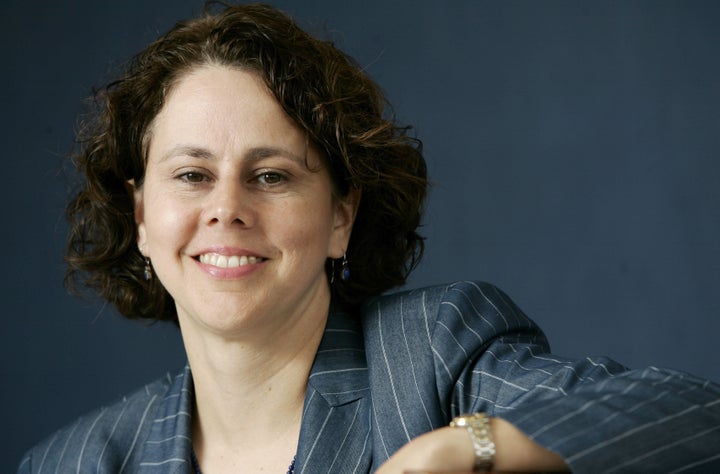 WASHINGTON -- Since the beginning of his administration, immigration reform has been a sensitive issue for President Barack Obama. As the disappointments have mounted among immigration activists, one official in particular has become the object of their frustration.
Cecilia Muñoz, one of the highest-ranking Latino officials in the White House and a longtime immigration and civil rights activist, has borne heavy criticism for the administration's policies -- and often rhetoric -- on deportations.
In the past two months, a prominent progressive blogger called for Muñoz to resign from her position as White House director of intergovernmental affairs, and she was called out by student activists for the administration's deportation policies. And this past week, Latino advocacy group Presente.org launched a petition asking her to denounce a key enforcement program called Secure Communities, which would put her in direct conflict with statements by top administration officials.
When Muñoz explained the program in an Oct. 18 PBS "Frontline" special, "Lost in Detention," she repeated a standard administration line, saying that programs like Secure Communities help root out serious criminals in the undocumented community. Certainly, the proportion of those deported who are criminals has increased to about 55 percent under the Obama administration.
But critics of Secure Communities -- which allows federal immigration agents to detect undocumented immigrants using information obtained by local law enforcement -- stress that noncriminals and low-level offenders are still caught up in the program: from undocumented immigrants driving without a license to those against whom charges are eventually dropped, including U.S. citizens. The critics say the program hurts the community and can lead to racial profiling.
"We're sick of these stories and the criminalization of immigrants, and Cecilia Muñoz should know better," said Roberto Lovato, co-founder of Presente.org. "She's the face of the Obama administration to the Latino community. So if they're going to put her out there to criminalize immigrants, then they shouldn't be surprised when the community starts fighting back to combat the lies."
Pointing specifically to the administration's embrace and expansion of Secure Communities, he added, "It's not Cecilia Muñoz, it's the lies that are coming out of Cecilia Muñoz's mouth."
Like other officials who have entered the administration from the world of advocacy, Muñoz has apparently found it difficult to balance her role as an executor of Obama policy with her past work and relationships.
For the most part, she maintains good personal relationships with the people in her field. Of the half-dozen immigrants' rights advocates interviewed for this story, all spoke highly of her and her previous work with the National Council of La Raza, a Latino advocacy group where she pushed for immigration reform and other civil rights improvements. Many said they believe she is doing the best she can to urge reforms within the White House.
But others said her history isn't enough to make up for the policies with which she's now associated, especially given her defense of hated enforcement programs such as Secure Communities.
Mario Solis-Marich, a progressive blogger and radio host prominent in the Latino community, surprised some immigration advocates in August when he called for Muñoz to resign from the White House -- a demand he republished this past Wednesday.
He said in an interview that his resignation call was triggered by a White House blog post written by Muñoz in which she referred to "heated rhetoric from all sides" of the immigration debate. He interpreted the phrase as offering a false equivalency between immigration reformers and some of the more caustic anti-immigrant lawmakers on Capitol Hill.
"That instance really kind of pushed me over the edge," he said. "I realized at that point that not only were they pursuing a wrongheaded policy but also adding salt to the wound by over-politicizing the issue."
Like others, Solis-Marich said his problems with Muñoz were not personal. He simply believes she is not suited to navigate "the forces in the White House" with different opinions on dealing with the undocumented population.
The White House declined to comment directly on criticisms of Muñoz and to make Muñoz available for comment. But Luis Miranda, the president's director of Hispanic media, stressed the administration's "dramatic improvements" in the realm of immigration and targeted enforcement.
"We have implemented common sense guidelines for prosecutorial discretion, are beginning a case-by-case review process to focus federal enforcement resources on the highest priority individuals, and are making improvements to the Secure Communities program, all of which strengthen the government's ability to target criminals even more effectively," Miranda said in a statement. "Additionally, our community engagement efforts have also helped to ensure transparency and accountability, while engaging more voices to help create the space for Congress to act on comprehensive reform."
Behind the scenes, Muñoz has attempted to calm some of her critics with direct diplomacy. According to Solis-Marich, the day after he wrote his post calling for her resignation, she contacted him directly. They talked for at least a half-hour, in what he called a cordial conversation.
"I'm certain that there's more than one person that is involved in pursuing these wrongheaded policies," Solis-Marich said. "It doesn't entirely fall on [Muñoz's] shoulders." But as a key Latino policy appointee, he said, "she has a specific responsibility" to fight against them.
Muñoz -- like other Obama officials who have become the face of specific policy issues -- struggles with more serious consequences for any policy failures. Congress has proven unwilling to consider major pieces of legislation, despite the president's urging. And yet, as with other issues, the administration's willingness to concede some ideological turf to the opposition without any tangible giveback has frustrated the immigrants' rights community.
The administration stresses that key reforms have been made to deportation efforts, such as a new policy announced Aug. 18 that targets undocumented immigrants who have committed crimes, rather than young people or those with family ties in the United States.
At the same time, the Obama administration has dramatically expanded deportations, setting a record for removals in fiscal year 2011 with 396,906 deportations by the end of September. It has also widened the reach of Secure Communities to more than 1,300 jurisdictions nationwide.
When Muñoz entered the White House, former colleagues expected her to advocate a different course than the one Obama has pursued. That she is now defending it has left some of them bewildered and speculating that she's conceded key bureaucratic fights.
In response to the criticism, the White House passed along a few names of individuals who they said would speak positively of Muñoz. All of them did. But even while they said they understood the difficulty of making positive changes to the immigration system, they didn't hold back their criticisms of the administration.
"It's an unfortunate situation that she's working for an administration that has not done everything right," said Angelica Salas, executive director of the Coalition for Humane Immigrant Rights of Los Angeles, adding that Muñoz should be credited for some positive changes. "She's put in a situation where she's had to explain to all of us who she knows as friends and colleagues why the administration is doing what it's doing."
For Salas, the real problem with the administration's immigration record rests not with the president and his top White House aides, but with the Department of Homeland Security and its secretary, Janet Napolitano, who has overseen the massive expansion in deportations. Immigration activists also point to the department's controversial roll-out of Secure Communities. Homeland Security had initially insisted that the program would be optional, but when counties and states attempted to leave it -- worried that it would deter immigrants from cooperating with police -- the department said that it could, and would, still use the local data for its immigrant detection purposes.
Dolores Huerta, president of the grassroots organizing group Dolores Huerta Foundation and co-founder of United Farmworkers of America, said it would be wrong to blame Muñoz for the policies implemented by Napolitano. Asking her to resign is the equivalent of "throwing out the baby with the bath water," said Huerta. Mary Giovagnoli, director of the Immigration Policy Center, agreed, arguing that Muñoz doesn't have the institutional power to affect policy at the Department of Homeland Security, even if she wanted to. Angela Kelley, vice president for immigration policy at the Center for American Progress, emphasized that Muñoz remains an "advocate on the inside," bringing a crucial immigrants' rights perspective to the White House.
"You have to separate the policy from the person," Kelley said. "What I have found really disturbing and disheartening is that people are attacking Cecilia as if she can control how [Secure Communities] has been developed and played out, which is not within her control. It is clearly coming from the secretary of homeland security, and people seem to be attacking her because they don't like the message."
Still, Muñoz's past as a longtime activist for immigrants makes her defense of controversial policy even more difficult to swallow for many.
Lovato of Presente.org said the organization decided to start its petition after Muñoz appeared in "Lost in Detention" to explain Secure Communities. The petition does not call for her to resign, but it states she should renounce the program and resume her "previous role as a forceful voice for justice."
"Within the Latino context, it's extremely noticeable when a former advocate for immigrant rights gets up and suddenly becomes the primary spokesperson defending the worst possible policies," Lovato said. "Why is Cecilia Muñoz basically fronting for the Obama administration's devastating and dangerous policies? Whatever the reason is less relevant now than that she's doing it."

Popular in the Community