Several jurors who helped convict Occupy Wall Street protester Cecily McMillan of assaulting a police officer are regretful after learning she may be imprisoned for seven years, according to her lawyer and a report in the Guardian.
McMillan was convicted Monday of second-degree assault for a March 2012 incident in which she elbowed a police officer in the face -- but only, she said, after he grabbed one of her breasts. She now faces a maximum seven-year prison sentence.
"Most just wanted her to do probation, maybe some community service. But now what I'm hearing is seven years in jail?" one juror told the Guardian on Tuesday. "That's ludicrous. Even a year in jail is ridiculous."
With the exception of death penalty cases, jurors are never advised of the penalties defendants face. The juror who spoke to the Guardian said he or she was "remorseful" over the potential sentence. Martin Stolar, McMillan's defense lawyer, said that juror is not alone: two have now contacted him to express similar thoughts.
"What's been indicated to me is that at least nine and probably 10 of them are upset that she is facing a jail sentence, and they do not want her to go to jail," said Stolar. In decades of being a criminal defense lawyer, he said such a reaction was "not unheard of, but unusual."
Stolar said some jurors may be planning to write a letter to Judge Ronald Zweibel seeking leniency.
Their apparent remorse comes amid an outpouring of outrage in Occupy circles over the conviction of McMillan, who was known within the movement for vocally supporting non-violence. Occupiers and supporters have now raised more than $10,000 online for her legal defense, with much of that money coming in the days after her conviction.
One big motivating factor: a photo showing McMillan's bruised breast taken days after her arrest. Supporters said it proves she was reacting to being grabbed in the breast from behind, not willfully injuring the police officer.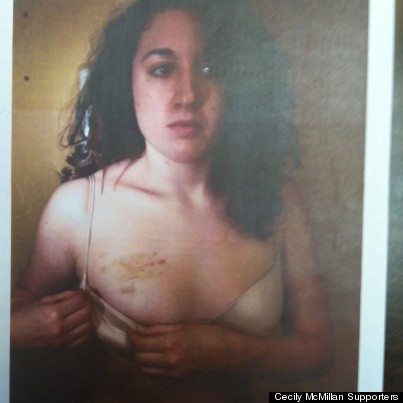 A group supporting McMillan called Justice For Cecily alleged after the verdict that the picture depicts the result of sexual assault.
McMillan's prosecutor, Erin Choi, suggested during the trial that the photo of the bruised breast was a fabrication. She told the jury in the case that McMillan's story of sexual assault was unlikely because she failed to immediately report it to the police.
Stolar said that assertion is fueling anger over McMillan's verdict.
"A lot of people, it seems to me, are very upset that Cecily got convicted in a case where they take somebody who was an expressly non-violent activist and make her an example of Occupy Wall Street at its worst, and that's just not who Cecily is," said Stolar. "They're also upset about the fact that the [assistant district attorney] characterized the handprint on her breast, the injury that she received, as being put there by aliens instead of by a cop."
McMillan's sentencing is scheduled for May 19.
UPDATE: Nine of the 12 jurors have now written to the judge requesting leniency. "We the jury petition the court for leniency in the sentencing of Cecily McMillan. We would ask the court to consider probation with community service," the letter to the judge reads. "We also ask that you factor in your deliberation process that this request is coming from 9 of the 12 member jury."
Ryan Grim contributed reporting.
Before You Go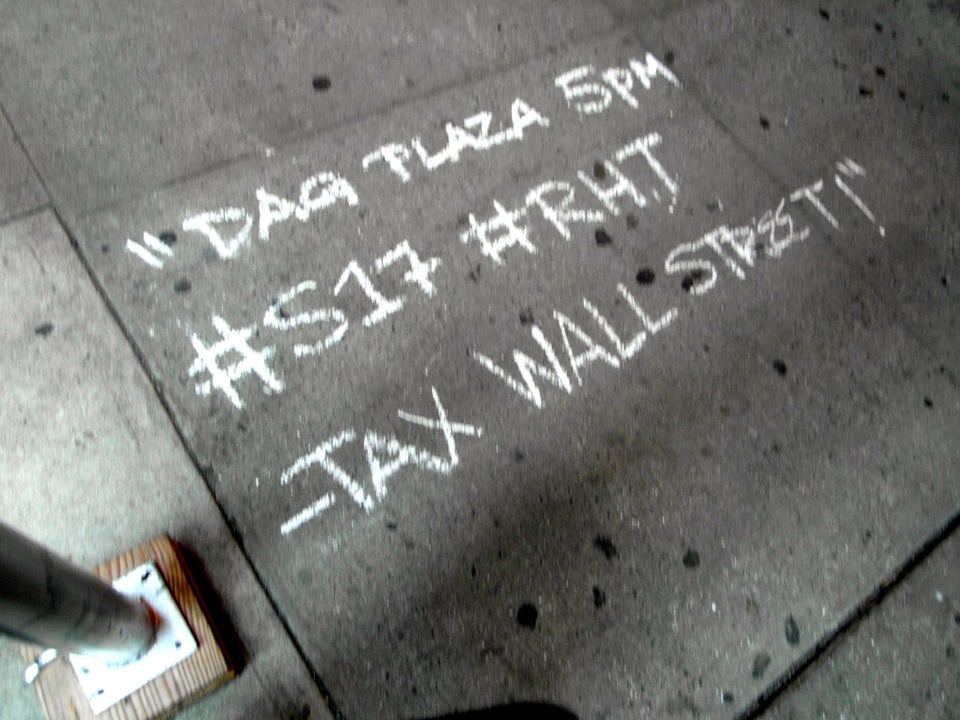 Occupy Wall Street Second Anniversary Protests
Popular in the Community