NEW YORK -- A New York City judge sentenced Occupy Wall Street protester Cecily McMillan on Monday to three months in jail and five years of probation for elbowing a police officer while he was clearing out a protest in Zuccotti Park.
Judge Ronald Zweibel's decision comes at the end of a trial that sparked widespread anger among Occupy supporters for the circumstances under which McMillan was convicted of second-degree assault. They said McMillan, a graduate student who's now 25 years old, was simply reacting to an unknown hand grabbing her breast while visiting a March 2012 protest. Officer Grantley Bovell, not McMillan, they said, should have been on trial.
But Zweibel -- who was nearly obscured by a phalanx of more than 50 court officers, ringing the courtroom in apparent anticipation of protests -- seemed unmoved.
"A civilized society must not allow an assault to be permitted under the guise of civil disobedience," he said. "The jury rejected the defendant's version of events."
McMillan wore a bright pink dress when she entered Zweibel's Manhattan courtroom. After her lawyer noted the many expressions of support for leniency -- including a letter from the president and provost of the New School, where she is a graduate student -- she struck a defiant note.
"Whether personal or political, violence is not permitted. This being a law that I live by, I can say with certainty that I am innocent of the crime I have been convicted of," McMillan said. "I cannot confess to a crime that I did not commit. I cannot throw away my dignity in return for my freedom."
McMillan's dignity was a note that many of her supporters discussed both before and after the sentencing. They claimed Bovell's alleged grab was tantamount to sexual assault. Many focused on a picture of McMillan taken after her arrest that shows a large bruise on her right breast.
During the trial, prosecutor Erin Choi said McMillan's description of Bovell's action was "so utterly ridiculous and unbelievable that she might as well have said that aliens came down that night and assaulted her."
Assistant District Attorney Shanda Strain echoed that statement on Monday, telling Zweibel before his sentence that McMillan's testimony about having her breast grabbed was "perjury" and "a fabrication clearly designed to manipulate the system and once again to assault Officer Bovell, although this time to assault his character."
But the contentious debate over the charged issue of whether McMillan's breast was grabbed seems unlikely to go away, even after the sentencing. The alleged assault by the officer was a rallying cry for McMillan's supporters ahead of Monday's proceedings.
One, Melanie Poole, arrived to court wearing a green button that simply said "Cecily." Poole said Choi used "every one of the most horrific kinds of misogyny and rape myths."
Focusing specifically on the picture, she said Choi's description of it as a fake showed the "total absurdity of the prosecution's closing argument that this woman could beat up her own body, put a hand on her own breast."
But like many of McMillan's supporters, she seemed relieved that McMillan's sentence was much less than the seven years maximum she faced.
Still, she added, "an innocent woman is still going to spend three months in jail … the message that this sends to protesters is very powerful. It will have its intended chilling effect."
As Zweibel recessed the court after delivering his sentence, McMillan's supporters sang in unison "Cecily is innocent, we shall not be moved, Cecily is innocent, we shall not be moved." They were quickly ushered out by court officers.
Out on the street in front of the courthouse, more than 100 supporters gathered afterward in a scene reminiscent of the high days of Occupy Wall Street in Zuccotti Park.
McMillan's defense attorney, Martin Stolar, thanked supporters for their efforts on McMillan's behalf and said an appeal has already been filed. City Councillor Ydanis Rodriguez, a frequent vocal supporter of the Occupy movement, said he believes political protesters are too often charged with assault of police officers.
"She's someone that is not a criminal," Rodriguez said of McMillan to HuffPost. "She can be more productive organizing our communities."
Zweibel could have sentenced McMillan to anything from probation to a maximum of seven years in prison. Ahead of the sentencing, a wide range of supporters called on Zweibel for leniency, from five city council members to the two formerly jailed members of Pussy Riot. Even a majority of the jury -- unaware of the maximum seven-year sentence she faced when they convicted her -- joined in a letter to the judge seeking leniency in the case.
The Justice for Cecily campaign, a group of supporters, said it delivered over 700 letters to Zweibel ahead of the sentencing, and an online petition calling for her freedom attracted 167,000 signatures.
McMillan's sentence is believed to resolve one of the last outstanding criminal cases emerging from Occupy Wall Street in New York. Police made more than 2,600 arrests over the course of the protest movement. The NYPD's tactics were so extreme that critics from law schools said the suppression of protest violated international human rights norms.
Immediately after her May 5 conviction, Zweibel sent McMillan to the jail on Rikers Island. On May 9, she released a statement saying she was "shocked by the jury's verdict on Monday, but was not surprised by the events that followed. An overreaching prosecutor plus a biased judge logically adds up to my being remanded to Rikers."
"I was prepared then, as I am now, to stand by my convictions and face the consequences of my actions -- namely that of refusing to forsake my values and what I know to be true in exchange for my 'freedom,'" she wrote.
CORRECTION: A previous version of this story misattributed a quote to Erin Choi. It was Assistant District Attorney Shanda Strain who told Zweibel Monday that McMillan's testimony was "perjury" and a "fabrication."
Before You Go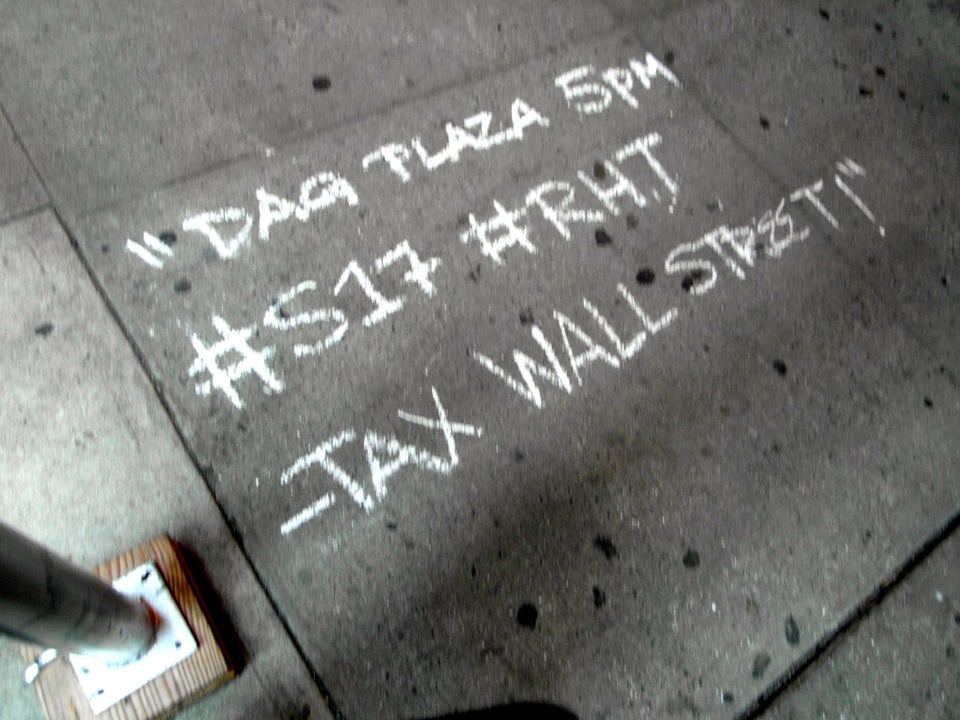 Occupy Wall Street Second Anniversary Protests
Popular in the Community