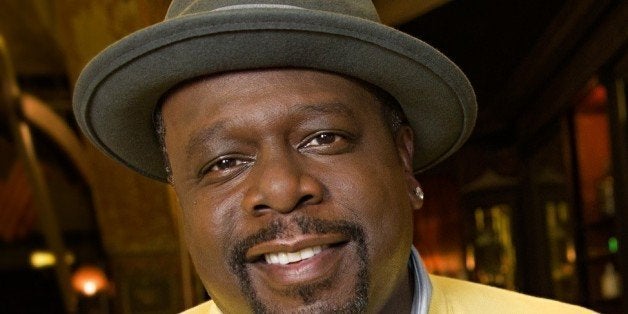 Comedian Cedric the Entertainer is encouraging Americans to learn about diabetic nerve pain through his new health initiative, "Step on Up."
The partnership, which was developed by Pfizer and the American Diabetes Association, aims to increase awareness about the nerve pain that can be a complication of diabetes and cause a burning, shooting pain in the feet or hands.
"With my dad, who has Type 2 diabetes, it was something that we noticed back in 2010 where he was slowing down and coming up with excuses of doing the things he likes to do," he said. "We didn't know this pain was directly related to his diabetes. And so we just kind of figured that this is common within the African-American community that people have these other symptoms. And so I just found this as a great opportunity to partner up and be able to spread this message."
With that starling statistic in mind, Cedric noted some myths surrounding diabetes, which he found to be untrue since joining "Step on Up."
Sixty percent of non-traumatic lower-limb amputations on people 20 and older happen in people with diabetes, which obviously leads to misconceptions in the community. "Most people are really afraid of the amputations," he said. Avoiding health care to treat diabetes often leads to more advance issues, which can result in amputation. "They assume that further checks will lead to the amputation of a leg or something. Being ahead of it is more important," Cedric said.
According to WebMD, amputations among people living with diabetes takes place when efforts to save the foot or leg are unsuccessful or the infection is causing extensive tissue damage.
"People think that they're too young for it," he continued. Indeed, according to the Centers for Disease Control and Prevention, in 2011, 16 percent of people living with diabetes were diagnosed between the ages of 18 and 39 years old.
"These are the kind of things that we want to be able remove as some of those myths, and have people get health care professional advice."
In addition to raising awareness of diabetes, Cedric is also currently raising funds to build a new facility for the Rosetta Boyce Kyles Women's Pavilion in St. Louis. The women's healthcare facility, which bears his mother's name and is in partnership with St. Mary's Hospital, will provide a new venue for women to receive medical care and info on an array of health topics.
"We started this program last year and in October I'm going to do a big gala here to raise money and partner with a lot of great businesses here in St. Louis. And so on October 10 I'm going to bring in a special musical act, and bring a couple of my other friends, be it Steve [Harvey], D.L. [Hughley] or George Lopez to come in and perform to try to raise a lot of money to get this pavilion opened."
CORRECTION: A previous version of this post misstated that 60 percent of people with diabetes get non-traumatic lower-limb amputations.
Calling all HuffPost superfans!
Sign up for membership to become a founding member and help shape HuffPost's next chapter
BEFORE YOU GO
PHOTO GALLERY
Diabetes Warning Signs