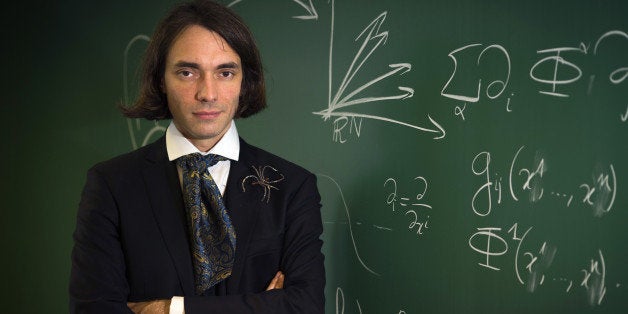 You'll typically see him with his long, flowing hair spilling loose, wearing a frilled shirt, spider brooch and a silk necktie that wouldn't look out of place on a 19th-century dandy. With his offbeat style, the charismatic mathematician Cédric Villani, who won the prestigious Fields Medal -- the Nobel Prize of mathematics -- in 2010, has shaken up the austere world of algebra and geometry. He has even been nicknamed the "Lady Gaga of mathematics." This is especially remarkable given that his chosen subject is arcane to say the least: Some of the research interests he lists on his website are "regularizing effects of grazing collisions in kinetic equations" and "Space-inhomogeneous convergence to equilibrium." Not exactly sexy.
Villani, who was born in 1973, is not afraid to venture out of his comfort zone to engage with the larger public. Since 2009, he has served as director of the prestigious Henri Poincare Institute in Paris, a mathematical research foundation. And in 2013, he took part in the documentary "How I Came to Hate Math," which gave the floor to those who hated the teaching of mathematics. A year later, he was actively involved in the campaign of the future mayor of Paris, Anne Hidalgo, all while continuing to put forth publications and travel around the world.
In his math-laced memoir, Birth of a Theorem: A Mathematical Adventure, he jokes about his own weirdness in the eyes of others: "I'm actually not all that different really: while children excitedly open their Christmas presents, I'm hanging exponents on functions like baubles on a tree, and I'm matching factorials like candles."
What do you hope to personally achieve in the next 10 years? Ten years! Never in my life have I looked so far forward, and I am not going to start now. Besides, if I had made predictions about my life 10 years ago I would have been systematically misguided. I think that I am right in the middle of a 10-year cycle that corresponds to my term as the director of the Henri Poincaré Institute. So I am giving myself another five years to supervise the renovation of the institute: extension by enhancing an old renovated building, doubling our research space and the creation of a "math museum," unique because of the union of research, pedagogy and industry. What has been the biggest challenge you've had to overcome in the past year? Last year was marked, for me, by a personal challenge: the development of Les Rêveurs Lunaires (The Moon Dreamers), a comic book written with the artist Edmond Baudoin, which I worked on for years and recently published. I don't know how to draw and Baudoin knew nothing about the scientific-historical issues that we address in the book, but the chemistry between us worked beautifully, and it was a comics fan's dream come true.
But the biggest challenge of last year was without a doubt the institutional challenge that I had to meet at the Institut Henri Poincaré, to convince the government of the validity and sustainability of our renovation project of the institute. Who has been the biggest role model in your adult life?
I don't think I have a role model, so let's create him… let's imagine him as a composite with the pure mathematical genius of Grigori Perelman, and the audacious, mountain-moving energy of entrepreneur Elon Musk. These people are so different that it already seems like their marriage is an impossibility, but that's not going to scare us, and we are going to add the creative humanism of two French artists that I personally know, that I admire, and with whom I was lucky enough to work on challenging projects: on the one hand, musician-engineer Patrice Moullet, creator of extraordinary instruments which upset the relationship between music, technology and disability; and on the other hand, the cartoonist Edmond Baudoin, whose rich and deep features are moving like no other. What is a story you wish the media would do a better job of covering? Immigration is a subject so rarely or so badly covered -- we only discuss it from the angle of security. But immigration is so fundamental for science and technology, for the economic and industrial performance of a country. And in the global cultural war to attract the young, motivated minds of the world, we are too cautious in France. Francophone Africa will be a major geopolitical issue for the situation in France in 50 years, and it is now that we have to work forming these links. This may seem far away, but we must work toward this horizon! And every year I go to Africa to help build those links; the atmosphere that you find there has almost nothing to do with the image transmitted by the media.
Finally, politically, Europe is the big issue that should be covered more by the media. Not with the catastrophic, macroeconomic angle that is the case now -- in terms of culture and science, society, governance, the role of Europe in the world, the enrichment and the extraordinary playing field that Europe represents for our children. If we want our grandchildren to live in a safe, healthy and wealthy environment, in which they can be proud of their achievements, we must go through a stage of general media coverage of Europe and the political project that goes with it -- without which we will fail.
What living person do you admire the most?
Frankly, I don't know. Of the people that I admire, I could name several and then so many more! I have already listed some elsewhere. Among mathematicians, I would mention John Nash or Grigori Perelman; among politicians, Jacques Delors; among authors, George R.R. Martin or Thomas Pynchon; among artists, Wong Kar-Wai, Philip Glass, John Adams, Boris Berezovsky or Catherine Ribeiro; among philanthropists, Bill Gates; among entrepreneurs, Elon Musk… and many others. But none of them is perfect. I will keep myself from ranking these people. It would be lying to say that I admire one more than the others.
What advice would you give a young person trying to decide what to do with their life?
That's a question that people ask me regularly, because of my incessant interactions with youth assemblies where we discuss careers, among many other topics. I recommend not to be afraid to specialize from the beginning, and seek to gain a real skill, formed by years of specific work, while keeping curiosity about all that is happening around you. I recommend to always leave a place for chance, and do not try too hard to predict the future. I recommend never putting yourself in a box, and moving regularly. I recommend developing your passion without worrying too much about the job that will come with it. A young person should not be too reasonable.
What are you most thankful for? It's a cliché, but the simple fact of being alive is an incredible experience, and we owe this quality of life to all the generations who have worked hard to provide medicine, life's comforts, convenient technology, a culture that has made so many inspiring works, etc. At a time when depression plagues the world, it is good to remember that the vast majority of us, at least in the "developed" societies, live in a luxury that would have seemed incredible to our ancestors. And I am also grateful for all the people that have allowed me to fully experience life's adventure throughout my life ... there are my staff scientists -- special mention to my former student Clement Mouhot, with whom I solved the problem of nonlinear Landau damping, and my collaborators Felix Otto and John Lott, with whom I have opened a new branch of mathematics that is now flourishing.
Where do you get your news from?
Well, it has been 25 years since I have owned a TV… but I check the news online almost every day and the written press whenever I can. I read from various sources, some that are similar to my beliefs and some that aren't at all; I like to buy newspapers with political stances that oppose mine. And as I am often traveling, sometimes in more than 20 different countries in a single year, I like to, as much as possible, read the news from the point of view of the country that I am in -- sometimes so different from the French point of view.
What is the cause or issue that you are most interested in seeing solved over the next 10 years? You ask me to choose, and there are so many. Scientific problems that I hold dear, of course, are secondary to the world's political and social problems. Poverty, terrorism, oppression, slavery (which exists still in some countries), global ecological disasters ... Nothing original in my list, and how to choose? Hopefully in 10 years Ebola and HIV will be under control, electric cars will have invaded the world, and solar panels will become so competitive that coal will disappear!
I add two personal passions: saving the great apes, the treasure of the animal world and the ​​infinitely precious cousins of humanity, and among them, especially orangutans, for whom I have bottomless compassion. And if in 10 years we can set as a goal the creation of the United States of Europe, damn, we won't have wasted our time! This will be the fulfillment of the old dreams of Montesquieu and Hugo, and the only really exciting political prospect that I know. We are far from it in form and substance, almost everything is still left to do.
What is the first thing you do when you wake up in the morning?
Read my email. What do you do to relax or stay in good spirits?
I am always in a good mood! But if I have to discharge some tension, it is, no contest, music. Always loaded with emotion and rich in evocations. Whether it's the 4th Symphony of Brahms, "The End of an Era" by Nightwish, "Nixon in China" by John Adams, or "Les Corbeaux de Gribouille," the world is full of masterpieces that are there to absorb your tension and send a chill down your spine.
Finish this sentence: In the year 2025, we will…? …will have even more problems than we do now -- and we will address them with courage and pride!
What current trends will seem completely wrong or exaggerated in 10 years? Current debates on immigration will, I think, be completely changed in 10 years.
How many hours do you sleep each night? What is the importance of sleep in your life?
In one night, I sleep between zero and nine hours depending on the context and deadlines. I have no fixed schedule. I'm used to jetlag, to sleepless nights ... everything is possible. Sleep is fundamental (to let the brain work, to recover) but it is clear that I have mistreated it for decades! Very regularly I do 10-minute naps; it is very important to restart the machine.
What is the most important thing in your eyes? We'll call it the internal spark.
This piece was originally published by HuffPost France and was translated into English. It was condensed and adapted for an American audience.
Popular in the Community