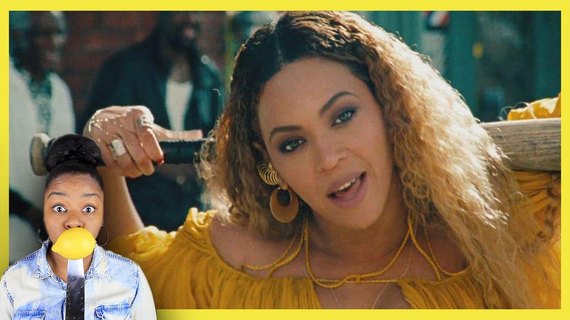 After I wrote Sipping Beyonce's Lemonade, I came across a YouTube video review of Lemonade. I immediately reached out to Ceedotcee and asked for an interview. Ceedotcee's Lemonade went viral with over 900k views on Facebook with People reaching out for an interview as well. In the time between our scheduled interview, I went on a binge consumption of her videos. My personal favorite is her video about why she will always have good health insurance after encountering a mouse at the gynecologist's office. Ceedotcee has been honing her craft while working as a videographer for Chrisette Michelle, Mya, and Keke Palmer. Ceedotcee is that imaginary friend you had has a child or the sister you wished your sister was like.
How long did it take for you to come up with your Lemonade video? The lemon with the knife in it was a good visual.
The visuals from Beyoncé's video were powerful. Sunday night I started filming. I usually film at night. I talked for an hour, but I edited it down to 13 minutes. I uploaded it about 4am PST on Monday.
Were you shocked by the response, with People calling?
Yes. I never know what video is going to take off. I kinda had a feeling, but not 1 million views. People reached out to me on all my social networks. I am grateful and humbled. It's nice when people recognize your work.
Is your background in acting?
I did theater in high school. I received my degree in Theater at Florida A&M University (FAMU) in 2013. Some people think that it was odd for me to leave LA to major in Theater in Florida. However, it was important for me to attend an HBCU.
What made you start your own YouTube channel?
I am an only child. I started my YouTube channel in 2008 while in high school. It was a way for me to be creative. They were mostly music videos. It was a creative outlet. I deleted most of my old videos. In 2012, while in college, I did a video Things Girls That Want to Pledge Say. It was my first viral sensation with over 300k views.
In addition to your YouTube videos, you also do videography.
I started doing videography while at FAMU. My friends were dancers and wanted me to record their choreography. My first client was Chrisette Michelle. I met her on Instagram from a fan competition. We talked and I told her that I did videography and she said "keep in touch." I went home and did a video and sent it to her. She offered me a position as a videographer last year. I also approached Mya and Keke Palmer on Instagram about my services. That is how I started my business as a videographer.
What are your goals for the future?
I would like to be on a TV sitcom and do film, but not just comedy. I don't want to be put in a box. I want to be known as a performer that can do comedy as well as drama. I want to continue to use my social media platform to build my audience.
What can readers expect to see from Ceedotcee in the near future?
More videos, but also skits. Skits are harder solo. Maybe a part two to my Overprotective Mother skit. I want to have my own tour. Fans contact me from France and Africa. I want to do what I do on camera live for them.
Video courtesy of CeedotceeTV
Calling all HuffPost superfans!
Sign up for membership to become a founding member and help shape HuffPost's next chapter