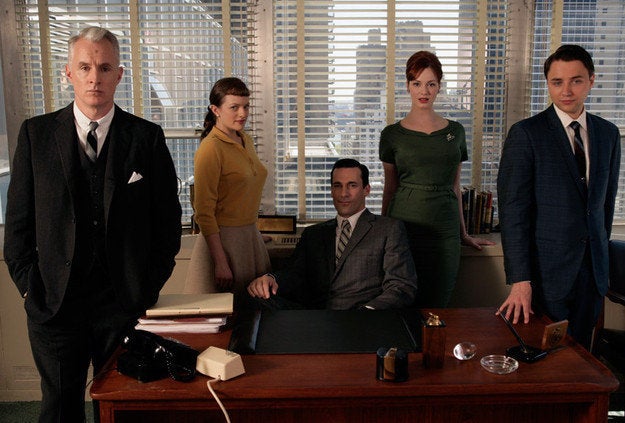 At the Competitive Enterprise Institute's Mad Men-themed gala, it's not at all clear how many of the libertarians sipping Don and Betty Drapers are actually Mad Men fans. But amid the many conservatives in their Brooks Brothers business casual, there is a smattering of young think tank staffers, lobbyists and journalists in jewel tone dresses and liquid eyeliner and horned-rimmed glasses. In my case, it's a pink-and-green patterned dress with sheer netting on the shoulders, and we are the ones running over to the photo set to pose with vintage felt hats, typewriters, and telephones. The free-enterprise-boosting think tank's commitment is impeccable: gift bags on the banquet chairs offer CEI tumblers, vintage Lucky Lights cigarette candy, ashtrays, a cigar from JR Cigar in downtown Washington, matches and drink stirrers extolling free markets.
It's about an hour into the after-party -- there are still plenty of petit fours and Pâte a Choux and macaroons on the tables, and the bartender is working in overdrive to make Dons (Manhattans) and Bettys (Raspberry Gin Rickey's) -- when someone in the middle of the room, near a giant projector screen playing vintage television ads, begins banging his glass and yelling for everyone to be quiet. Fred Smith, the founder of CEI and a Bert Cooper figure, this slight man, 71-years-old, with a white beard and white hair, has an announcement: "Major, breaking news. Despite the attempt of the forces of good to frustrate the forces of corporate evil and greed," he is trying to deadpan, but there's a touch of glee in his voice -- "Walker has won." He is drowned out by cheers from the crowd.
This is undoubtedly a good night for the conservatives and libertarian foot soldiers of Washington. Last month's job report was bad news for Obama. The labor movement is mid-belly flop in the shallow end in Wisconsin. And the dinner's keynote speaker is the conservative movement's own Don Draper, Paul Ryan. The Badger State congressman takes the stage, in front of plush red curtains and a big screen portraying a Rockwellian family watching their television. He vows that Wisconsin will take its state back and then launches into a familiar theme. "When you look at this proverbial choice of two futures in front of us, which we will decide in November, it's essentially kind of re-litigating the Enlightenment: natural rights, where our rights come from nature and God, to borrow phrase from Declaration of Independence... or this new idea, the progressive theory of government granted rights that the government now gives us." He promises conservatives will win this fight, too, and the audience is clapping and pounding the tables amid half-finished plates of spinach and strawberry salads with apple cider bacon dressing, espresso crusted beef sirloin in port glaze, glasses of Nemesio Classic Chardonnay and Don Manuel Cabernet Sauvignon. (He stumbles only once, at the beginning of his speech, referring to an award given to British economist and author Matt Ridley in honor of the late economist Julian Simon as "just such a fitting tribute to Julian's member -- memory, that memory, that you do this for him, so I just want to tip my hat off for that.")
"Oh, it's fantastic!" Fred Smith shouts over the din, after the race has been called, when I finally make it across the room to the lounge section where he is celebrating. "It illustrates that the union members are not crazy. They recognize that unsustainable promises are not honorable. Politicians are willing to make promises that cannot be sustained but people are realistic." He still isn't sure Romney will win in November, though. "I'm optimistic. I'd like to think I'm a despairing optimist because optimism is the human condition and despairing is unavoidable" he says, trailing off in laughter.
I ask Smith about the Mad Men theme. He says he watches the show, but, conveniently, missed the last episode, which ended in the suicide of a partner over a forged check. Otherwise, the theme is working well for CEI -- the retro cool, the nostalgia, the appeal to young people, and (to the libertarian viewer, at least) the unapologetic celebration of capitalism. The subject of Smith's speech at the dinner this year is that ad men and their corporate clients are way too apologetic about their products these days.
"Think of where business used to be. We're talking 1950s, 1960s, in a way one of the golden ages of advertising," Smith tells the crowd. "Modern mad men do what? They adopt a mea culpa, mea culpa, mea maxima culpa strategy. We're sorry that we don't meet the utopian demands of our critics, we're sorry that we still have some elements of our pollution, that our products sometimes fail, that we don't pay our workers the same amount as Wall Street bankers -- all these things they're sorry about. They never say what they're proud about!" He scoffs at "The BP's of the world, for example, and other energy companies, rushing around asking their customers to use less energy. Use less energy as an energy company! It suggests we should be ashamed of producing energy."
Both before and after the dinner guests are less interested in parsing the implications of the Wisconsin recall than they are catching up with ideological compatriots. "This is one of the better parties in DC. Every group has a dinner, every year, and most of them are gut-wrenchingly boring. Everyone shows up for a cocktail and then leaves," says Jimmy LaSalvia, the impeccably tan co-founder and executive director of GOProud, the gay conservative group. "The CEI dinner is always fun. Many people who are involved in CEI have a live-and-let-live attitude, so you get a lot of people who are center right and talk about it without taking themselves seriously. It's different from most of Washington."
"It's like the Golden Globes of DC," another attendee says. "It's an irreverent event with folks who can sort of let loose, be informal, and have fun. The emphasis is on having fun."
I mention LaSalvia's expectation-setting for the evening to Smith. "Well, remember, that's damning us with very faint praise. Washington produces some of the dullest events in the world's history!" he says. "After all, when our idea of passionate debate is discussing some bill on the Hill, it's amazing people ever have sex in this town, that they can get around to it!"
Is that what this is? Trying to get people to indulge in the spirit of the Swinging Sixties?
After tracking down Fred Smith to talk about the Wisconsin recall, I introduce myself to Loren Smith, a fedora-wearing senior judge of the U.S. Court of Federal Claims, who emceed the event, and Robert J. Smith (yes, they're really all named Smith) a distinguished fellow at CEI, in the hopes of getting another Wisconsin quote. We go through the usual routine:
"I work for GQ, Gentlemen's Quarterly," I shout over the music.
"Congressional Quarterly!" RJ Smith yells back.
"No, Gentlemen's Quarterly!"
"Oh, GQ!" RJ Smith says. "Oh, she's a porn star, OK!"
I never got the Wisconsin comment.
GQ On Politics: Get the Latest Death Race Updates From the Campaign Trail HERE
REAL LIFE. REAL NEWS. REAL VOICES.
Help us tell more of the stories that matter from voices that too often remain unheard.