Whenever I have moved to a different area of Los Angeles, or to a new city even, it's not the new Top Chef-helmed gourmet restaurants that I miss the most, but the local dive bars and hole-in-the-wall restaurants. It's those hidden gems that I tell friends to visit because they have a drink or an item that I just can't seem to forget. For me, it's a hard-shelled taco with cheese from Tito's Tacos in Culver City that I crave when I've been away. That is where I like to take out-of-towners for a real L.A. experience. I could go on and on about my other favorite strip mall joints, but I figured I'd poll some interesting locals for their picks too. So, here's an alternative guide to Los Angeles' restaurants and bars:
Jayde Nicole, a model, former Playmate and now a star on E!'s Holly's World says, "My favorite under the radar spot in LA is a restaurant called Hugo's on Santa Monica in West Hollywood. I just recently discovered it after three years in LA, and now it is one of my regular hangouts. The menu is huge and has so many options, everything from super healthy, all-organic salads to amazing smoothies, juices and teas. It's open all day, serving breakfast right through, which is hard to find at a nice spot in LA. If you live here or are just visiting, be sure to check it out!"
With LA being known for its fresh sushi and practically having a Japanese restaurant on every block, it is no wonder that Extra host and TV personality Mario Lopez shared with me his two favorite sushi bars -- Crazy Fish (Beverly Hills) and Tomo (Burbank). "Both places are hole-in-the-wall spots, nothing fancy. The hand rolls at Crazy Fish are like burritos, they're so thick. Their secret sashimi tempura sauce too is delicious, you could dip cardboard in it and it would taste good." He adds, "The best hidden gem in Burbank is Tomo Sushi, their srirachi bowl is amazing. It sits maybe 10-12 people tops, but, it's worth the wait. Both are on different ends of town, but quick and tasty."
Mario wasn't alone when it came to selecting a sushi spot. Leora Kadisha, CEO of the style-centric social network StyledOn.com says "Hironzen Sushi is truly an LA gem, hidden in a little strip mall. It has true, authentic sushi. No flash, no glitz, no scene -- just yummy sushi! It is so fresh it melts in your mouth. Mr. Obayashi is always adding unique specials with what he finds at the Hollywood Sunday's market. As much as LA has to offer, Hirozen is what I crave when I'm away."
Fitness expert Bob Harper of The Biggest Loser, though, says his new favorite spot in LA right now is Red Medicine, a Vietnamese restaurant. "The food is incredible and the wine is delicious. The restaurant is set up to order small plates that are meant to share. There is a legumes dish that sounds like it could be passed, but is one of the best things on the menu. The menu is so interesting that I feel like I need a dictionary. Normally I would tell you to pass on the desserts because of calories and I'm not into sweets that much, but the bitter chocolate dessert is out of this world. It's almost like an abstract painting, and, once again, the flavors are not to be missed."
Meanwhile, my cocktail blogger friend and KAMP contributor, Caroline on Crack says, "My fave 'hidden' gem is Bar Food on Brentwood. There isn't a permanent sign, rather a cloth one, and driving by you'd swear it was closed because the lights are so dim. However, this bar has a huge whiskey collection. The owner, Jason, said it's probably the largest in the States. Don't know if that's true, but don't care. It's a lot of whiskey. Interestingly enough they don't even have cocktails, just straight whiskey, beer and wine. No waiting for drinks to be constructed, you can just get to drinking."
For Elan Atias, a reggae singer who was part of Bob Marley's band The Wailers, his Jamaica home-away-from-home spot in Los Angeles is The Joint. He says, "Great vibes, good music, tasty food, it's the real thing!!"
Also, during the Global Green Pre-Oscar Party, actor James Van Der Beek (Dawson's Creek) and his wife Kimberly Brook told me that The Roger Room is their favorite dive bar. "It's quiet, not clubby, you wouldn't know it if you walked by it; even in if you were in the front door you wouldn't know it was there," shared James. However, the happy couple just had a baby and admitted that they haven't been there in a while.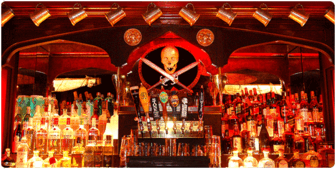 Finally, I'd also like to add the Redwood Bar & Grill in downtown LA; this narrow and dark bar looks like a Pirates of the Caribbean set inside. It's just so unexpected amongst the more posh new bars in DTLA. Their happy hour sliders, inexpensive wines and full bar make this a great place to start your night.
Now that you read these thought starters, what's your favorite hidden gem / must visit spot?
Popular in the Community