"It's the bacon, baby!" will be Wendy's new mantra in a campaign with high-decibel announcer loudmouth Dick Vitale touting the double-patty Baconator burger. The campaign begins Feb. 25, but you won't see it unless you live in one of seven Northeast cities (including New York City, Boston and Philadelphia) where spots will air.
Vitale appears in TV commercials set to air through March. The campaign includes social-media components and a dedicated website, ItstheBaconBaby.com, according to Sports Business Daily. Wendy's has a history of involvement with college basketball. The chain currently has a promotion tied to the Wooden Award, given to the NCAA Men's Basketball Player of the Year.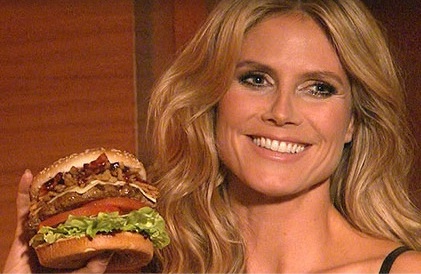 Meanwhile, model Nina Agdal barely finished her mammoth Charbroiled Atlantic Cod Fish Sandwich before Carl's Jr. found another pretty face to love. Heidi Klum, super model, and executive producer/host of "Project Runway," will appear in a commercial for a new Carl's Jr./Hardee's burger, both due in March, according to Entertainment Tonight. You can watch her explain the commercial to ET's Rob Marciano here. Klum parodies Anne Bancroft's Mrs. Robinson character in the film "The Graduate." And yes, she and her burger (as yet undetailed) will be trying to seduce you.
Klum appeared in several TV commercials for McDonald's in her native Germany.