#Aurora is trending, clearly about our Kim K inspired #Aurora dress ;) Shop: celebboutique.com/aurora-white-pleated-v-neck-strong-shoulder-dress-en.html …
Unsurprisingly, the tweet has already garnered negative reactions, including one follower who tweeted, "Wow. Clueless much?"
It's possible that their Twitter feed has a bot set up to scan trending topics, auto-generating tweets based on trending terms. We have contacted the company for a statement and will update should we hear back.
If it was intentional, it would not be the first time a fashion company has made light of a catastrophic event. Kenneth Cole found itself in hot water after a tweet went out from its account saying: "Millions are in uproar in #Cairo. Rumor is they heard our new spring collection is now available online." At the time, Egypt was trending in the news during a period of violent political protest.
At the time of writing, the tweet is still live on CelebBoutique's Twitter account. See the statement in question below -- do you find the quip to be offensive?
UPDATE, 2:54PM: After approximately an hour live on CelebBoutique's Twitter account, the tweet has now been deleted. CelebBoutique released the following tweet: "We apologise for our misunderstanding about Aurora. - CB."
Several moments later: "We didn't check what the trend was about hence the confusion, again we do apologise" followed by, "We are incredibly sorry for our tweet about Aurora - Our PR is NOT US based and had not checked the reason for the trend, at that time our social media was totally UNAWARE of the situation and simply thought it was another trending topic - we have removed the very insensitive tweet and will of course take more care in future to look into what we say in our tweets. Again we do apologise for any offense caused. This was not intentional & will not occur again. Our most sincere apologies for both the tweet and situation. - CB"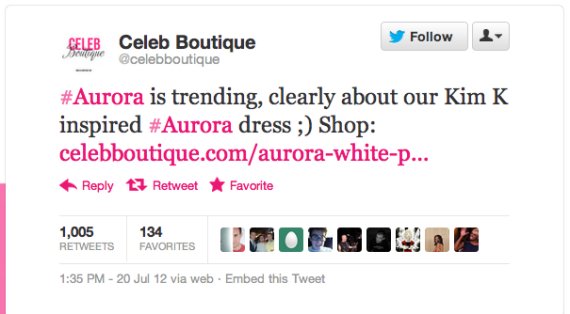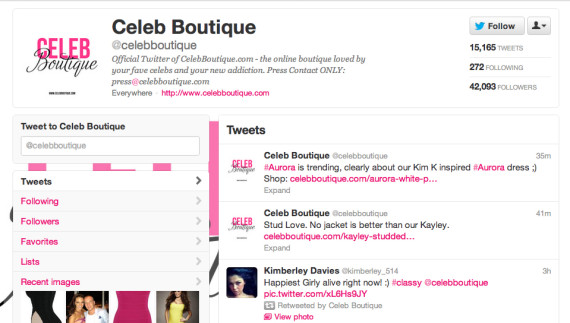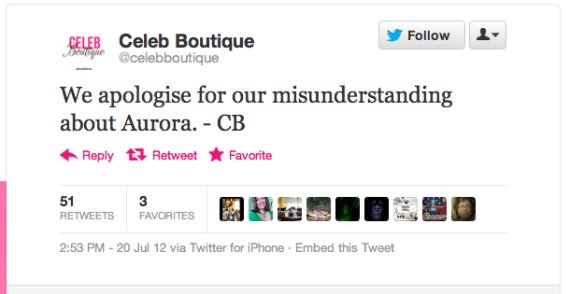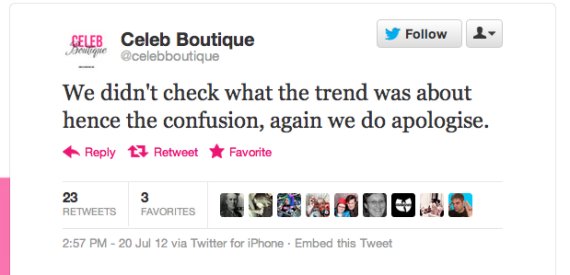 Related