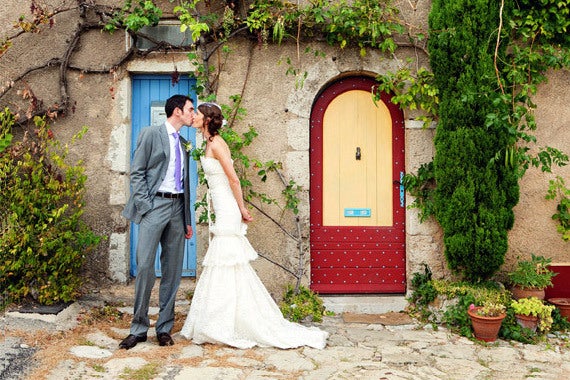 My first question when I meet a couple for their ceremony is: what kind of ceremony are they looking for?  Often the response is a "spiritual wedding".
Spiritual wedding can mean anything from humanist to Buddhist to non-denominational to ecumenical to your own ideas about what spiritual means to you.  Meaning is key because only you as individuals and as a couple will know truly what spiritual means for you.
Next, common to all wedding ceremonies in my experience has been that a wedding is a celebration of love.  Most couples are comfortable with words like blessing, peace, Light, whatever their spiritual or religious values, or none.
What is more, celebrating a spiritual wedding there will be a combination of romance and substance.  For example, the Vows or promises you make to each other as a couple provide the solid foundation for your marriage partnership. But there is something even more.
A spiritual wedding offers something more.
After an outdoor ceremony in Juan Les Pins' Belles Rives Hotel a few years ago, one guest came up to me and said that the ceremony felt as though she had been in a cathedral, although of course, she had not.  It just felt special for her. A spiritual wedding will touch the hearts of all of those present, not just the couple.
So what is the something more? The something more is something of a mystery, hard to put into words. What is it that moves guests at a wedding to tears of joy?
The spiritual wedding connects you through the heart, what could be called your spiritual heart. The spiritual heart is also known as your human spirit.  The human spirit is common to us all, regardless of our spiritual values.
The greatest characteristic of the human spirit is love, not just romantic love but also the love of courage, strength, trust, empathy, compassion, wisdom, caring, acceptance, understanding, tolerance, enthusiasm and joy - to name but a few.  These qualities go towards creating a marriage bond that is safe, secure and enduring.
Your wedding day is the first day of your life together as man and wife.  Your family and dearest friends come to be with you to witness and support you in the new future you are choosing.
A spiritual wedding reflects the significance of this special day in your lives. The love you experience on this day will endure.
For your own personally designed spiritual wedding, contact Anne Naylor for an initial conversation to explore what that could mean for you.
REAL LIFE. REAL NEWS. REAL VOICES.
Help us tell more of the stories that matter from voices that too often remain unheard.
This post was published on the now-closed HuffPost Contributor platform. Contributors control their own work and posted freely to our site. If you need to flag this entry as abusive,
send us an email
.