Diwali, the Hindu Festival of Lights, is a time of reflection and celebration meant to usher in good fortune in the coming year. It is celebrated this year on Sunday, October 30th, but the days before and after are a joyous season to be spent with family and friends. While older generations eschew alcohol during festivals, younger, cosmopolitan Indians join their friends and toast to a year filled with luck and good fortune. These Diwali cocktails were created by Abhas Saxena, Chief Sommelier at Mumbai's Taj Mahal Palace Hotel. The onsite Harbour Bar, one of the city's premier cocktail lounges, has the distinction of holding the first liquor license issued in the city, issued in 1933.
In addition to colorful lanterns and candles, ornate arrangements of marigold flowers are a staple decoration of the Diwali holiday season.
5 cilantro sprigs
5 mint leaves
1 teaspoon black pepper, freshly ground
1 teaspoon Kosher salt
2 teaspoons sugar
1 teaspoon caraway seeds
1 ounce water
2 ounces Bombay Sapphire Gin
2 ounces ginger ale
1 marigold flower for garnish
Combine cilantro, mint, pepper, salt, sugar, caraway seeds and water in a food processor until you make a fine paste. Add one teaspoon of paste to a brandy snifter and add the gin. Stir until well combined. Fill the glass with ice and top off with ginger ale. Garnish with one marigold flower. Enjoy. Makes one cocktail.
Diwali is a time of year to reflect on one's past excesses and make resolutions to create healthier habits in the coming year. This cocktail mad with bourbon and chamomile tea is a nice combination of both.
3 ounces brewed chamomile tea
1 teaspoon honey
2 ounces bourbon
2 shakes bitters
½ teaspoon lime juice, freshly squeezed
Mint sprig for garnish
Brew chamomile tea and add honey while it is still hot. Let cool to room temperature. Fill a tall glass with ice and add the tea, bourbon, bitters, and lime juice. Stir well and garnish with mint. Enjoy. Makes one cocktail.
Recipes and cocktail photos courtesy of the Harbour Bar, Taj Mahal Palace Hotel, Mumbai, India.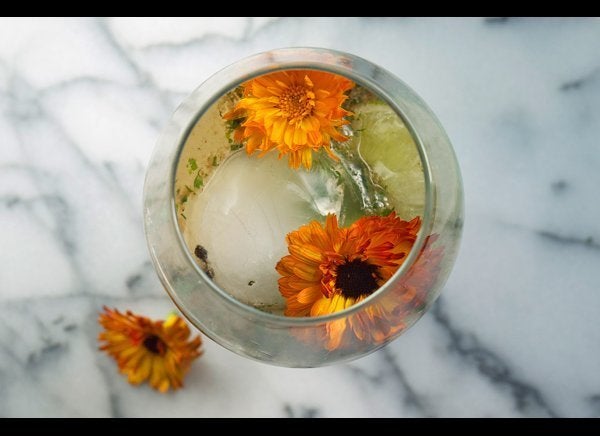 Celebrate Diwali With an Indian Cocktail