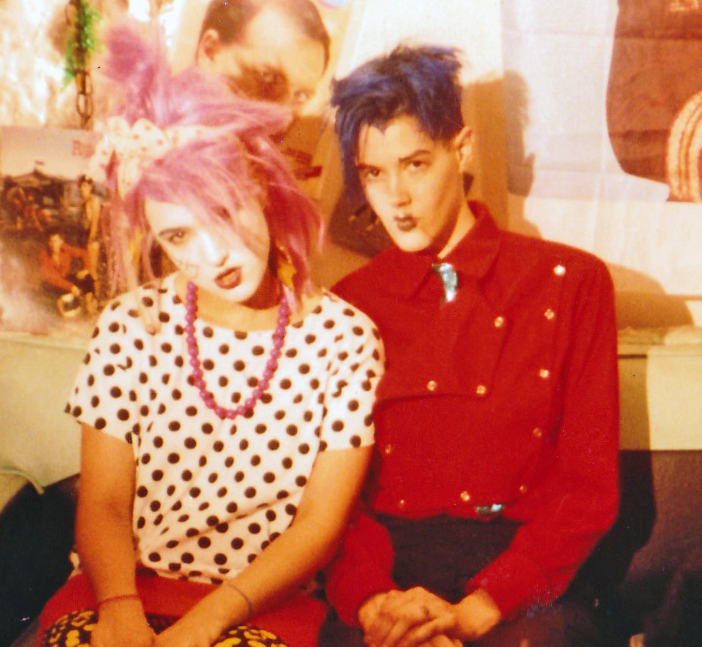 Dirty Looks , a platform for queer experimental film and video and an institution in the NYC queer arts scene, will mark its five-year anniversary on Wednesday, Nov 4 with the screening of a "lost" Riot Grrrl film, "In Search of Margo-go."
Since its inception, Dirty Looks has established a bi-costal presence, extending its reach to Los Angeles and beyond. Headed up by Bradford Nordeen and Clara López Menéndez. Dirty Looks curates installations, events, and festival-esque screening projects in various art spaces, institutions and venues. In the words of the pair, "we began approaching these screenings as installations that activate queer spaces through moving image and performance."
The Huffington Post chatted with Nordeen and Menéndez this week about the five-year anniversary in order to get a better understanding of Dirty Looks and how the platform plans to evolve in the future.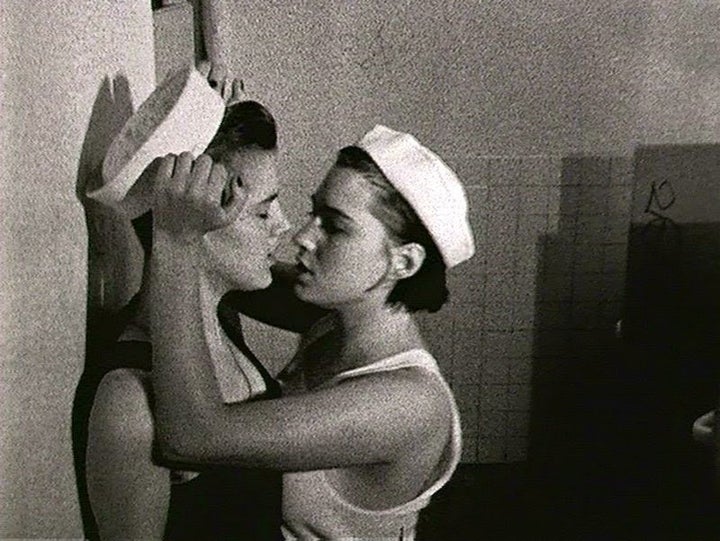 The Huffington Post: What is Dirty Looks?
Bradford Nordeen & Clara López Menéndez: DL is a bi-coastal platform for queer film, video and performance operating out of New York and Los Angeles. It started as a gap-filler for the New York city cultural landscape. There wasn't a regular space to see queer experimental film practices, which [founder Bradford Nordeen] found surprising in a city like New York. After several screenings in venues like Participant Inc., PPOW and SilverShed, there was a robust enough following to take the project on the road.
Dirty Looks began as a monthly series curated by [Bradford] with Karl McCool joining towards the end of the first year. Realizing that the project carried with it a large social -- or even, installation -- component, we launched our most ambitious and successful public program in our second year: On Location. Together with a selection committee of 12 emerging curators, the DL team organized a series of 31 screenings during the month of July (one screening per day). Initially devised as a yearly program in 2012, we reconfigured the model to become a biennial effort after 2013. Our recent edition this past summer was an incredible success, with even greater crowds than attended years prior, serving as a total reminder of the importance for spaces and occasions to present queer historical and contemporary work of this kind. On Location mobilizes viewers in such an engaged way due to its use of space. Working with a diversity of art spaces, institutions and venues, we began approaching these screenings as installations that activate queer spaces through moving image and performance. So with On Location 31 days corresponds to 31 locations across New York City, from art spaces like MoCADA or White Columns to music venues like the Pyramid Club or spaces for queer/gay sociability like Le Petit Versailles or The Eagle.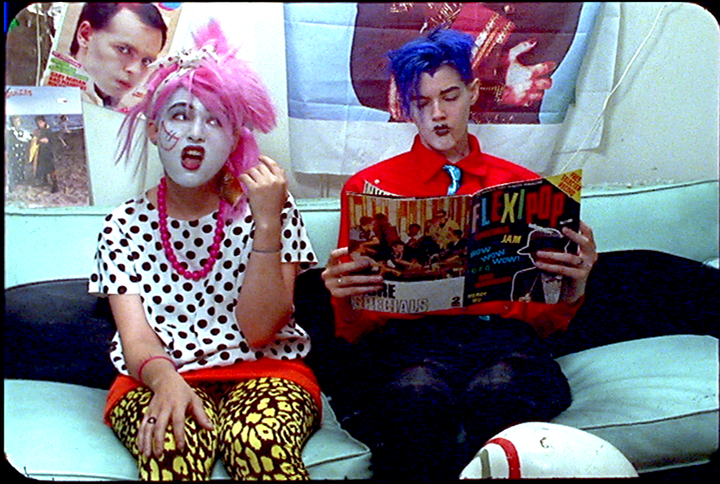 How has Dirty Looks grown and evolved over the past five years?
From the start we've been pretty bowled over by the interest in our programming, which emerged outside of New York pretty quickly. It's always pretty thrilling to take these shows, which may or may not have a kind of New York slant on them, elsewhere. We've been to cities like Los Angeles, San Francisco, Toronto, but also midwestern cities like Chicago, St. Louis, Milwaukee. We even just installed an exhibition of video work in a small non-profit gallery in São Paulo!
During On Location 2013, we started working with Clara López Menéndez, a Spanish contemporary curator who had just moved to the states from Berlin. We developed a strong relationship with López through On Location, and she joined the Dirty Looks team to help launch programming in Los Angeles, which launched this year in institutions like REDCAT, ONE National Gay & Lesbian Archive, Machine Projects and Human Resources. It's interesting that in a city so rich with cinema, our efforts to feature queer experimental content were extremely well-received and encouraged, proving the need for this type of programing and its ability to build communities in very different urban contexts.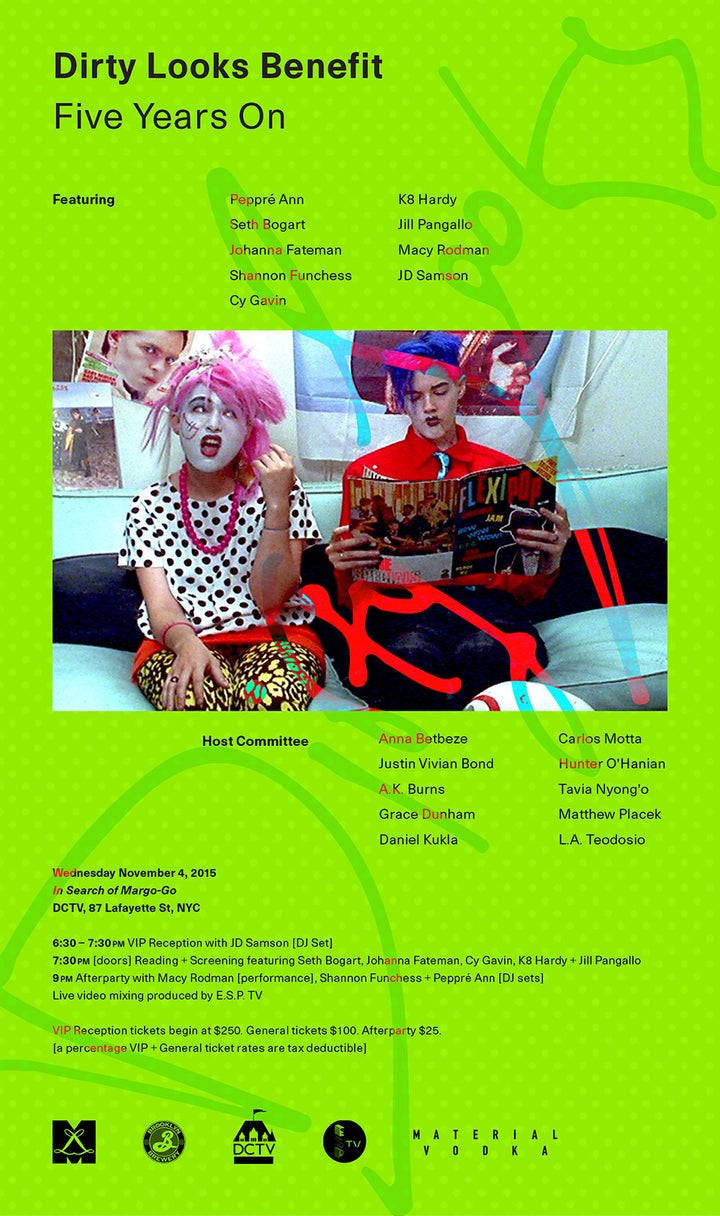 What do you have planned for the five-year anniversary?
We're organizing a benefit fundraiser on Wednesday, Nov. 4 at DCTV in Soho to begin a series of celebratory events, commemorating five years. These have been five years filled with over 150 screenings and performances featuring the work of artists like Luther Price, Dynasty Handbag, Kenneth Anger, Charles Atlas, Colin Self, Chris E. Vargas, Tom Rubnitz among so many others.
To kick off our five-year celebration, we decided to do what we know to do best: screen an elusive queer gem. So, we're premiering "In Search of Margo-Go," a film by Jill Reiter that became the stuff of legends in Riot Grrrl zines of yore, not least of which because it stars Bikini Kill front-woman Kathleen Hanna. Shot in 1994, the would-be-a-feature got stalled in a production process that saw its filmmaker move to San Francisco. That existing material never saw the light of day, but having worked with Jill for the past few years, we were thrilled when she told us of a 40-minute version that she was readying with animator Katie Bush. We'll be showing this material -- much of which was shot in New York -- for the first time on the East Coast. And to get a sense of scenes that never came to light, we're preceding the screening with a short, original script reading where a group of very special guests and supporters of Dirty Looks will read excerpts of the original film script. Artists Seth Bogart, K8 Hardy, Johanna Fateman, Jill Pangallo, Cy Gavin and Brontez Purnell will be performing and JD Samson, Peppré Ann, Macy Rodman and Shannon Funchess from Light Asylum will be animating the after-screening party with their DJ sets and music acts.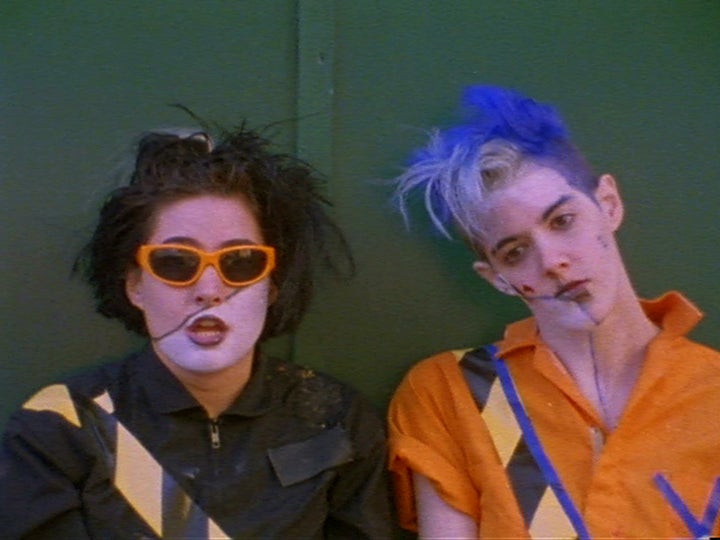 What do you hope Dirty Looks evolves into in the future?
Right now we are transforming Dirty Looks into a non-profit organization, expanding our team to embody a more collaborative structure, which will allow us to include more voices and queer experiences in the works we feature and the conversations we are striving to foster. This is a very important moment for us as this transformation will create jobs out of this kind of exciting archiving and excavating and allow us to improve these resources. It is a really exciting moment, a coming of age, the beginning of a new and very important phase for Dirty Looks. Five years was never really a goal when we first started out with a one-off screening and a borrowed 16mm film projector. We have a very exciting project that we'll be announcing at the benefit, something that will expand DL's imprint on a national level. We're very excited to share -- won't you join us?
The five-year anniversary of Dirty Looks will take place on Wednesday, Nov. 3 in NYC. Head here for more information.
Popular in the Community