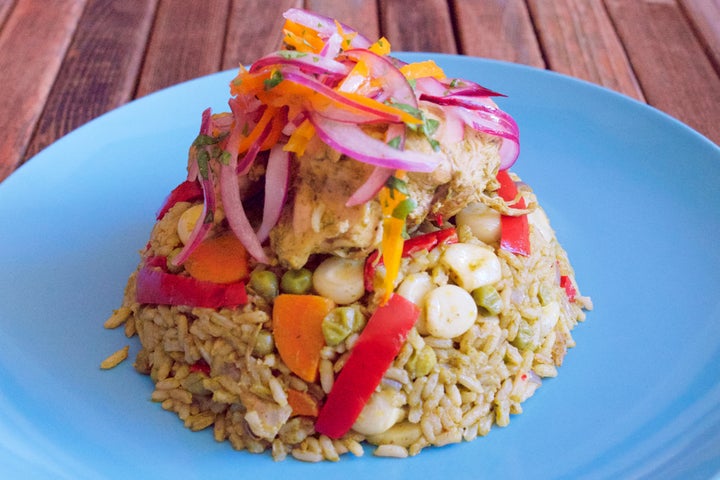 National Hispanic Heritage Month celebrates the contributions of Hispanic men and women in American society. What started off as a week-long celebration to honor countries like Mexico, Colombia, Venezuela, Costa Rica & Nicaragua, grew to a month long dedication to include other holidays such as Columbus Day, or Dia de la Raza.
Hispanics have made countless contributions to the United States, one in particular that has had a lasting effect is its influence on cuisine. Each country has their own unique dishes, sometimes made with their own indigenous ingredients. Even with all the diversity, there is still one dish that transcends all countries and is a familiar item with all Hispanics and Latinos. That dish is Arroz con Pollo.
Arroz con Pollo, or chicken with rice, is a dish that has very similar roots to the Spaniard Paella, and is made in almost every Latin country. Quite simply, its seared chicken, cooked with rice that is mixed & seasoned with different vegetables. Although it is made in almost every Latin country, each one has their own version of this popular dish. For Mexicans, they flavor this dish using chili or chili powders. Colombians use 'sofrito,' which is a flavorful sauce using vegetables and seasonings like tomato and saffron, to flavor the rice. Nicaraguans use a combination of olives, sausage, and ketchup to bring a different sabor and color to this iconic dish.
I learned how to make this dish when I moved to the United States twenty-seven years ago. Peruvian Arroz con Pollo has a special combination of cilantro and dark beer. The cilantro in this recipe is pureed with the chicken broth and used to cook the rice. This allows the dish to really absorb the full flavor, and health benefits, of this superfood. The beer adds a slightly toasty note with a denser texture. As a registered dietitian, making this dish with whole ingredients like bell peppers, choclo (big corn) and peas, allows me to appreciate the nutritional value of this dish. It is also important to know what oil to use when cooking, especially if it can give it an extra boost of nutrition.
Arroz con Pollo A La Peruvian
Serves: 6 Serving Size: 1 ½ cups
1 whole chicken, deboned and skin removed
1 medium red onion, chopped
1 tablespoon garlic, minced
2 tablespoons aji amarillo or other chili paste
1 cup carrots, sliced and quartered
1 cup choclo or frozen corn
1 medium bell pepper, julienne
Debone and remove the skin from the whole chicken. Make sure to cut the chicken breast in half. In total, you should have six pieces which include two drumsticks, two thighs and four chicken breasts. Wings are optional to keep.
Heat up a large, high sided skillet on medium-high heat. Add the canola oil and heat it up for about one minute. Add the chicken and cook for about 5-7 minutes on each side, or until it begins to get a good sear. Remove chicken and set aside.
While the chicken is browning, add the cilantro and chicken stock in a food processor and puree until the cilantro is well blended. Set aside.
In the same skillet, add the onion and cook for one minute. Then add the garlic and aji amarillo and cook for an additional two minutes.
Manuel Villacorta is an internationally recognized, award-winning registered dietitian/nutritionist with more than 18 years of experience. He is a trusted voice in the health and wellness industry. He is the author of three books, Eating Free (HCI, 2012), Peruvian Power Foods (HCI, 2013) and Whole Body Reboot: The Peruvian Superfoods Diet (HCI, 2015). Manuel is the founder of the Whole Body Reboot App, a weight loss program with emphasis on superfoods. He is one of the leading weight loss and nutrition experts in the country.