In Pakistan, New Zealand, Sri Lanka and India our humanitarian reconstruction work has all been led by women. In an industry dominated by men, it is intriguing to find that when responding to those in need, it is women who are the first to stand. Moreover in areas of deep poverty and neglect it is women who are building their own future. One example, funded via kickstarter, is a series of homes that are currently being built in Southern Mexico and a training program to allow a collective of women to form a small business by becoming the architects of their future.
Over the next two months a coalition of architectural designers and natural builders will be working alongside 20 women in the indigenous village of San Juan Mixtepec, in the state of Oaxaca, to design and construct an off-the-grid building made from appropriate materials such as clay and bamboo. This type of architecture is known as agri-tecture. This training program and prototype will be the foundation to building a social enterprise.
To increase visibility of the project the team will produce a stop frame animation of the projects evolution, interviews with the women and a series of large-format photographs.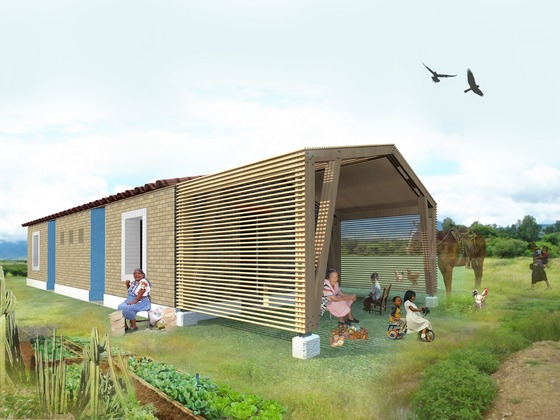 Why Focus on Women
In this town, 60% of the men, mostly youths and family heads between 18 and 35, immigrate, mainly to the United States. 84.5% do not return.
The Prototype
The structure sits within a simple, rectangular plan, formed by two nucleus's: One private and one public.
Each one is formed by two intersecting arches that cross in the center, underline the notion of space and marking each space's activities. This allows ample spaces even though the area is small. The patio presents itself as an extension of the house directly connected to the kitchen. It is supported by a wooden structure lined with bamboo, placed with spaces in between making the wall translucent. The patio opens to vibrant natural surroundings, creating a privileged socializing area.
The one floor house is punctuated by the color on the doors, which can vary depending on its occupants and should use strong marking colors, which is characteristic to Mexico.
The variety of textures present in the adobe, bamboo and roof tiles contribute to a richer and more harmonious entirety.
Ecological: Regional and biodegradable materials.
Social: Strengthens community work.
Structural: All walls are structural.
Economical: Resource Optimization.
Cultural: Integrates with the traditional houses and promotes local knowledge.
SOLAR ENERGY
To take full advantage of the solar energy, small solar panels will be installed to convert the energy from the sum into electricity. It is expected that they allow the use of: 4 light bulbs, 1 television and 1 radio. (the average amount of appliances used in this municipality)
WATER
A deposit collects rain water from the roof and it is re used for watering the vegetable garden, the kitchen and the bathroom. This way the women are less dependent on external water supplies.
Other than the reuse of water, a treatment system will be implanted through the use of a gray water filter made up of gravel, plants and coal. This water may be used to water the vegetable garden.
COMPOSTING TOILET
The "Composting Toilet" is a system used in bathrooms where, instead of using flush water or sewage systems, urine and feces are stored and treated through composting turning them into nutrient products for soil. There is no use of water, therefore there is no water waste and water contamination is avoided. It is similar to a composting system, as oxygen is also needed for the process to take place.
A chamber where feces and urine (combined or separated) are stored is connected to a tube or chimney to allow hot air to rise leaving the indoor spaces with fresh air.
COMPOSTING
Composting is a biological process where micro organisms transform organic mater, such as manure, leaves, paper and food left overs, in a substance similar to soil known as compost. Other than reusing a part of domestic rubbish, compost improves the soils structure and acts as a fertilizer.
ESTUFA LORENA
The Estufa Lorena is an energy-efficient, traditional stove that uses less wood to cook than normal wood stoves. It is basically a closed box of mud and sand with a chimney. The wood is place inside the box and the food is heated from the hot smoke. This system reduces wood consumption by 60% and improves the air quality in the kitchen.
THE GLOBAL TEAM
20 Women of San Juan Mixtepec, Mexico
Juan José Santibañez, Oaxaca, México
CaeiroCapurso, Oaxaca, México and Barcelona, Spain
blaanc borderless architecture, Lisbon, Portugal and Rio de Janeiro, Brazil
architecture for humanity, San Francisco, US; Port au Prince, Haiti and Cape Town, South Africa
What is Agri-tecture? One in two buildings on the planet are made from natural building materials yet most of the research and development is focused on the glassy metal pointy ones. Agri-tecture is the marriage of the built and natural building environment.... If buildings were vegetarians they would be argi-tecture.
Calling all HuffPost superfans!
Sign up for membership to become a founding member and help shape HuffPost's next chapter