Today, on International Youth Day 2013, there are more than 3 billion people under the age of 30--that's half of the world's population. While this number may seem overwhelming, we know that young people play an indispensable role in efforts to achieve international development goals. Each of these young women and men represents a solution--so today, we're celebrating 3 billion solutions that are just waiting to be harnessed.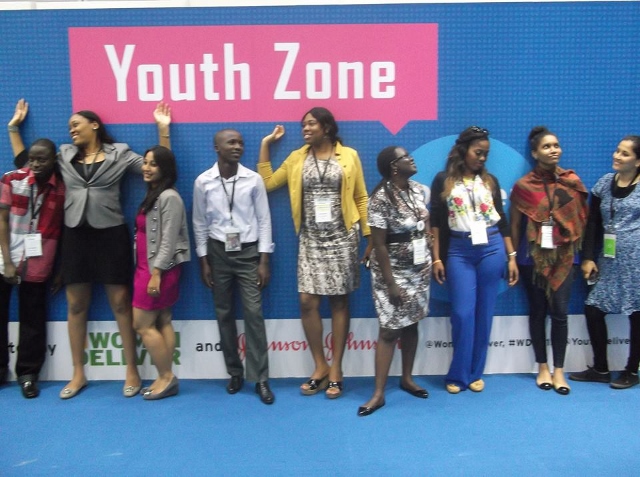 This International Youth Day, we must continue to invest in young people, and we must do everything we can to empower them with the tools they need to push for change locally, nationally and globally. The benefits of meaningful youth involvement are clear. For example, more than 86 percent of civil unrest is found in societies with majority youth populations. If youth were able to actively participate in government decisions, the possibilities could be endless. As Yemurai Nyoni, one of Women Deliver's 100 Young Leaders from Zimbabwe says, "As young people, we ask you all to think with the mind of today and the eyes of tomorrow in bringing youth involvement to a meaningful reality."
The majority of our world's young people grow up in developing countries where they have limited access to education, employment opportunities, health care and basic rights - and young women bear the brunt of these social inequalities and injustices. The United Nations estimates that one in three women are married before the age of 18, and almost 13,000 girls under 15 years of age are married off every day. These young girls are forced to drop out of school, are restricted from joining the workforce, and cannot contribute to household incomes. As a result, they have limited power and are unable to make decisions on behalf of themselves or their families.
Child brides also face an increased risk of gender-based violence and exposure to sexually transmitted infections (STIs). Young mothers under 15-years-old face five times the risk of maternal mortality as mothers in their twenties, and 65 percent of all cases of obstetric fistula occur in girls under the age of 18. While family planning methods could avert many of these maternal injuries and deaths, young people - both women and men - face disproportionate barriers to accessing the information and tools they need to practice safer sex. The relationship is clear: if a girl is uneducated, unemployed or dies in childbirth, her ability to protect her family, contribute to society, and realize her full potential is lost.

Working directly with young leaders, youth-led organizations, and youth-serving organizations, and giving them a voice at the local, regional and international levels is a direct pathway to addressing some of our world's most serious health and human rights violations. At our third global conference, Women Deliver 2013, we brought together an inspiring group of 100 Young Leaders, representing 68 different countries, whose work is making a difference.
• Women Deliver Young Leader Kokou Senamé Djagadou is an advocate and member of the Youth Coalition, an international organization driving the global youth sexual and reproductive rights movement. This youth-led organization has worked to strengthen the knowledge and advocacy skills of youth sexual and reproductive rights activists in the ICPD@20 and MDG@15 review processes, called upon governments to include youth sexual and reproductive rights at the UN, and pushed for greater youth involvement at international conferences around the world.
• Another Women Deliver Young Leader, Cecilia Garcia Ruiz, fights for the rights of youth as the current Gender Projects Coordinator of Espolea, a Mexican youth-led organization. She works tirelessly to ensure that young women in her community understand their sexual and reproductive rights and have the tools to avoid gender-based violence.
• In addition to the young individuals themselves, youth networks play a vital role in youth empowerment. Women Deliver Young Leader Ahmad Awadalla from Egypt represents Youth Peer Education Network (Y-PEER), a UNFPA-led youth-to-youth initiative that includes more than 500 non-profit organizations and governmental institutions, and has given a voice to countless young people around the world. The organization is comprised of thousands of youth who are striving to make adolescent sexual and reproductive health a right for all.
These organizations and individuals are just a few of the thousands fighting to improve the lives of girls and women around the world. They are already leaders, and we need to ensure they have all the tools they need to continue pushing for change.
In this final push towards the 2015 Millennium Development Goal deadline, we cannot afford to leave our young people behind, especially not our young women. We must prioritize the education, health, and rights of youth, and empower them to be the catalysts of social progress they can and deserve to be.
Celebrate Solutions is a weekly column posted on Women Deliver's website highlighting life-saving solutions improving the health and well-being of girls and women worldwide.
Calling all HuffPost superfans!
Sign up for membership to become a founding member and help shape HuffPost's next chapter