For over a decade animal welfare organizations, veterinarians and grass roots activists worldwide have sponsored educational events, discounted and free surgeries, petition drives and letter writing campaigns throughout the month in order to publicize the issue of pet overpopulation.
The timing of this effort is no accident; the increased day length in early spring triggers estrus or, "heat" cycles in many animals. Cats are "seasonally polyestrous," meaning that once the day length grows longer they cycle almost continually until becoming pregnant. Dogs also begin reproductive cycles during the spring; for both puppies and kittens a tragic cycle ending in abandonment and shelter euthanasia starts again every spring.
Here in the U.S.being an unwanted animal remains a leading cause of death of dogs and cats.
Increasing opportunities for people to get pets altered by opening new programs and pressuring city officials to support pro-active ordinances that mandate spay/neuter is vital, but encouraging people to spay a pet before an accidental first litter is born is equally important. Two dogs or cats produce five to ten offspring at a time; the tragedies increase geometrically and kittens and puppies that are born in the spring will be able to have their own litters by fall.
Two organizations are working to educate the public about how to prevent accidental litters.
When to Spay is a national campaign encouraging people to fix their pets by four months in order to prevent accidental litters. Aimee St.Arnaud leads the campaign for Humane Alliance. St.Arnaud said, "Many people are surprised to find out that cats can get pregnant at four months and dogs by five months. They are also surprised to learn that littermates can reproduce with each other as well, adding to "oops" litters." She added, "Fixing your pets before they are able to reproduce means not having to deal with unplanned litters, pets in heat, and reduces annoying behaviors like spraying and fighting which none of us like!"
Esther Mechler is the founder and president of Marian's Dream: Philanthropy for Animal Advocates. Mechler developed "Beat the Heat," a campaign created to inform the public that there is indeed a race against the clock in preventing accidental litters. Mechler said, "Most kittens born in the U.S are unwanted, and end up in shelters, with hoarders, or on the streets. We need to, 'beat the heat' or in other words spay cats before their first heat - before five months. If we all get on board with this, we could see results in a very few years." Mechler said, "It costs no more to spay a cat before an accidental litter than afterward, but once a litter is born taxpayers and shelters must respond. It's everyone's issue then."
There are many reasons to address the overpopulation of dogs and cats.
Worldwide, this issue hits poor communities the hardest. Animal shelters are largely unaffordable in developing nations and in any case, a limited number of shelters could not accommodate even a tiny fraction of the millions of animals needing help. Fortunately, many people are catching onto the fact that preventing unwanted litters bypasses the need to house an ever increasing number of animals; it is the fastest, most cost effective, compassionate solution that exists.
Adding to this tragedy, according to World Society for Protection of Animals (WSPA) thousands of people die of rabies each year and the vectors in over 98 percent of cases are dogs. The issue results in the dogs being collected and killed, the cruelty is gruesome and more dogs simply replace the ones that were killed, meaning the disease remains rampant while animals suffer horribly.
Vets Care Organization (VCO) is a highly organized group of veterinary students in Pakistan, where rabies remains a human health threat. Historically campaigns to contain rabies in Pakistan have focused on elimination of the dogs, a fact that VCO is working to change through rabies vaccination drives and spay/neuter events.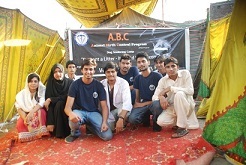 VCO will celebrate Spay Day, February 25, by sponsoring multiple activities including the presentation of signatures from veterinarians throughout Pakistan, and from the general public in Lahore, showing support for the following statement, "On the eve of World Spay Day, I pledge that I will always promote humane methods like Spaying/Neutering to control companion animals (dogs and cats) population and I condemn all unethical and inhumane methods of killing innocent animals. Stop Killing - Adopt Animal Birth Control!" The signatures will be submitted to government personnel who have been invited to a seminar on humane animal control and spay/neuter.

Dr. Osama Riaz, DVM UVAS, Joint Secretary Vets Care Organization (VCO) Pakistan in Lahore said, "This is to create awareness of the need for humane methods of controlling animal populations worldwide." Riaz noted that an outstanding team of veterinarians and students are responsible for the 2014 VCO projects which include, in addition to the signature drive, an awareness walk on campus to distribute brochures and to educate students on the importance of Spay Day. VCO is conducting two surgical spaying camps as well.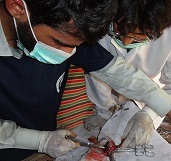 Spay/neuter is a solution, it is not a band aid. Spay Month reminds us that a prevention based approach to animal overpopulation is the only way to address animal suffering in a very big way that reaches all across the globe. It enables people to care for animals instead of fearing them. The equation is stark, for millions and millions of dogs and cats worldwide, it is spaying or killing. As humanity, the choice is in our hands.

Please join this effort. Make sure your pet is spayed or neutered, donate to a local spay/neuter program, demand that prevention be the first strike in handling pet overpopulation in your community and support local ordinances that mandate that companion animals be altered. Working together we can make sure that far fewer animals will know the misery of being homeless.
Calling all HuffPost superfans!
Sign up for membership to become a founding member and help shape HuffPost's next chapter