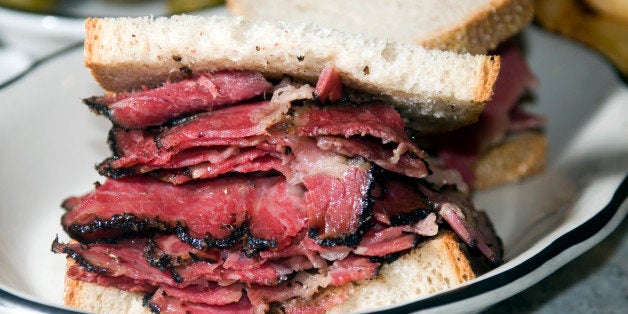 With St. Paddy's Day right around the corner, we can't help but turn our thoughts to ways to properly celebrate the holiday that pays homage to the Emerald Isle.
For example, the corned beef and cabbage that Grandma insists is a centuries-old family recipe? It used to be boiled bacon with cabbage. Corned beef didn't enter the equation until Irish arrivals to America learned all about brining from their new Eastern European neighbors.
Now, it's a unique and delicious part of Irish-American culture, one that's enjoyed all across the country come March 17.
Of course, these days, we can get a little more creative with the customary ingredients. For a modern take on this old-fashioned recipe, we're especially obsessed with tasty corned beef sliders, which offer a perfect taste of that St. Paddy's spirit!
Cook: 4 hours | Prep: 20 minutes | Serves: 2-4
4 cups water
2 Tbsps. sugar
2 Tbsps. apple cider vinegar
1 corned beef brisket and spice packet
1 diced white onion
1/2 cup diced celery
1 cup diced potatoes
1/3 cup Dijon mustard
3 Tbsps. honey mustard
1/4 cup stout
24 sweet rolls, sliced in half
Coleslaw, to garnish
In a Crock-Pot, combine water, sugar, apple cider vinegar, corning spices, brisket, onion, celery, and potatoes.
Cook on high in Crock-Pot for 4 hours.
Mix both types of mustard and the stout together, then spread on the inside of the sweet rolls.
Slice cooked brisket into 1/4-inch slices, and place in the rolls.
Top brisket slices with coleslaw and close sandwich.
Serve and enjoy!
For step-by-step instructions, check out the tutorial video, and make sure to SHARE this St. Paddy's classic with friends and family looking to celebrate the holiday in style!
More Recipes From LittleThings
:
Related