International Cheetah Day is the annual day of celebration for Africa's most endangered big cat, the cheetah. Every year, December 4th serves to remind us that the cheetah is a living natural wonder of our world. As the fastest animal on land, the cheetah occupies a unique niche within its ecosystem and has an earned reputation as one of the more successful hunters in the animal world. Cheetahs evolved for millions of years to be the sleek, and speedy hunters that they are now. Their smaller, specialized body structure favors flexibility and maneuverability over brute force. If they are threatened after a successful hunt, they tend to abandon their kills and hunt again. This makes the cheetah a provider of easy meals for other larger predators, as-well-as an assortment of carnivorous scavengers. They are a keystone species within their ecosystem, keeping the population of small grazers and small mammals in check. They are essential; we cannot lose the cheetah.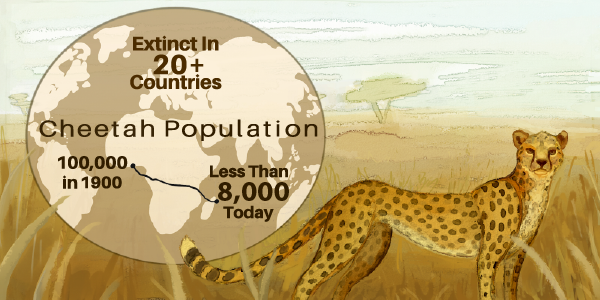 Cheetahs survived through the Pleistocene extinction about 12,000 years ago when their population crashed, resulting in a population that has become very genetically similar. They bounced back and thrived, spreading across Africa, the Middle East and southern Asia, but since 1900 the world has lost over 90% of its cheetahs. The cheetah was listed as an Endangered Species in the United States in 1970, three years before the Endangered Species Act was signed, and are today classified by the IUCN (International Union for Nature and Natural Resources) as vulnerable with some of the very small populations (in Iran and in North and West Africa) as critically endangered.
Today, the cheetah's survival depends on human conservation action. The fate of the cheetah rests with us and the next generations of decision makers. Unless we act now, we may lose the cheetah during our lifetimes. With the intention of preventing this unthinkable outcome, CCF working together with the IUCN created International Cheetah Day in 2010. We hope that combined efforts can raise awareness for the cheetah and encourage celebration of the work being done to save the species. Over the past seven years participation has grown steadily and we hope you will help us make this year's International Cheetah Day celebrations even bigger than before!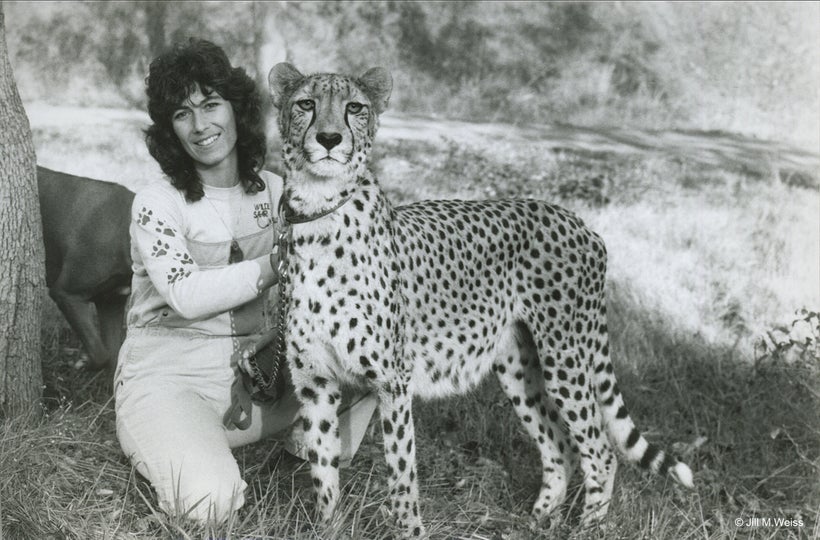 I've worked with cheetahs for over 40 years and they still captivate me. I'm constantly learning from my own research as-well-as the research of others and I have always wanted to be able to bring all the information together into one resource. This year I was very proud to be able to finish compiling and co-editing a comprehensive textbook on the species. Cheetahs - Biology and Conservation will be published on November 28th, just one week before International Cheetah Day. It was an honor to work in partnership with colleagues from around the world on this project. Contributing authors cover a variety of disciplinary perspectives on the cheetah. Topics cover: genetics, ecology and behavior, large landscape conservation, political involvement, policy building, and the impact of climate change on the cheetah and its ecosystem. It is my hope that people will take the opportunity to learn from the work that's been done to save the species - that young people may be able to take up the cause and use the information to save the cheetah.
Since founding CCF in 1990, we have built scientific partnerships across landscapes and ranges in an effort to try and save the cheetah from extinction. These partnerships have been key components in our ability to do things like publishing Cheetahs - Biology and Conservation. However, we don't just partner within the scientific community. Some of the most critical partnerships, in terms of keeping the cheetah population stable, are happening within the local farming community and in zoos around the world. Without partnerships between conservation groups and NGOs, governments and regular everyday citizens we won't be able to save the cheetah. Zoos and NGOs across cheetah range countries will be holding International Cheetah Day events on the days surrounding December 4th. Please visit internationalcheetahday.org for the listings of events in your area and if you can't attend please do at least one of the things on the list of the 10 to help raise awareness. They are all very easy to do - and hopefully fun too.
Everyday feels like International Cheetah Day for me and for all the staff working at Cheetah Conservation Fund (CCF). We need YOUR help on December 4th so please join us in celebrating the cheetah.

REAL LIFE. REAL NEWS. REAL VOICES.
Help us tell more of the stories that matter from voices that too often remain unheard.
This post was published on the now-closed HuffPost Contributor platform. Contributors control their own work and posted freely to our site. If you need to flag this entry as abusive,
send us an email
.