Some have just opened and others are about to complete their run. These shows are your bonus if you've gotten your holiday shopping out of the way early. And it's also our excuse to wish you and yours a happy holiday season and a great 2011 from ArtScene and Visual Art Source. See you in a couple of weeks. . . .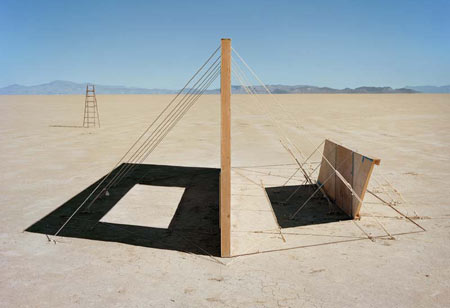 Chris Engman, "Inverse Negative," 2010, inkjet print, 38 x 48", at Greg Kucera Gallery.
Photographer Chris Engman has zero interest in capturing time. On the contrary, his color photographs reveal temporality by shifting the viewer's gaze away from the often-mundane object at the center of the frame and towards peripheral shadows, changing climates and fluctuations in light. In "Dust to Dust" Engman uses images of constructed (and deconstructed) environments to highlight the temporary nature of all things. "Life," says Engman "is one of those things that just doesn't stay still."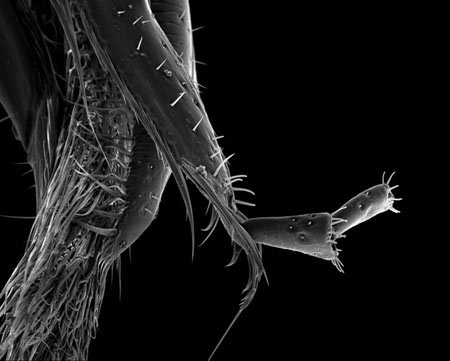 Rose-Lynn Fisher, "Proboscis 150x," 2010, archival pigment print, 24 x 30", at Craig Krull Gallery.
The deep, dark, almost tactile blackness covering Brian Forrest's photographs is primordial. At first glance the extensive darkness they offer seems like a blind wall; dense, solid and impenetrable. Like human eyes becoming attuned to seeing in the dark, however, the images slowly adjust to a lingering gaze; shapes emerge and forests appear. Not the shadow dappled forests of holidays spent camping out, but the mythic, haunted forests of ancient human memory.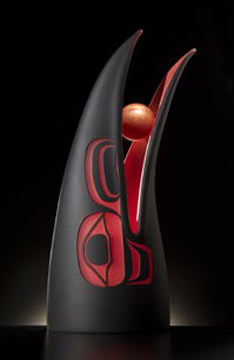 Preston Singletary, "Raven Stealing the Moon," 2006, glass, 17 x 10 x 6.6", at The Heard Museum.
Driven by a desire to wed traditional Native American storytelling and symbolism with the "wow factor" of contemporary glass blowing, Preston Singletary succeeds on both counts in this mid-career retrospective. Of the 54 works, most draw their inspiration from Singletary's Tlingit (Alaskan native) heritage and thus depict anthropomorphic animals on glass representations of utilitarian and ceremonial objects such as crest hats, amulets, baskets, cedar boxes and masks.
The aspects that elevate the pieces to the "wow" level are: the intense yet translucent colors; the use of lighting to let the geometric designs cast shadows on the display surface; the painstakingly precise cuts to the glass through sand carving and other devices; and the sheer size of several pieces.
Taking center stage is "Clan House" (2008), a 16-foot-by-10-foot cast-glass triptych evoking a longhouse, with two intricately carved posts flanking a giant screen, all aglow in gold and black. Another stellar achievement is "Raven Steals the Sun, Stars, and Moon" (2008), depicting the omnipotent Raven of Tlingit heritage, mounted high on the wall. Inside its beak: a glass fireball symbolizing light. The piece is deceptively simple, and, like "Clan House" and other pieces, it brings welcome diversity to the American Studio Glass movement.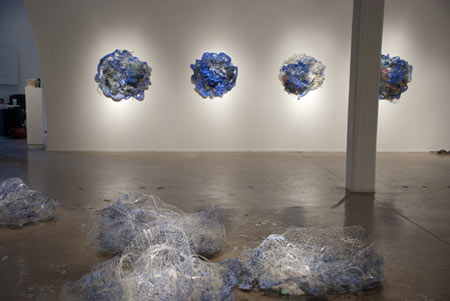 Joan Hall, installation view (l. to r., "C4," "C1," and "C2," 2010, paper, found objects, Mylar, acrylic; foreground, "Here No More," 2010, found nets, paper, glass, plastic, cast resin, stainless steel), at Blue Star Contemporary Art Center.
Avid sailor Joan Hall responds to the plastic trash she sees floating miles from the ocean shore with her wall-mounted sculptures that resemble fishing nets bulging with man-made debris. Her visual lamentation about the decline of ocean life evokes feelings of being damaged, trapped and insignificant. Working with Japanese-style handmade paper and printed digital imagery, she uses a scalpel to cut out the fish nets and laminates them with Mylar for a translucent effect.

In one piece, she's inserted contrasting circular images of cancer cells and coral life forms, though it's difficult to distinguish the abnormal cells from the merely endangered. The largest wall work appears stuffed with sun-bleached shopping bags, illustrating that 10 percent of all plastic winds up in the oceans. She also uses flotsam picked up from the beach, such as the plastic fishing nets that form three garbage baglike sentinels in a melancholy floor installation, "Here No More."
Ivano Vitali's newspaper weavings that mix crafts traditions with that of Arte Povera are paired with Hall's recycled works under the title "Crossovers: Materials and Metaphors." Guest curator Meredith Dean brings together these distinct bodies of work based on shared handmade techinique and environmentalist concerns.

- Dan R. Goddard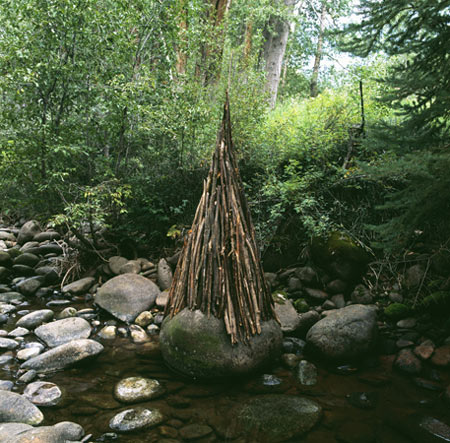 Andy Goldsworthy, "Stacked branch, boulder, spire, Woody Creek, Colorado," 2006, unique Ilfochrome print, 15 1/2 x 15 1/2", at Haines Gallery.
Continuing through December 24, 2010
Haines Gallery, San Francisco, California
Using only materials found as is in nature -- rocks, dirt, water, flowers, branches -- Andy Goldsworthy creates quietly beautiful installation works. Goldsworthy has executed over 120 commissioned works the world over, several of which are located in the Bay Area, including the cracked stone piece, "Drawn Stone," which traces the entrance to the de Young Museum, "Spire" in the Presidio, "River of Stone" at Stanford, and "Surface Tension" at the Hess Art Museum. Typical of the Scottish artist's work, these feel so right, so effortless, poignant and poetic. What isn't evident is the complex conceptual and experimental considerations leading up to these elegant final products.
This current exhibition provides insight into Goldsworthy's explorations; it includes documentation -- photos, works on paper, proposal drawings, and video -- of the "incidental" and often temporary creations resulting from Goldsworthy's process. Images of a hand smacking the dusty ground in the Presidio at the site of "Spire" address his process and stand apart from the final rather architectural image. Video documenting the creation of "Rain Shadows," for which the artist laid on the ground through rainstorms; in the end, the form of his body remains in the dry dirt. These action maquettes and other artistic residues bring a greater understanding to the longer lasting final product. But they also illuminate, as anyone who's seen the 2001 documentary "Rivers and Tides" -- which follows Goldsworthy through many artistic adventures -- that this artist creates graceful traces, however impermanent, all along the way. It's a selection that not only reveals Goldsworthy's path of contemplation, but is a fine example of ephemera that succeeds as works of art in their own right.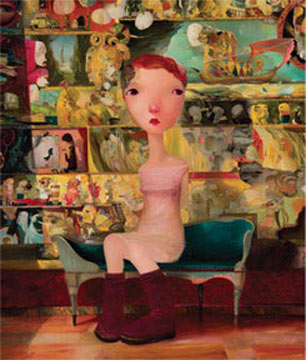 Joe Sorren, "Interruption," 2009/10, oil on linen, at CSUF Grand Central Art Center.
The paintings of Joe Sorren are childlike, cartoonish, dreamlike and lowbrow. But to so label them is to trivialize them. These seemingly innocent works are the product of a world-class painter, albeit a modest one, who paints for the sheer joy of it, who understands that the journey of making art is art itself, and that a finished painting is the beginning or inspiration for a subsequent painting. Each of Sorren's colorful works is a complete scene, a slice of life, inhabited by round-headed, child-like, shmoo-like characters. The series consists of characters with soft edges, in soft hues, all with soft, short hair, at play with balls, in exotic forests, on the beach, at elegant events in gowns, relaxing in bed, posing for a painter.
Sorren says, "I start out on a new canvas, with the idea vaguely pointing the direction. Sometimes this can lead to new perspectives and associations within the painting." As a whole, the works present an imaginary world somewhat reminiscent of Tolkien's Middle Earth. Several sculptures, created in collaboration with Jud Bergeron, depict similar characters, although more rough-hewn, giving the viewer a literal space to see and now to cohabit.
ArtScene and Visual Art Source are the in print and online resources to fine art galleries and museums in Southern California and the Western United States. Visit us online or pick up a copy for complete listings of art venues and editorial Reviews, Recommendations and Previews of the best current exhibitions. Be sure to visit our Openings Calendar page so you can plan visits to the latest exhibitions--of wherever you may be in the Western States.
Want to opt-in for a free subscription to stay current every day on our Weekly Newsletter, as well as new shows, events and (if you are an artist) artists' calls? It's easy.
Related
Popular in the Community