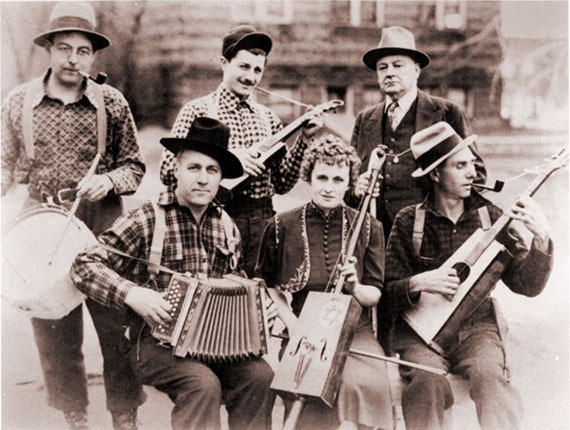 The Wisconsin Lumberjacks in Rice Lake, 1938: (back row, left to right) Earl Schwartztrauber, Frank "Frenchy" Uchytil, J.H. Wallis, mayor of Rice Lake; (front row, left to right) Otto Rindlisbacher, Iva Kundert Rindlisbacher, Ray Calkins. James P. Leary Collection, used by permission of James P. Leary and Lois Rindlisbacher Albrecht.
James P. Leary's new book and CD set, Folksongs of Another America, reveals astonishing diversity in the music of the Upper Midwest. For those who knew where to look, a trip through Wisconsin or Michigan in the 1930s was like a journey to the working-class neighborhoods of two dozen European countries. You could hear Norwegian Hardanger fiddle, Croatian tamburitza bands, Polish dance music, Gaelic and Welsh singing, French-Canadian fiddle, Swiss-German accordion, Italian mandolin, and many other musical traditions. Luckily for us, fieldworkers for the Library of Congress journeyed the highways and logging trails of Michigan, Minnesota, and Wisconsin in the 1930s and 1940s, and now we can hear and read about the results. A joint production of Dust-to-Digital and the University of Wisconsin Press, Leary's boxed set consists of field recordings made between 1937 and 1946. The recordings capture songs in 25 languages and many English dialects, and tunes on instruments as common as the guitar and as exotic as the "Viking cello," a bowed monochord made of a pitchfork and a wooden box, which was a Wisconsin adaptation of the Norwegian psalmodikon.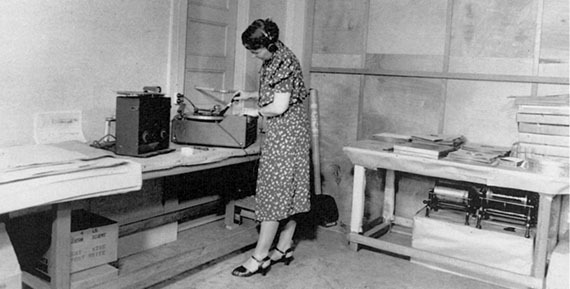 Sidney Robertson Cowell, copying California Folk Music Project recordings for the Library of Congress. Photo taken in the project office on Shattuck Ave., Berkeley, California in early 1939. Used by permission of the American Folklife Center, Library of Congress
The pioneer among the folklorists who recorded this music was Sidney Robertson (1903-1995), who was born Sidney Hawkins, and later known as Sidney Robertson Cowell. Robertson was a Berkeley-trained musician who served as the Midwest regional representative of the Special Skills Division of the New Deal's Resettlement Administration, and her collection dates to 1937. Robertson was very excited by Wisconsin and Minnesota, and wrote to Alan Lomax (1915-2002) to encourage further collecting. Lomax, the most prolific fieldworker for the Library of Congress from 1933 until 1942, could not resist the call, and visited the Upper Midwest in 1938, capturing 250 instantaneous discs and eight reels of color film. Lomax then wrote to the music department of the University of Wisconsin--Madison, encouraging still more collection in the area. Helene Stratman-Thomas (1896-1973), a professor in the department, took on the project, and collected in 1940, 1941, and 1946.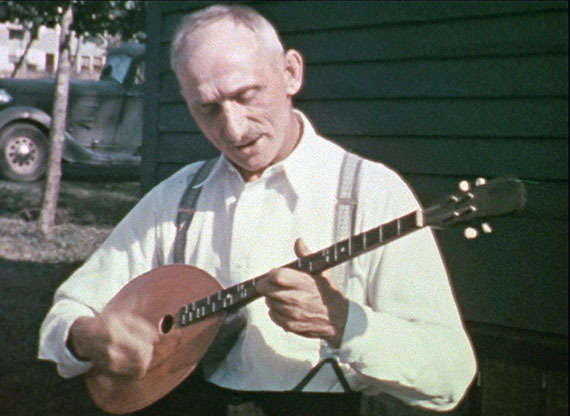 Vladimir Floriani, a Croatian immigrant, led a family Tamburitza band in Ahmeek, on the Keweenaw Peninsula in Michigan. He and his sons also played old-time music in the local Barn Dance troupe. This is a frame from a color film shot by Alan Lomax for the U.S. government in Michigan in 1938, and is in the public domain.
Stratman-Thomas, Lomax, and Robertson brought back over 2,000 songs and tunes. For his book and box set, Leary's task was to select the best tenth of these, match them with beautiful photos and illustrations, and provide thorough scholarly annotations that are also fun to read. The result is a stunning work of curation and scholarship. From the selection of material to the notes, and on to the book design, which includes hundreds of photos, pleasing layout, red titles for ease of reading, and beautiful original prints by Bella Leary, this is a gorgeous production. You'll read about the lives of some 150 Americans from 50 or so ethnicities, and discover the far-flung origins of their songs and music. Best of all, you'll hear these unusual voices of America's ethnic past in all their wild variety.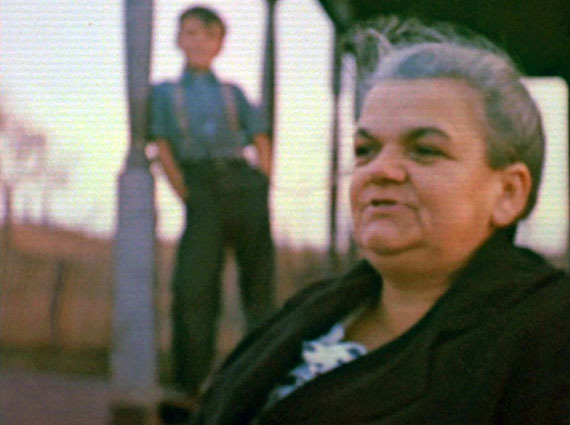 Exilia Bellaire of Baraga, Michigan, performed French-Canadian and Anglo-American songs with her husband Mose Bellaire. This is a frame of color motion-picture film shot by Alan Lomax for the U.S. government in Michigan in 1938, and is in the public domain.
CD 1 presents the recordings of Sidney Robertson, including English-language lumberjack ballads, Finnish charms against hiccups and toothache, Scots Gaelic love songs from Duluth, and Serbian Tamburitza from "The Balkan Troubadours." CD2 presents recordings by The Wisconsin Lumberjacks, a multi-ethnic group from Rice Lake who performed at the National Folk Festivals in 1937 (Chicago) and 1938 (Washington, DC). Both sets are included, and they feature Scandinavian fiddling, Swiss yodeling, Austrian marches and dance tunes, Anglo fiddle tunes, and stories in comic French and Swedish dialects (known locally as "Frenchyman" and "Scandihoovian" tales). They also include a generous selection of tunes played mostly on homemade instruments, including Viking cello, Paul Bunyan harp, cigar-box fiddle, and cow-horn. CD 3 presents a selection of Alan Lomax's 1938 recordings, including Ojibwe fiddlers, French-Canadian songs and dance tunes, a lot of Finnish songs, a few German and Lithuanian pieces, and a nice selection of Polish songs and music, along with more fine lumberjack ballads. The Stratman-Thomas recordings, which make up CDs 4 and 5, add still more languages, ethnicities, and styles to the mix, including Welsh harmony singing, Christian hymns in Oneida, music of the indigenous Ho-Chunk, a Cornish dialect story, and music from Serbian, Croatian, Czech, Italian, Belgian, Dutch, Swedish, Norwegian, Icelandic, and Danish people, among others. The DVD includes Lomax's silent color footage of Serbian, Finnish, Croatian, and French-Canadian singers, as well as the Wisconsin Lumberjacks, painstakingly synched to some of each group's recordings, creating a film that's rough but enchanting; believe me, the rarity of any kind of color ethnographic film from the 1930s makes up for any imperfections. Hear some of the songs and view two video clips at this link!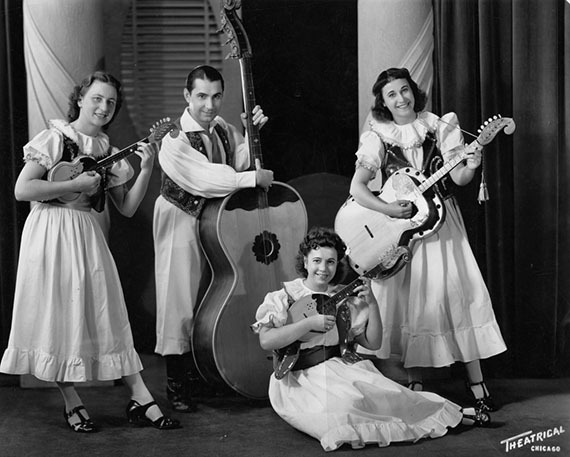 The Elias Tamburitzans, also known as the Croatian Tamburitza Ensemble, billed themselves as "Presenting Exotic Music of Jugo-Slavia." Croatian was just one of the many languages Leary had to work with. (Left to Right) Martha Elias, Charles Elias, Mary Filipovich, Anne Elias.Helene Stratman-Thomas Collection. Used by permission of the Mills Music Library, University of Wisconsin-Madison.
There's little point in picking favorites, but I will point out that a lot of the traditions represented here are still going strong in contemporary America. I even participate in several of them. One of my favorites among Stratman-Thomas's recordings is a bawdy version of the well-known "Lumberjack's Alphabet," sung by Lewis Winfield Moody. I've introduced readers to bawdy songs here before, and I'll be singing a version of this dirty alphabet song in the show "Hello, Sailor" on August 8th at Rock Hall, Maryland's Mainstay. One of the Welsh songs recorded by Stratman-Thomas, "Siani Bach," is the basis of the sea shanty "Hob Y Deri Dan Do," which I have often sung with the group Ship's Company Chanteymen; we're performing on the Kennedy Center's Millennium Stage on August 30, and may well perform this piece. I have also performed and recorded several of the French-Canadian songs Lomax found with the Washington Revels. Although I don't personally participate, I know plenty of Scandinavian, Finnish, Baltic, Balkan, Czech, German, and other ethnic ensembles that might find a rich source of repertoire in this set. But whether you're a music-maker or just a listener, reader, and thinker, there's a surprise on every track and every page.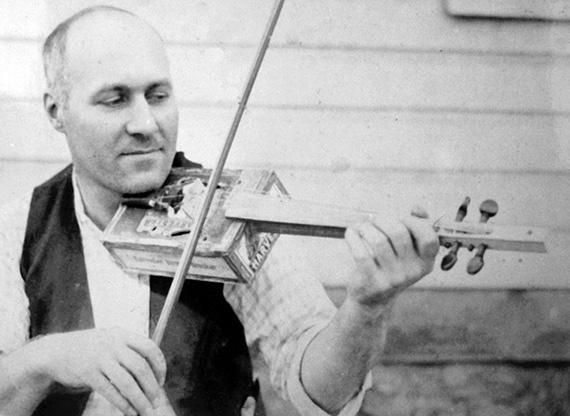 Otto Rindlisbacher, with a cigar-box fiddle, Rice Lake, Wisconsin, 1950s. Collection of James P. Leary, used by permission of Leary and Lois Rindlisbacher Albrecht.
Disclosure: I work in the American Folklife Center of the Library of Congress, the government archive where all of the original recordings are housed. In my role as folklorist and editor there, I provided Leary with occasional help on French folksong questions, and am acknowledged briefly in the book. However, I have no financial or professional interest in the product's success. The opinions expressed above are my own and do not reflect my role in the U.S. government.
Related
Popular in the Community