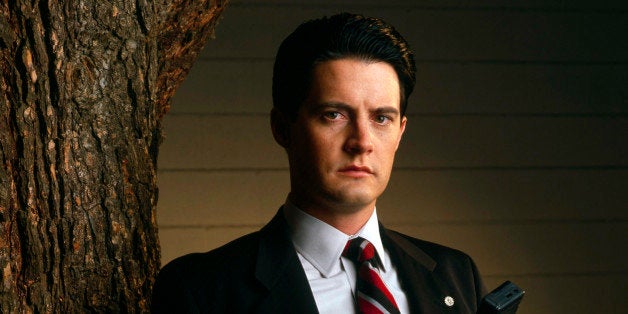 The rumors are true. It's coming back!
If you recall, though Twin Peaks ended in 1991, it was actually set in 1989. In the show, Laura Palmer told Dale Cooper she'd see him again in 25 years, when that gum he likes comes back in style. Well, it's been 25 years, and now the show that pushed boundaries, broke through genres and inspired a generation (okay well, inspired a rabid cult following) is returning to television on Showtime.
It's been over 20 long years since Twin Peaks went off the air. So, in honor of this incredible news, I recommend celebrating by taking a step back into David Lynch's twisted mind at these Twin Peaks-inspired eateries. Psychoanalyze prom queen/drug addict Laura Palmer at Dr. Jacoby's Tiki lounge or commune with trans-dimensional demon BOB at the Black Lodge bar.
"Where pies go when they die." - Special Agent Dale Cooper
Twede's Cafe in North Bend, WA, served as the filming location for the Double R Diner, where Norma Jennings and Shelly Johnson served damn fine cups of coffee and succulent slices of cherry pie (which you can still order today). David Lynch discovered this cozy diner on a location scouting trip back in 1990, he fell in love with it (as well as the surrounding area) and the rest is TV history!
"There's a sort of evil out there. Something very, very strange in these old woods...A darkness, a presence. It takes many forms but... its been out there for as long as anyone can remember and we've always been here to fight it." - Sheriff Harry S. Truman
As you may recall, the Bookhouse Boys were a secret fraternal society whose purpose was to combat the evil surrounding Twin Peaks. Their headquarters was the Bookhouse (a bar and pub) where they met to discuss vigilante justice and stuff, and The Bookhouse Pub in Atlanta is a fitting tribute. It features an epic window mural inspired by the Native American artwork showcased in the Great Northern, and an outdoor Tiki Bar called Dr. Jacoby's Island. Here you can order drinks such as the Log Lady (a light and earthy cocktail), an Agent Dale Cooper (made with Espresso Vodka) or an Audrey Horne. They also have a selection of "Damn Good Whiskey."
"For you see, the cave painting is not only an invitation... it's also a map! A map to the Black Lodge!" - Windom Earle
Located in Vancouver, this newly-opened Twin Peaks-themed bar features Laura Palmer's prom picture, as well as tree stump tables, and a creepy Red Room bathroom. While they don't serve cherry pie (yet), their hot dogs are to-die-for (try the John Candy Dog, garnished with coconut bacon)! More owls and Bob references are in the works.
"One day my log will have something to say about this. My log saw something that night." - The Log Lady
This hip subterranean lounge in Portland features a dark and intimate wood and red interior, and has this whole sexy lumberjack theme going on. The décor is going for a modernist diner look "with profound Northwest influence, an ideal somewhere between Twin Peaks and a chic cosmopolitan truck stop." Mission: Accomplished.
"Through the darkness of future past, the magician longs to see, one chants out between two worlds, fire walk with me!" - Leland Palmer
Our final Twin Peaks-influenced eatery is Mission Chinese Food. At this popular NYC Chinese food restaurant (which has a sister-location in San Francisco), the Twin Peaks soundtrack (by the master, Angelo Badalamenti) plays on a loop in the bathroom, and the bathroom floor tile is an homage to the Black Lodge. Try the One-Eyed Jack and the Great Northern cocktails. Rumor has it they're working on a new drink, the Laura Palmer (a sexy take on the Arnold Palmer).