Well, if you'd like to toast Homer, Marge, Lisa, Bart & Maggie with an authentic Simpsons-inspired beverage, then there's really only one place on the planet to go. And that's Universal Studios Florida. Which recently opened a full-scale, authentic recreation of Moe's Tavern as part of that theme park's Springfield, U.S.A. expansion project.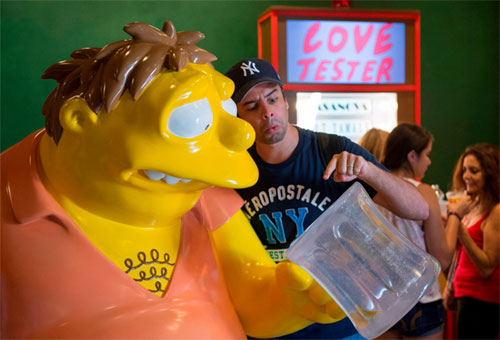 "Ever since we first opened The Simpsons Ride back in May of 2008, visitors to the Universal Orlando have been telling us that they really wanted to spend more time with these characters, that they wanted to do a deeper dive into the world of the Simpsons," said Mike West, an executive producer for Universal Creative (i.e., the arms of NBCUniversal that actually designs rides, shows and attractions for the Universal theme parks)."So a year or so back, we reached out to the folks at Fox & Gracie Films and told them that we were thinking of significantly expanding the Simpsons footprint at Universal Studios Florida. But the question then became what parts of this long-running animated series should we be adding to Universal Studios Florida?"
Mind you, there was method to Mike's madness when it came to getting Gracie Films & Fox involved in the Springfield, U.S.A. project. After all, no one knew more about this intellectual property than the actual creators of The Simpsons, Matt Groening & James L. Brooks. And West figured that the only way to make sure that this expansion area would appeal to serious Simpsons fans was to have Groening & Brooks' input on the project.
"We flat-out asked them 'What do you guys feel are the really iconic locations & elements from the TV show that absolutely need to be part of this area?'," Mike continued. "And Matt & Jim really stepped up. They gave us input on everything from the proper colors to use for the exterior beams on Moe's Tavern to the proper placement & pose of our Chief Wiggums photo-op."
The Simpsons creatives were also very hands-on when it came to deciding which food & beverage items should be served in Springfield, U.S.A. Late last year, Groening and the writers of the show actually took part in a taste test to determine which Simpsons-themed items would exclusively be served in this theme park's new "Taste of Springfield" food court area.
"And each of these food items was directly inspired by something that the Simpsons had seen or eaten on an episode of this TV show," explained Steve Jayson, the Vice President and Corporate Executive Chef for the Universal Orlando Resort. "I think that my favorite moment during this entire taste test was when one of the writers on the show spied the Clogger Burger, which is this really big, jumbo, double-patty sandwich with bacon. This writer pointed at that burger and said 'That's exactly how I envisioned it when I originally wrote that burger.' "
And that's exactly what West & Jayson were shooting for as they began working on the Springfield, U.S.A. project. A previously unobtained level of cartoon authenticity. They wanted to make the world of the Simpsons as real as possible for the millions of fans worldwide who have been watching this animated series for over two decades now and had been dreaming of someday getting the chance to visit their favorite Simpsons spots.
"So we've deliberately put things into this part of Universal Studios Florida that only the hardcore fans of this animated series will appreciate," West continued. "Take -- for example -- those topiary versions of the Seven Duffs that we've got planted along Fast Food Boulevard near Duff Gardens. Casual viewers of the show probably won't remember these characters, who were introduced in an episode of the fourth season of The Simpsons where the writers were making fun of theme parks. But for the diehard Simpsons fans, as soon as they see those topiary versions of Surly, Tipsy, Queasy, Remorseful and the rest of the Duffs, they immediately pull out their cell phones and start taking pictures."
But at the same time, Mike wanted to make sure that Springfield, U.S.A. would still appeal to those people who just have no idea who the Simpsons are ("You know. Those people who living in a cave on Pluto for the past two decades," West joked). Which is why Universal Creative made sure that this new waterfront expansion would provide Guests with primo viewing spots for this theme park's new night-time lagoon show, Universal's Cinematic Spectacular.
"You always have to keep things like that in mind when you're adding new areas to a theme park. Striking that balance between what will appeal to the truly hardcore fans of a particular intellectual property to then making sure that Guests who only have a cursory knowledge of a particular movie or TV show will still be able to enjoy the ride, show or attraction that you're building around that IP," Mike said.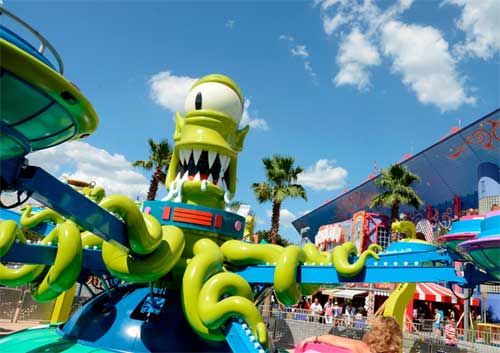 Perhaps the best example of how West and his team struck this balance on the Springfield, U.S.A. project is the recently-opened Kang & Kodos Twirl 'n' Hurl ride. Now for people who just have no idea who the Simpsons area, this waterfront attraction just appears to be your standard theme park spinner. But for fans of this long-running TV show, who know Kang & Kodos from their many appearances on The Simpsons' annual Treehouse of Horror Halloween shows ... To suddenly find themselves trapped in the tentacles of these two evil aliens who have repeatedly tried to enslave the citizens of Springfield is fun beyond imagining.
"Back when we originally opened 'The Simpsons Ride' back in 2008, I always hoped that we'd get the chance to revisit this world. Bring a bit more of the fun of The Simpsons' animated world out into our real world," West enthused. "But I never actually dreamed that we'd then be able to do something on this scale. Where our Guests could actually walk into a to Krusty Burger and order a Clogger. Or plop themselves on a stool at Moe's Tavern and then try & decide if they want to try a Duff, a Duff Light or a Duff Dry."
And given that Universal Studios Hollywood has its own Simpsons Ride (More importantly, given that much of the Upper Lot area directly adjacent to this theme park attraction has recently been torn down to make room for a mystery project that NBCUniversal isn't quite ready to talk about yet), is it possible that Universal's West Coast theme park may soon get a Springfield, U.S.A. of its own?
"Hey, anything's possible," Mike concluded. "We at Universal Creative feel that it's incumbent on us to keep things fresh for our Guests, that our theme parks stay culturally hip. And while the Simpsons aren't exactly new, they've been around for so long and are so beloved worldwide that we thought that it would be a natural to expand these characters' footprint in Florida. But as to whether same sort of thing is someday going to happen out in Hollywood, who can say?"
So long story short, folks: If you really want to lift a glass at Moe's Tavern tonight and then pay tribute to the official kick-off of The Simpsons 25th season on television, there's really only one place to go. And that's the recently completed Springfield, U.S.A. area at Universal Studios Florida.
Jim Hill is an award-winning entertainment writer who lives in New Boston, NH. Over the past 30 years, he has interviewed hundreds of veterans of the animation & themed entertainment industry and written extensively about The Walt Disney Company.
Jim is currently working on a behind-the-scene history of the development & construction of Disneyland. For his more immediate musings on movies, TV shows, books and theme parks, please check out his blog, jimhillmedia.com.
REAL LIFE. REAL NEWS. REAL VOICES.
Help us tell more of the stories that matter from voices that too often remain unheard.