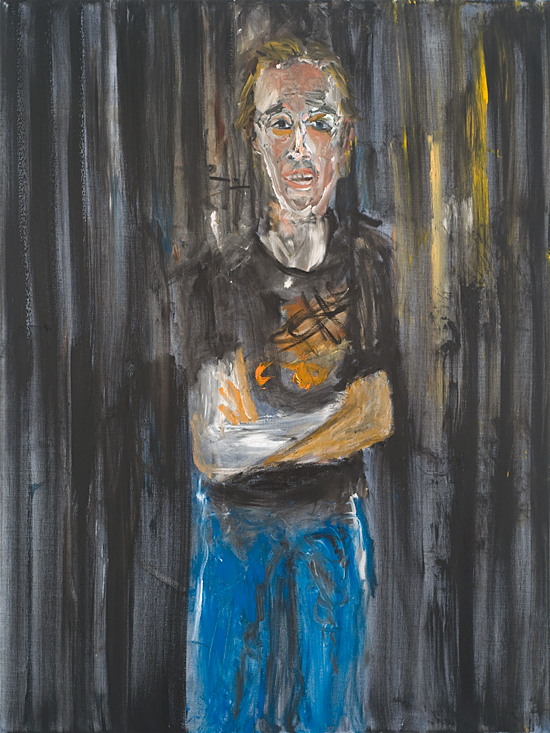 You may have noticed John Zorn's birthday celebrations around town and around the country. There are still a few events pending next week and you can find out the details at ZornAt60.
I was asked to write a few words for Zorn's birthday celebration at the Walker Art Center together with many other artists and musicians. The list of the participants is at the bottom of this article and you can read their tributes here.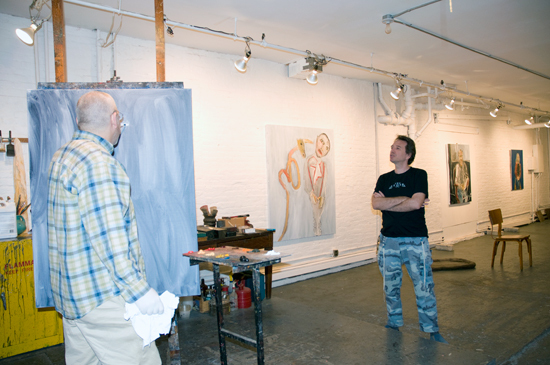 John Zorn has been an inspiration and an influence for me for over 30 years since I first heard his brazenly original music on the Lower East Side. He was making insanity, but insanity that made sense with duck calls and his sax. Somehow the sounds he was making felt exactly like the brush strokes in my paintings. More so the emotional vibe emanating from his rhythms and melodies, or even the harsh brutal sounds with which he expressed the horrific loss in the Shoah, always connected to my soul. I came to the conclusion that John is one of the 36 (Lamed Vav) tzadiks. There is a great legend in Judaism that the world's survival depends on 36 hidden tzadiks (righteous men). I am outing him as a hidden righteous one that is holding up the universe with his devotion to beauty and art. He is always creating more and melding various styles into his own unique voice.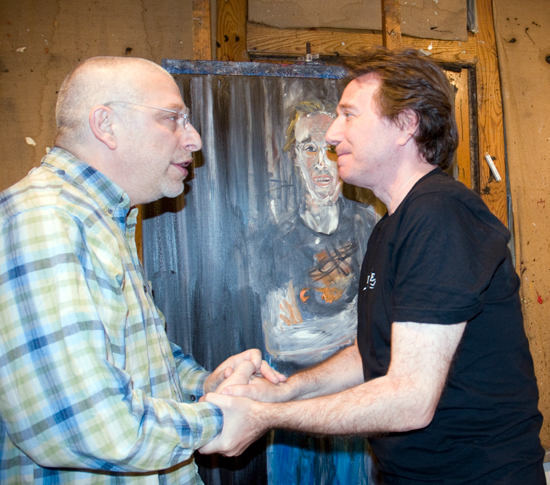 I don't want to get mystical, but you have to have some sort of messianic belief in yourself, in your Jewishness, for your music to work. One of the beauties of Jewish thought is abstraction. What is Jewish music? It's the same as 'What is Jewishness?' It's a concrete, yet very abstract, question. Many answers and I believe in every one of the answers. The analysis is ultimately sterile; the answer is someplace else, in the question itself. -- "John Zorn Talks Music, Mysticism and the Messiah as He Turns 60," The Forward, August 2, 2013.
I've wanted to paint John's portrait for many years, and recently he came to my studio and sat for the portrait. He didn't say much about himself, but rather asked about my art. I got the feeling that he was composing right there as he sat for me, and the amazing thing is that he helped me feel and portray him. There is that very special moment when you show the sitter the canvas and you never know how they will react to your vision of them. When I turned the easel around to face John he exclaimed in a loud voice with delicious enthusiasm, "There is me! You have captured me!" John is a beautiful, generous artist who can see into other artists and musicians and feel and enhance their vision. Happy birthday, John, and big respect!

List of people who contributed to the Walker Art Center celebration of Zorn's 60th birthday:
Geri Allen
Scott Amendola
Laurie Anderson
Louie Belogenis
Charles Bernstein
Steven Bernstein
Philip Bither
Larry Blumenfeld
Uri Caine
Bill Bragin
Claire Chase
Heung-Heung Chin
Nels Cline
Greg Cohen
Anthony Coleman
Sylvie Courvoisier
Noah Creshevsky
Alvin Curran
Dave Douglas
Stephen Drury
Jewlia Eisenberg
Bertrand Flamang
Erik Friedlander
Richard Foreman
Bill Frisell
Fred Frith
David Fulmer
Annie Gosfield
Michael Hafftka
Lyn Hejinian
Chuck Helm
Lee Hyla
Susie Ibarra
Richard Kessler
Bill Laswell
Brad Lubman
Jon Madof
George Lewis
Joe Lovano
Reiner Michalke
Bill Milkowski
Meredith Monk
Gianni Morelenbaum Gualberto
Ikue Mori
Yoko Ono
Jon Pareles
Evan Parker
Paola Prestini
Steve Reich
Marc Ribot
Sarah Robertson
Ned Rothenberg
Terry Riley
Jay Sanders
Yuval Sharon
Fred Sherry
Yoko Shioya
Melissa Smey
David Chaim Smith
Wadada Leo Smith
Tim Sparks
Kiki Smith
JG Thirlwell
Jalal Toufic
Hal Willner
William Winant
Charles Wuorinen
Otomo Yoshihide
Stefan Winter
Julia Wolfe
Nate Wooley
Calling all HuffPost superfans!
Sign up for membership to become a founding member and help shape HuffPost's next chapter