Alright, let's be real: if you're reading this, then there are women in your life who deserve your endless praise. "But I'm a misogynist POS blah blah blah..." Do you also drive a Model T? Kindly join us in the 21st century. Thanks!
While women's rights have improved over the years, there is no question that women are still treated unfairly in many aspects of society. Don't @ me. And, newsflash, it's not solely on women to achieve this necessary equality. Feminist is not a dirty word. Unlike growing up or sleeping with your closet door open, it shouldn't be scary.
Equality, in all forms, is on every single one of us to actively support. Regardless of gender, race, political party or varying background, we must acknowledge inequity and work to level the playing field. That's why I wanted to team up with Dolly for this important day.
No, Tomi Lahren, this doesn't mean I am against men — but it does mean I acknowledge patriarchy and privilege.
Don't think those exist? Just take a look at this.
And now for a haiku:
We wouldn't have fire escapes
How much would that suck?
(Shoutout to genius Anna Connelly, the inventor of the fire escape.)
Without Elizabeth Magie we wouldn't have Monopoly. I know you love Monopoly. Without Florence Parpart we wouldn't have electric refrigerators. Where would you put your cheese? Without Ruth Wakefield we wouldn't be able to snack on delicious chocolate chip cookies. Chocolate. Chip. Fucking. Cookies. The list goes on. Oh, and not to mention that whole GIVING LIFE THING.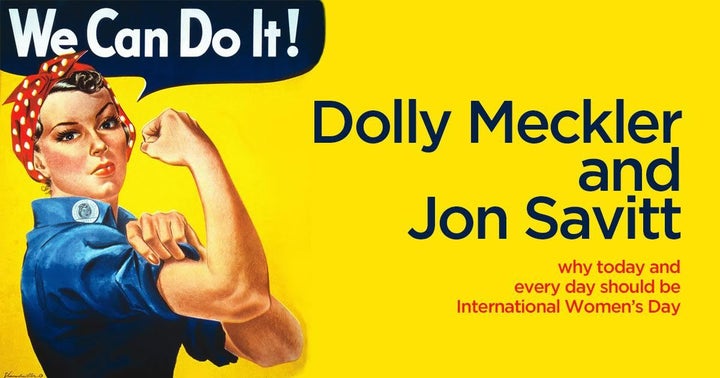 So, on March 8th, let's not just celebrate Leslie Knope (although she's incredible). Let's continue to work towards equality and take time to commemorate the many women who have positively influenced our personal lives, the lives of many others, and society as a whole.
We all can do so. Here's how:
1) Donate to a charity in her honor
2) Write a letter expressing your thanks & respect
3) Record a video sharing why International Women's Day is important to you
4) Spend time reading up on accomplishments & societal influences
5) Simply show gratitude via a phone call, email, or conversation
6) Amplify women's voices on & offline
*Bonus: Just be a good person who supports equal rights
Share and remember to celebrate women, today and every day!
REAL LIFE. REAL NEWS. REAL VOICES.
Help us tell more of the stories that matter from voices that too often remain unheard.