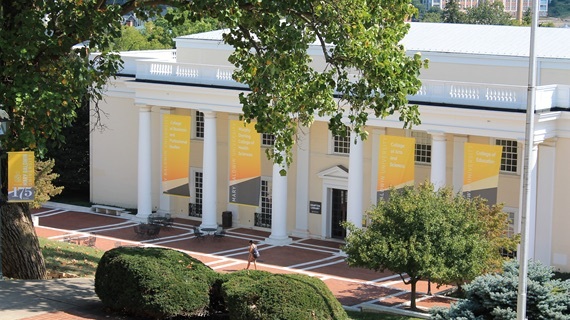 Mary Baldwin University (formerly known as Mary Baldwin College--more on that later!) is celebrating 175 years of educating women. As a writer whose work often focuses on the subject of women's colleges, I was both enthused and intrigued by this auspicious milestone. It compelled me to learn more about the institution's namesake: Mary Julia Baldwin.
Mary Julia Baldwin was born in Virginia on October 4, 1829, to William Daniel Baldwin and Margaret Sarah Sowers Baldwin. She attended the Augusta Female Seminary and graduated as valedictorian in 1846. Rufus W. Bailey, who also served as principal, founded the seminary in 1842. Mary's class was the first to graduate from the seminary. This humble institution ultimately became Mary Baldwin University.
Mary returned to her alma mater in 1863 to accept the position of principal. But the task at hand presented many challenges. The Civil War loomed and the seminary was floundering. Nevertheless, Miss Baldwin was able to keep the doors open and steer the seminary back on track, while many other schools were forced to close their doors. Talk about grit, smarts, determination, and resilience!
Miss Baldwin remained in the top position for 34 years, until her passing in 1897. During her tenure, she accomplished much. She was forward-thinking, with excellent business sense, and she maintained a strong focus on the goal of educating women. Mary's mission, first and foremost, was to ensure that students received a quality education. To this end, she was always looking to expand the school's curriculum and create new programs. As a gesture of appreciation towards her effective leadership and dedication, the Board of Trustees chose to honor Mary by changing the school's name to Mary Baldwin Seminary in 1895.
In 1916, the seminary became a junior college. Then in 1923, it became an accredited four-year liberal arts institution. It was renamed Mary Baldwin College.
In 1977, the first co-educational program was added: an undergraduate Adult Degree Program, now known as Baldwin Online and Adult Programs. Co-ed Master level programs were introduced in 1992, with the first a being a Master of the Arts in Teaching (MAT). In 2014, the college established the Murphy Deming College of Health Sciences. They introduced a doctoral degree in physical therapy: the first Doctor of Occupational Therapy (OTD) in occupational therapy in Virginia; a master's level physician assistant program; and a pathway for registered nurses to earn their bachelor's degrees. Mary Baldwin University also presently offers co-ed master's programs in Shakespeare and Performance, and graduate programs in education. Each of these new programs adds value to the undergraduate experience for the students in the core at Mary Baldwin College for Women.
The college has grown considerably, and developed in terms of diversity. During the academic year of 2015-16, the student population totaled over 1,600 students: 667 undergraduate women in the Residential College for Women, 552 adult degree women and men, and 418 graduate-level women and men.
Recently, the school underwent another name change, this time becoming Mary Baldwin University. This renaming became effective on August 31, 2016, and more accurately reflects the academic programs offered today.
This change to Mary Baldwin University (MBU) is the institution's fourth name since the founding of Augusta Female Seminary in 1842. What is this particular name change all about?
"The transition to university is a joyous point of public metamorphosis -- publicly and proudly claiming our identity as the multifaceted university already created. We've been diversifying and expanding our academic programs since the 1970s. Since then we have extended the range of degrees and academic opportunity, from the pioneering Baldwin Online and Adult Programs, to flourishing pathways for teachers and a one-of-a-kind Shakespeare program integrating stagecraft with scholarship.
Our most recent programmatic expansion, the Murphy Deming College of Health Sciences, was a greater leap for us. Not only did we venture into a very different academic field; we started with creating our first doctoral degrees and built a state-of-the-art new campus. In keeping with our innovative track record, we created a groundbreaking interprofessional approach to educating health care providers that has already earned national acclaim.
In higher education, we think of a university as offering a range of graduate and undergraduate degrees, and of being organized into various colleges and schools. MBU has fit this definition for many years. But it's important to note that we have no intention of becoming a big university with 20,000-30,000 students. We deliberately remain a small university where students, whether online or on campus, undergraduate or graduate, have a personal experience working with faculty and fellow students.
It's a bonus that this moment of public transition coincides with our 175th anniversary year because it allows us to reflect on our rich history and also celebrate the exciting future we're creating. "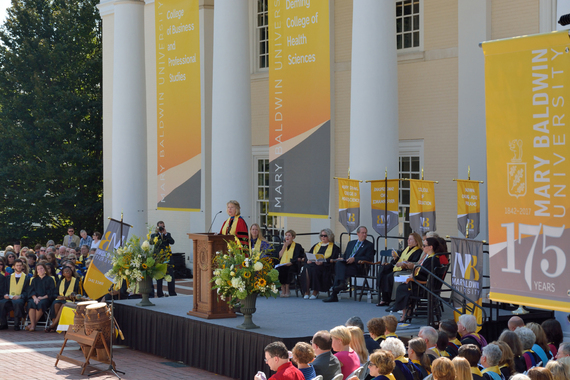 Photo Caption: President Pamela Fox addresses the crowd at Mary Baldwin University's Charter Day ceremony on August 31, 2016.
What benefit can students of the undergraduate women's college expect with the new university status?
"Students in Mary Baldwin College for Women get all the proven benefits of a women's college education along with a broader range of opportunities. For instance, we are able to streamline the pathway for a student who wants to earn a graduate degree, so that she can earn the bachelor's degree plus a master's degree in a shorter period of time. Undergraduate students can participate in service trips to Haiti alongside graduate students. Our phenomenal faculty in Shakespeare and Performance direct undergraduate students in plays, multiplying the number of experts in this field that students have the opportunity to work with directly. These are just a few examples of how we are using the university's range of resources to benefit students."
Tell us more about the early college programs for girls: The Program for the Exceptionally Gifted (PEG) and Early College.
"It's hard to believe that our Program for the Exceptionally Gifted is already more than 30 years old. Since the mid 1980s, Mary Baldwin has offered a pathway to a college degree to bright girls as young as 12 or 13 who are ready to bypass most or all of high school to purse an undergraduate degree in a safe, supportive environment. One distinctive feature of our program, as compared to situations where a single gifted student is accepted into a university, is that PEG students have a built-in peer group. Some of our most impressive alumnae were PEG students, including physics major Victoria Rosborough '12, whom you highlighted recently. Another of our programs, Early College, is similar to PEG but is designed for students who are ready for college at 15 or 16."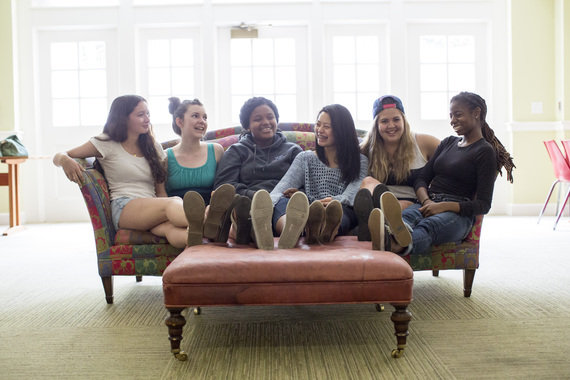 Photo Caption: Program for the Exceptionally Gifted (PEG) Students
Tell us more about the Virginia Women's Institute for Leadership (VWIL).

"With the visionary leadership of then-president Cynthia Tyson, Mary Baldwin established VWIL 21 years ago with women's empowerment in mind. Starting from the foundation of a four-year degree at a women's college, VWIL additionally integrates both civilian and military leadership components, physical challenge, and additional academic requirements including leadership theory and practice. As the nation's only all-female corps of cadets it combines the proven benefits of single-sex education with co-educational experience in ROTC. When we developed VWIL, our promise was to offer superior leadership development for women that would serve them well no matter what career and civic engagement they pursue.
VWIL has consistently and powerfully delivered upon that early promise. To date, nearly 400 VWIL women have graduated from MBC. More than 130 commissioned into the Navy, Air Force, Army, Marines and Coast Guard. Even beyond that I am struck by how many have devoted their lives to serving others. Fifty-six percent now work in government in roles ranging from classroom teacher to police officer to homeland security official; 33 percent have gone on to complete advanced degrees. With its inception, VWIL introduced a new class of leaders into the military and civilian landscape: a confident, compassionate, disciplined, and knowledgeable leader who leads others to good outcomes -- whether it's in the field, the classroom, or the board room."

Thank you Dr. Fox, I enjoyed our conversation. It's an exciting time to be at Mary Baldwin University and I wish you continuing success.

Photo Credit: Mary Baldwin University
REAL LIFE. REAL NEWS. REAL VOICES.
Help us tell more of the stories that matter from voices that too often remain unheard.