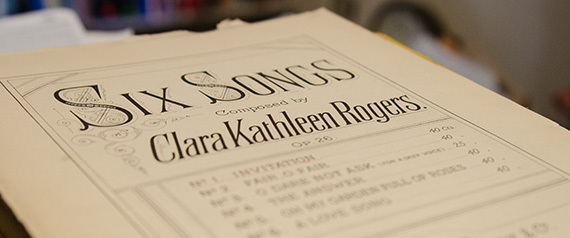 Six Songs by Clara Kathleen Rogers (1882) -- Courtesy of Christopher A. Reynolds
Early female composers, while making significant contributions to the world of music, have often gone unnoticed. American composers such as Margaret Ruthven Lang (1867-1972), Amy Marcy Beach (1867-1944), Clara Kathleen Rogers (1844-1931) and Kate Vannah (1855-1933) are included on this list.
Learning about a musical event created to spotlight 19th century American female composers, including these five, I wanted to connect with the event's creative force, Ellen Pelos.
Ellen is a junior at Scripps College, a women's college in Claremont, CA, dual-majoring in music and psychology. Her interest in music and musical performances started early with piano lessons when she was 3 years old and private voice lessons in middle school and high school.
When it was time for college, Ellen was deliberate in her choice, "I chose Scripps because it provides a well-rounded liberal arts education in a collaborative, feminist environment, which is very important to me." And it is here that Ellen continues with her voice lessons and musical performances.
Ellen is planning and directing a student recital on March 26, 2015: Women in Music in Post-Civil War America 1865-1900, at the Balch Auditorium on the Scripps campus. Joining her are students from Scripps College, Pitzer College, Harvey Mudd College, and Claremont McKenna College.
Fascinated with Ellen's choice of composers, I wanted to learn more about this project that highlights women's contributions to late 19th-century American music. She explains:
"While I was taking Music in Western Civilization (from Antiquity through Baroque periods) at Scripps during spring 2014, I began to notice that our textbook barely mentioned any female composers. Similarly to many history textbooks used in classrooms today, it focused almost entirely on male contributions to the musical canon. My professor, Anne Harley, encouraged us to challenge and critique the version of music history that it presented to us; and I decided to explore the condition of female composers more in depth for my final project.
I was also helping Professor Harley as a research assistant through a Mellon Undergraduate Research Fellowship, and I was inspired to continue my research over the summer at an archive specializing in American and British women composers. After applying for and receiving a summer Mellon Fellowship, I conducted independent research on 19th-century American female composers and discovered a multitude of works composed by these women at the Christopher A. Reynolds Collection of Women's Song at University of California-Davis. I felt that my work wasn't complete until I had brought public attention to these composers, so I proposed a recital of these forgotten composers at Scripps.

My main goal for this recital is to inspire my peers and professors to explore and teach a more comprehensive version of music history that includes marginalized populations, especially female composers. I hope the recital will encourage more discussions on campus and begin changing the way we, as a feminist community, view women's contributions to the musical canon.

Many of my friends and family members had never heard of any female composers until I told them about my research project--this was both shocking and motivating to me. I want to help reinvigorate interest and establish a living tradition of performance of the works of these forgotten composers. I hope to spread the word that women were actually very involved in music composition, contrary to what many people have been taught. Overall, I hope to begin adjusting the slanted view of history that has been passed from generation to generation and encourage people to think critically about our country's cultural history."
With the momentum created via her recital, Ellen is hopeful that her passion will inspire others to take part in spotlighting this music. She shared her thoughts for promoting a more inclusive version of history in music classrooms.

"Professors have a profound influence on how the next generation learns about music history, and they have to make a choice about how to approach the material. In my music history class with Professor Harley, she used the classroom as a springboard for talking about problems with our textbook and how marginalized groups are represented.
Rather than going along with prefabricated versions of history in textbooks, I challenge professors to "teach the conflict," in the words of feminist musicologist Marcia Citron. Teach students about women and ethnic minorities within the context of music history and encourage students to look at the histories we are taught with a critical eye. Yes, it is harder to find materials about marginalized musicians, but it is our job as scholars to challenge and question the world around us, even if it isn't the easiest path to take."
I followed up with Professor Christopher Reynolds to talk about his collection, the omnibus Ellen savored and took delight in researching. Here's what he said:
"I find it tremendously gratifying that a young performer found her way to my collection. The story of women songwriters needs to be told in many ways, none of which is more important than bringing the songs to life through performance. A century ago, thousands of women wrote songs. It was "normal" for women to express themselves through music. For someone who is an undergraduate to have begun this journey of recovering these lost voices is very exciting."
I agree with Professor Reynolds on all counts and look forward to seeing others embrace these talented women, like Ellen has, to provide a venue where once overlooked and forgotten are now given a voice they so richly deserve.
Calling all HuffPost superfans!
Sign up for membership to become a founding member and help shape HuffPost's next chapter