This year on the day that children young and old celebrate their mothers, I will be honoring my "other mother," my Aunt Hilda, who loved and nurtured me unconditionally.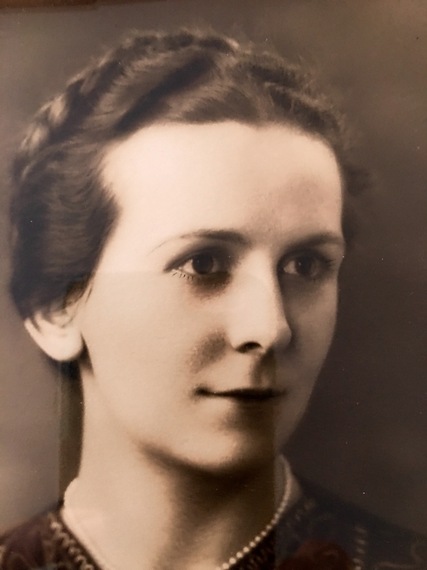 She was born in Berlin, married my uncle in New York City, and was widowed in her 40s. She never remarried, had no children, but made me feel as if I were her own.
She was a tall, high-style blonde, who bought me lace bonnets when I was a baby and fashion-forward dresses from Bonwit Teller on Fifth Avenue when I was a teenager. She called me "Princess" and made me feel special whenever she could: with notes, compliments, a smile when she saw me.
Aunt Hilda had been a baker at the Waldorf Astoria, then became a Harlem landlady, running my uncle's buildings, packing a pistol and driving a Cadillac convertible with big fins right up to the brownstones on 121st and Madison, across from Mount Morris Park. You couldn't miss her. She was a real "Auntie Mame," just like the life-loving, over-the-top character in the play and movie.
She lived in an East Side Manhattan high-rise across from Gracie Mansion, the mayor's house. She slept in a round bed, back-lighted with a pink translucent screen. Her house smelled like Indian spices, single-malt whiskey and shallots, and she was the first in her building to enclose her terrace overlooking the river and the Triborough bridge.
Aunt Hilda wined and dined me at iconic mid-century restaurants like The Four Seasons and La Fonda del Sol. She drove me in the Caddy, top-down on weekend jaunts that sharpened my taste for travel, choosing unexpected places such as Gettysburg, Pennsylvania and Putney, Vermont. She introduced me to big Broadway musicals like The Music Man, and taught me to cook ratatouille before anyone knew what it was.
But it wasn't only her glamour and spirit. When I felt like an ugly-duckling in middle school and failed at cheer-leading tryouts, and when I otherwise seemed unworthy, she wrote me encouraging letters that made me feel special despite it all. I could count on that.
My aunt is the only family member (aside from my grandfather, who died when I was seven) who seemed to give me unconditional love. She was the one I kept in mind when the world seemed hostile.
When Aunt Hilda had money problems in the 1970s (she spent most of her savings living well, and taking others along) she moved in with me, my husband and sons in Westchester County for a year or so, polite, charming and fun-loving as ever. But the splurges were over.
And after she moved to a little second-floor garden apartment in Miami at the end of her life, she sat by the window with the peekaboo bay view, still appreciating the beauty of life, still looking beautiful. And still making me feel loved.
So this Mother's Day -- now including Other-Mother's Day -- I remember my Aunt Hilda, with love and gratitude. And from now on, I will remember the other nurturers of my life -- my other mothers, whether they are women, men, family or those who interacted with us in meaningful, memorable ways. Perhaps you'll remember yours too, not just on holidays, but any day you give pause. Honoring these good people enriches our lives.
Contribute photos and anecdotes to the public Facebook group My OtherMother (MOM), and celebrate someone who nurtured you the way a mother does (or should). Honor your other mother any day of the year in this new way.
Calling all HuffPost superfans!
Sign up for membership to become a founding member and help shape HuffPost's next chapter