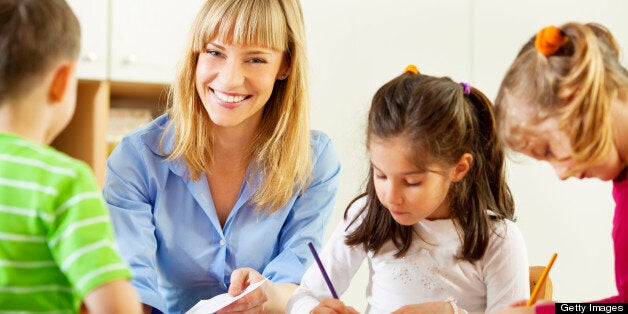 The Time to Succeed Coalition launched a year ago with a simple mission: to ensure all children in our nation's communities have more and better learning time in school. We envisioned an alliance where educators, parents and other concerned citizens would come together with leaders in government, education, civil rights, business, academe and community organizations to advocate for expanded learning time -- improving the opportunities and chances of success for every student in our nation's schools, especially in areas of concentrated poverty. But we did not envision the rapid pace of progress that has followed the launch.
Over the last year, our coalition has grown dramatically. With 25,000 grassroots members and 200 education, business and policy leaders, as well as the increasing support of civic and elected officials, it is clear that more and more people recognize that the time our students currently have for learning is woefully insufficient. In a national poll conducted by KRC Research, 75 percent of adults believe that more time in school will better prepare students for success in college and the workforce. But it's not just more time that is needed to remedy the glaring opportunity gaps; we need to make better use of that time.
When the coalition launched, its purpose was to reach a wider variety of people to discuss this idea as a possible solution, and we are surprised by the depth of our early results:
Extended learning time was included as a recommendation in the Equity and Excellence Commission Report to the Secretary of Education, "For Each and Every Child," citing the five states (Colorado, Connecticut, Massachusetts, New York and Tennessee) that came together to join the TIME Collaborative in December to "further the development of high-quality and sustainable expanded learning-time schools."
In the New York state budget, with the leadership of Governor Andrew Cuomo, the Empire State included a new $20 million competitive grant program for expanded learning time schools, the largest such initiative in the country.
As part of the AFT Innovation Fund, the American Federation of Teachers listed rethinking and expanding learning time for students and teachers as a key priority for the year.
Gen. Colin Powell called for "Expanding Learning, Expanding Opportunities" as an emphasis of America's Promise Alliance: More in itself is not sufficient -- it must also be better.
Across the country, we are already seeing schools make this shift to more and better time in education. From San Diego to Washington, D.C., over 1,000 schools serving hundreds of thousands of children have redesigned and expanded learning time to add both core academic classes and enrichment classes. Elected and civic policymakers are not far behind. As a report released this week by the National Center on Time & Learning and the Education Commission of the States outlines, there has been remarkable momentum at the federal, state and local level to advance policies around expanded learning time. This year alone, Arizona, Indiana, Massachusetts, Missouri, New Mexico and Oklahoma have taken steps toward increasing school time.
As we have discussed this issue with friends and strangers alike, we have been greeted sometimes with reminders that some children are already overscheduled with activities such as dance, travel sports teams, drama and martial arts, as well as homework and tutoring support. It is true that many students have full schedules, rich with learning opportunities; but in far too many communities, there are children who have access to very little constructive activity or even safe supervision outside of school.
In his research, Harvard University professor Robert Putnam has studied the "youth class gap," as he calls it, documenting how the gap between high and low socioeconomic background students has grown dramatically in recent years. The youth class gap is at present considerably larger than the racial gap. The most revealing element of the reams of data Putnam has uncovered is the huge increase in investment in enrichment activities. Parents with incomes in the top 20 percent now spend about $9,000 per year (that's twice the average per pupil spending in their public schools!) on enrichment beyond school, up 2.5 times over the last 40 years. By contrast, parents in the bottom 20 percent spend little over $1,000, up only a small percentage in the same period.
With this in mind, it makes sense that parents, depending on their income and class, differ in how they see expanded learning time's potential for improving children's opportunities. With more time, schools serving poor children can incorporate many of these academic and extracurricular activities into their days and begin to level the playing field. We can ensure that every child in St. Louis and Detroit has tutoring, arts and physical education as part of their school day, just as their peers in Ladue and Bloomfield Hills do. With communities and schools coming together to provide creative options, there is no limit to what these students can achieve. We must ensure that every student has a pathway to success regardless of his or her ZIP code.
When we launched the Time to Succeed Coalition last year, we said, "If we want American kids to compete and thrive in today's world, then re-imagining the school day needs to be something we each take up as a cause -- in our own schools, in our own towns, and all across the country." That statement is as true today as it was last year. We hope you will join us as we continue our work to give all children the time they need to succeed.
Related
Popular in the Community