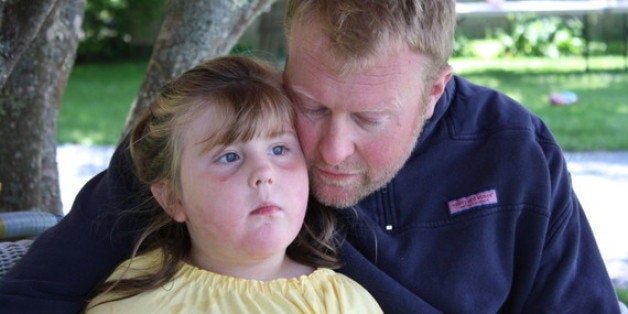 "Hi Eliza, it's me, Dad," were the first words that he said to her. It had been a long and very difficult delivery. For three days, we had labored and so we were both ecstatic, relieved and exhausted when our daughter Eliza came into the world in the early morning hours of the 4th day. The bond between Eliza and her dad was so beautiful to witness. It was immediate and instinctual. I remember laying in my bed and watching Eliza and her father fast asleep next to me on the cot that my husband had been occupying for the previous three nights. They both slept peacefully skin to skin with not a care in the world. I recall feeling envious of his ability to just be one with her with no playbook in hand. We were both first-time parents with very little experience with babies. While I sat watching, thinking, Will he drop her? Will he smother her? Is she OK? He quietly slept as though he'd been holding her in his arms forever. It was a beautiful moment that I will forever remember.
You can only imagine his devastation when only a year later, we sat in a doctor's office and heard the words, "She will never walk,""She will never talk," "She will never live an independent life." With each consecutive crushing statement, our dreams of best friends, sports, college, career, marriage and children for Eliza seemed to drift away. They are the words that every parent of a child with special needs remembers. A moment that is forever etched into our minds. A parent once explained it to me as the moment life changed from color to black and white.
I often think that it is more difficult for fathers to hear those words. They are so genetically wired to be the "protectors," and something like this is so out of their control. I think on some level they feel responsible and guilty for what has happened to their children. I know for Eliza's dad, it was devastating and something that he has never quite gotten over.
As this Father's Day approaches, I want to celebrate all of those amazing dads out there who have a child with special needs. I want to encourage you all to let go of those feelings of guilt and control and to just embrace the gift that life has offered you.
I believe that our children choose us as their parents before they are even born. For we are the perfect parents to understand them, to guide them and to fight for them through all of their challenges in life. You should feel very proud and truly loved that you were chosen to be the dad for your amazing children.
Popular in the Community