As rehearsals continued for the upcoming Broadway revival of On the Town, New York City audiences had a more immediate opportunity to celebrate Leonard Bernstein's first musical about sailors on leave in the Big Apple. Monday night at the Upper East Side Barnes and Noble, Harvard professor Carol J. Oja spoke about her new book, Bernstein Meets Broadway: Collaborative Art in a Time of War, which covers On the Town's role in creating a more racially integrated musical theater landscape.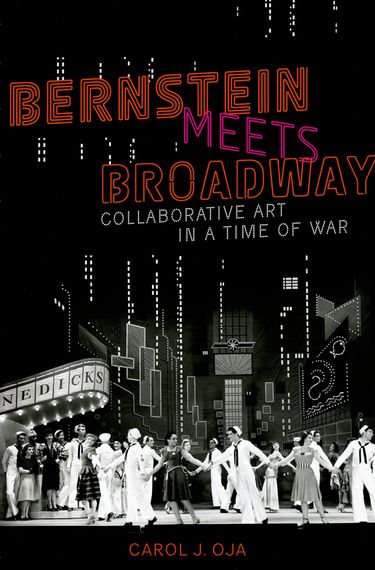 The evening was a special opportunity to explore the show through discussion and performance. Oja and her musical collaborator Judith Clurman put together a selection of songs from the show, featuring the singers Diana Rose Becker, Arlo Hill, Daniel Schwait, and Jorell Williams, pianist Kurt Crowley, and Clurman's chorus, Essential Voices USA. In between the musical numbers, the writers' children, Jamie Bernstein and Adam Green (son of co-lyricist Adolph Green), as well as Billie Allen, one of the dancers in On the Town's first production, read from the book and offered anecdotes about the show and Bernstein.
Bernstein Meets Broadway started as a book about all of Bernstein's musicals, but when Oja started interviewing people involved in the first production of On the Town, she found a larger story. "I realized that the first production of the show represented a really extraordinary historical moment," Oja said in a recent phone interview. She then shifted gears and began working on a cultural history that highlights the racial issues associated with that first production, both in hiring practices and on-stage representation.
Those casting decisions included a Japanese-American dancer, Sono Osato, at a time when there was much vilification of the Japanese, as well as many African-American and mixed race dancers and actors. None was cast as a stereotype. "It took courage to take those steps in 1944, especially because Bernstein, Robbins, [co-lyricist Betty] Comden, and Green were nobodies at that point. They were just beginning, and there wasn't any guarantee about what the results would be."
Writing about musicals was new territory for Oja, who had mainly written in the concert music realm where music, especially more modern work, can be complex and tuneless. Bernstein's music, however, is both tuneful and complex, a hybrid of high art and popular styles.
This hybridization made Bernstein a different breed from his predecessors, such as Richard Rodgers. "Rodgers' style is much more connected to mainstream musical theater," Oja said. "It's much more accessible. Not that Bernstein isn't, but with the Bernstein shows you hear a composer who is also writing concert music. There's an underlying complexity to his shows that sets him apart from others among his contemporaries."
Though Bernstein was only in his mid-20s when he wrote On the Town, there's no sign that this is an early work. "He's a mature composer," Oja said. "The styles that he would carry forward into his later shows are pretty much in place in On the Town."
Clurman added, "You see from his early works, while as a student at Harvard, or soon thereafter, that every note and every marking was placed on the page for a reason."
Will today's audience be interested in a show about a historical war? Oja thinks the writing carries the show into the 21st century. "The fabulous parts of the show are the music, the lyrics and the dancing," she said. "The artistry of language and music and movement in that show is really something."
Clurman also cited the writing as the reason she loves the show, particularly the partnership of Bernstein, co-lyricist Betty Comden, and Green. "This work is a fine, artistic collaboration of a dynamic team: composer and his lyricists working together," she said. "The music serves the words and the words serve the music."
The Barnes and Noble event also celebrated the collaboration between Oja and Clurman, who have worked together for many years, including the Leonard Bernstein Boston to Broadway Festival at Harvard in 2006. "We have a great time working together," Clurman said. "We are a strong team and we trust one another. Carol takes care of the history and I take care of the performance."
Photos courtesy Dan Dutcher Public Relations
REAL LIFE. REAL NEWS. REAL VOICES.
Help us tell more of the stories that matter from voices that too often remain unheard.