Sherese Francis' tweet caught my eye immediate. First of all, I love books. Second of all, I love celebrating. Third of all, I love people that aren't afraid to do new things. So I reached out to Ms. Francis to learn more. Her colleague, Johanne Civil at the Queens Book Festival filled me in on the origins of this festival and what we can expect to find there.
What prompted the creation of the Queens Book Festival? What does it take to bring this all together?
I was working for a business district in the fall of 2014, and part of my responsibilities were the creation of programming that would drive economic development. I automatically thought of a reading series! Being the nerd that I am, books and readings are my immediate go to events no matter where I am. While creating the reading series in Downtown Jamaica that fall, I had the opportunity to work with a few local literacy nonprofits. That's when I discovered, that according to their research and data a third of the children in the borough could not read on grade level. Come to find out, literacy is a growing crisis in New York City. According to 2013-2014 English Language Arts standardized test scores, 70% of New York City's third grade students are reading below grade level. Amongst the City's poor, 76% are not reading on grade level. Those are astounding numbers!
I immediately decided that I wanted to do something about this issue plaguing my borough. I wanted to do something that would have a direct impact on the youth. As a new mom at the time, I realized that the best way to get a third grader and even a high school student to learn anything is to let them experience it themselves. Let them see the possibilities and doors that the simple act of being able to read can have on their lives. Again, in doing research for the reading series I attended a local book festival, I thought, that's it! But there has to be a book fest in Queens already and I just didn't know about it. As soon as I got home that evening I researched book festivals in Queens. There were none. I found a festival that celebrated the art of books and another that focused solely on the authors and not the community. So I automatically started creating and organizing the Queens Book Festival, which would be a reflection of the community, literacy, and social issues. I reached out to friends I knew where passionate about literature, community and children and asked them to join me on this new venture. I wanted to work with people who are as passionate as I am about books and reading and have lived and experienced life here in Queens and not some literary bubble.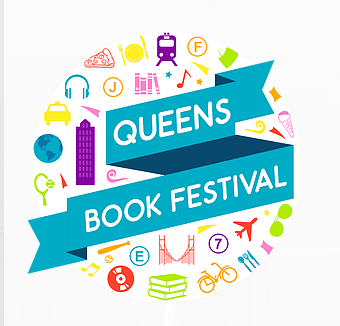 Then the real work started, I reached out to all of the major literary festivals in the nation. Everyone was encouraging and welcoming and shared information. They pointed me towards more research and best practices, but the one thing no one ever shared was funding. I already had the experience of working for festivals in Florida and coordinating music concerts while in college, so I knew the work would be indepth. I was prepared and ready to go! I met Sherese at the reading series in the fall and author Brigett Davis strongly suggested that we should consider working with each other. By November, I started getting the festival registered as a nonprofit, created a website, started to assemble a literary committee, and programming to build up the festival. Sherese worked on creating the author line-up and getting the word out to the Queens literary community. I reached out to a few contacts that I had and started getting funding on the table.
We were eager to get the festival out and done by Summer 2015, and as soon as all of our ducks were in a row, they all started falling through. Our venue fell through, and our major sponsor pulled out. Sherese and I worked ourselves to the bone for six months straight; I was pregnant at the time with my second child and would stay up till 4am or 5am to make sure emails were sent and fundraising packages were sent, logistics was in order, advertising and marketing was ready, and the author line-up was perfect. All of that hard work went nowhere. Our community never got to a chance to see or experience any of the readings, poetry, discussions, food, none of it. It was a very devastating experience.
Instead of falling into ourselves, we strapped on our boots tighter and got right back to work. We attended almost every literary event in Queens last year, we even ventured to the outer boroughs; we created a writing contest for the students at the local schools, and created a calendar of events for 2016. This year in addition to planning the festival, we created programs for National Reading Day (Dr. Seuss' birthday), we created and coordinated the first literary crawls in Queens in April and started the interview series on our blog.
The absolute hardest thing we've had to deal with is funding. Getting funds for a first year, first time event is murder! The circular theme has been, "You guys have to prove yourselves." Um, events don't happen without money, so how does one prove one's self in this situation without money? Secondly, the way our city is set-up, even start-up nonprofits cannot acquire funding from government agencies, you have to be two or three years old to be even considered. Foundations don't focus on brand new nonprofits either so funding from them was a no go. So we decided to do an Indiegogo campaign and even with the support we received from the community, we didn't even reach a tenth of our goal. We finally started getting some funding in late April, but we're still fundraising and will have Kickstarter campaign going live on June 16, 2016. We hope more businesses in the community will also become sponsors in the coming weeks. It takes a lot of planning and people to create a festival, most importantly it takes a lot of money. Funding has been more of a concern to us than anything else.
Other than funding, two of the most eye opening parts of the experience thus far have been the lack of interest in the literary community from those who are not directly involved with it and the fragmentation of Queens. We found the former is more driven by cultural misconceptions. Some people feel that literature and literacy is only for those within in a certain socioeconomic realm. When you have to work 12 hour shifts and take care of two plus children or an ailing parent, it's difficult to focus on what is considered an activity of leisure or even reading to your kids at home. The latter is simply due to the diversity that frames the borough, most people are proud of the neighborhoods they're from and want to acknowledge them so you'll find more of, "I'm from Sunnyside, Queens," or some other specific neighborhood instead of "I'm from Queens." We attempted to address both of the aforementioned by creating programming all over Queens and not just in areas that are the typical go to for literary events. The literary crawls were in bars, restaurants and cafes while the reading series was in a local furniture store last year.

How will the festival reflect the unique character of the "World's Borough?"
We have been working to create a festival that reflects the people in the borough and the cultural identities they embody. We have panels about the duplicity of identify that most people have in our borough. You can turn to almost anyone on the street and ask them where they're from and fifty percent will tell you, "I'm from Queens, but my parents are from Uruguay or Ireland" and another 30 percent will tell you, "My parents and I were born here but my grandparents are from Haiti or Russia." This is why we claimed the tagline "The newest and most inclusive." We wanted to include as many cultures, identifies, and social topics as we could. The literary community has long been perceived as been exclusive and only the same certain stories are desired to be heard. That's no longer the case and it surely is not the case of a borough without borders.
What are some of the things you and your team are most excited about?
We are excited about having a free daylong literary event that anyone in NYC can enjoy. We can't wait to see the kids enjoying the Children's World area and the activities our partners have planned for them. Being that springboard starts with day one.
The conversations that will flow from each stage will help elevate the already blossoming community that's here. Our hope is for the festival to become a platform for the authors in Queens and for the youth who desire to stay here and create literature in the borough.
Tell me about the QBF Writing Contest. How did that come about? How will it work?
The writing contest was born out of our desire to involve more children in an activity that would draw them not only into reading but also into the creative writing process. We made it simple and open to elementary through high school students. Some of the winners wrote amazing pieces! We were taken aback the level of skill and creativity these students expressed in their pieces. This also gave us an insight into the different school districts and the one's whose students may have a greater need.
This contest was our first experience with a writing contest and there's a lot we learned and will do differently to make it easier for the teachers and students to participate. We will pick up the project again in 2017 and continue to build it as an annual contest.
What do you want readers to know about festival?
The festival is free and open to the public because we wanted everyone to feel and know that this is for the entire Queens community. The festival is for you. It's for you to come and enjoy the magic that comes out of a book, it's for you to come and connect with your favorite author or to discover a new one. It's an event you can share with your family, friends and neighbors.
I'm planning a smaller festival in my Delaware River Community of Stockton, NJ, in October, called River Reads. What advice do you have for other communities that want to bring books, authors, and readers together to celebrate?
Do it! It is a major initiative and at times will seem like a formidable task, but the benefits that your community will gain are infinite. Contact other festivals, call them, or email them. They've been there, and a great number of them will help you, us included!
Calling all HuffPost superfans!
Sign up for membership to become a founding member and help shape HuffPost's next chapter