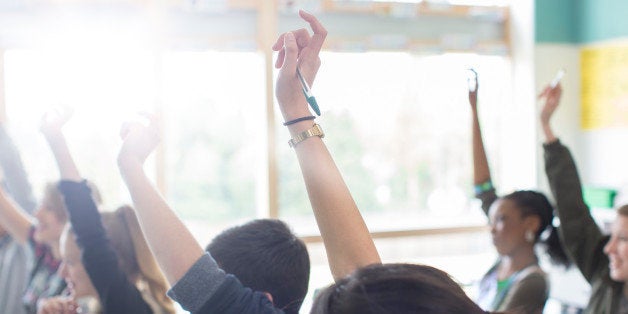 Heroine: A woman who is admired for great or brave acts.
As we head back to school, let's be inspired by brave women in the classroom.
Perhaps you have heard of Pakistani activist Malala Yousafzai, the youngest recipient of the Nobel Peace Prize, who was shot for her vocal beliefs that girls have the right to an education. Or maybe you know the story of Ruby Bridges, who in 1960 at the age of six, bravely walked into a Louisiana school escorted by U.S. Marshals as the crowd, vehemently opposed to integration, hurled insults her way. Lesser known is Elena Cornaro Piscopia--the first woman to receive a Doctorate of Philosophy (Ph.D.) in 1678 after being denied the opportunity to study theology because she was a woman.
We celebrate these heroines in education; yet extraordinary women inhabit many classrooms who we might fail to notice.
Do you think you're too old, too far along in your career, too uncool for school? Not my friend Lois. After many years of being a stay-at-home mom and then a teacher, she decided to pursue a Ph.D. at the age of 55. Although she was in classes with students much younger than her and at times wanted to throw in the towel, she took class after class, passed qualifying exams, conducted her research, and finally, defended her dissertation. Six years after beginning, she successfully added Dr. in front of her name, inspiring her own three children, who will themselves soon have a combined two Ph.D.'s and three master's degrees, and her many university students. Lois reminds me that dreams can take flight in any season of life and the best accomplishments might just be yet to come.
But maybe you're a first-generation college student. Maybe you're even a first-generation American speaking English as your second language. Joselyn is all of the above. She came to the U.S. at the age of 12 from Mexico. Her family gave up a comfortable life so that she and her younger brothers could have the opportunities they never had. Joselyn learned English as her family lived in a small garage upon arrival, then moved on to four other residences before buying their own house. Seeing the daily sacrifices her parents made by waking up at 4am to work in a factory, and wanting to make them proud, she both studied and worked hard (35+ hours/week) to graduate magna cum laude last May at the age of 21. Bachelor's degree complete, she's beginning this school year as a bilingual teacher as she plans to pursue a graduate degree in educational leadership to become a principal.
But maybe you've been to school--and dropped out.
Possibly, the greatest inspiration is not those who have already climbed their mountains, but those who display the courage to begin the climb again after attempts that did not go as planned. My friend Lauren is going back to college this semester, eight years after dropping out--for the second time. She first left school due to an abusive relationship and then, after two semesters back in, due to a pregnancy that she thought would make her a single mom. A supportive husband and four children later, she is ready to be a new kind of weekend warrior--taking all her classes on Friday nights and Saturdays while most of us are relaxing the weekend away.
This back-to-school season, let us celebrate amazing women who have changed the world through pursing their own education. This includes seemingly every day women in our lives who have made extraordinary decisions, pursing extraordinary dreams.
So whether you are thinking about taking that class at the local library, learning a new language, going to college, or putting some new letters in front of your name, I hope these classroom heroines will cause you to silence the excuses, realize the value of education, and do exactly what you think you can't.
Calling all HuffPost superfans!
Sign up for membership to become a founding member and help shape HuffPost's next chapter