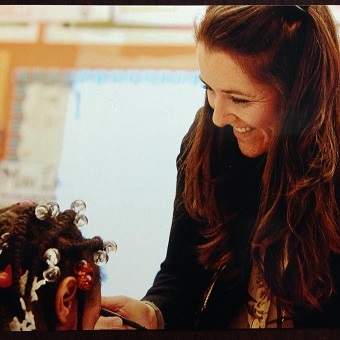 As we celebrate Teacher Appreciation Week, it is important for us to stop and appreciate the ever-increasing challenges of being an educator today. Despite the challenging adjustment to Common Core State Standards for both teachers and students, my math team has thrived by focusing on utilizing the strengths of every teacher I coach at our school. They have shown me that they've got the grit, willpower, and genuine desire to grow into the best possible educators.
Our students light up when they talk about math. They construct arguments proving their work through writing, drawings, models and equations and show great pride and excitement when they are discussing their critical thinking with their friends. We can see their confidence booming as they work to solve challenging math problems. Our students would not be these mathematicians without the focus and dedication of their teachers.
Last week I walked into a 1st grade math classroom and overheard one student explain to his partner how he solved the problem 24 + 13. "I looked for the tens first." He drew them with place value rods to show 20 +10 = 30. Then, he knew that 3 and 4 is 7. "It was easy," he said. The other student looked at him and said "Coooool! I didn't do it that way" and proceeded to show his friend the model he had drawn.
It is no accident that our kindergarten through 3rd grade students are becoming expert mathematicians. They love being and feeling intelligent, talking about how numbers work and how to solve any problem! They would not be where they are without the focus and dedication of their teachers. Here is what the teachers I coach have taught me:
1. Position Teachers as Leaders
We have effectively identified the individual strengths our teachers bring to the table and encouraged them to share and learn from their peers in our network and beyond. Our kindergarten and 3rd grade special education teachers showed other teachers how to create work that pushes students of all levels to do meaningful, high level work. Our first grade teacher taught her colleagues how to use multiple sources of data to set students up to meet their end-of-year goals.
2. Carve Out Time for Collaboration
Not one of the teachers I work with wants to be successful on their own. They want to lead their peers around the successes they have made and they all have amazing learning to offer the team. My math team spend their valuable planning time in our math and science work room informally sharing best practices and ideas throughout every day. They also share insights weekly at department meetings and across the DC Prep network. Some of the teachers also participate in my professional learning community with the DC Common Core collaborative alongside other teachers in the area.
3. Focus on Key Instructional Shifts
My math team has focused on the critical thinking puzzles that require students to use all of their skills rather than one set of standards at a time. By creating and teaching intricate math problems, our teachers are pushing students to make problem solving decisions. They are also fostering the deeper conceptual understanding of our students who are not able to critically evaluate their work, push each other to explain and defend their answers, and celebrate with each other when a classmate discovers a novel way of solving a problem.
This Teacher Appreciation Week, I want to thank the teachers I work with for leading our students to success in the age of the more rigorous Common Core State Standards. Learning with and from them and their students has been the highlight of my year. I appreciate their extremely dedicated work, and our students and learning community is better because of them. They show me every day what makes great schools: collaborative teacher leadership.
Kylie Alsofrom is the Math and Science Coordinator at DC Prep Benning Elementary in Washington, DC and an alum of the Teach Plus Teaching Policy Fellowship
Popular in the Community