Cornell University s turning 150. They call it a sesquicentennial: Sesqui -- from the Latin, "once and a half." I know I'm an Ivy League grad (and a college scholar), but I mean I can barely spell the word, much less pronounce it. I know about sequiturs, sequins, sequestrums, sequels, sequesterings, sesquepedalia, Saskatchewan, Susquehanna and sequences. Ses-qui-cent-ennial. I think I may just need to be sequestered to perfect my pronunciation by April 27, Charter Day.
In honor of this swell Cornell event, I decided to delve a little. Cornellians are nothing if not determined. I embarked on some preliminary research -- a skill we learned as college freshmen to last our whole undergraduate lives, or for the next 150 years -- whichever came first.
Results? Some pretty intriguing discoveries. In 1865, two savvy guys named Ezra and Andrew formed an academic start-up: "an institution where any person can find instruction in any study." So, invoking astronomer Carl Sagan's search for meaning in the cosmos, I decided to connect-the-1865-dots, intertwining the random events of that one infamous year.

Turns out 1865 was a pretty heavy year. It encompassed some landmark occasions, from solid to liquid. After, all, it saw the publication of Alice in Wonderland, the birth of Bacardi Rum, the formation of the FDNY, and the genesis of Zermatt Resorts. Not to mention Lincoln's inauguration, assassination, the end of the Civil War... and, what's most near and dear to my heart: the founding of my alma mater, Cornell University.
That's some pretty synchronistic stuff. Especially for a sesquicentennial. But that just makes perfect sense. Why? Simply put, synchronicity is the stuff that Cornell's dreams are made of. After all, baby Ezra was born in 1807 on 1.11, a pretty synchronistic date. And what else could they possibly have called Cornell's x-ray beam high energy particle accelerator than SYNCH-O-TRON?
Staying in sync with Ezra and A.D., here are my cosmic observations:
IthaCoincidence? Oddly enough, my trips to Ithaca have always coincided with some momentous news event. It was at Willard Straight, on July 20, 1969, while taking a summer AP course for high school seniors, that I watched Neil Armstrong land on the moon... and first heard the words "One small step for man, one giant leap for mankind." On June 13, 1994 (my 20th reunion), I woke up to a jolting Day 1 of the O.J. Simpson saga. On June 5, 2004 (my 30th reunion), from a barstool in the Regent Lounge, I watched Birdstone upset Smarty Jones in the Belmont Stakes. Heartbreaking, since it smashed all hopes of a Triple Crown winner. On January 29, 2007, I'd trekked up on the Short Line bus to hear my friend, fellow recorder player Professor M. H. "Mike" Abrams (editor of the Norton Anthology of English Literature) give a lecture "On Reading Poetry Aloud." That very afternoon I heard the horrific announcement of Derby winner Barbaro's euthanization. And on June 6, 2014 (my 40th reunion), as my notable Class of '74 colleagues were gathering to meet the youngest mayor of Ithaca, Svante Myrick, President Obama was simultaneously honoring D-Day veterans at an Omaha Beach ceremony marking the 70th anniversary of the Normandy invasion.
1. Sync or Swim -- Yup, it's all in the timing. After all, comrades Ezra and A.D. White met in the NYS Senate in 1864, the year Lincoln signed Sen. Justin Morrill's Land Grant Act. If they hadn't crossed paths, Cornell may never have happened. If Ezra hadn't acquired his telegraph fortune, and if A.D. hadn't believed in radical education, yadda yadda yadda, we wouldn't be talking about a sesqui-whatever.
2. Charter/Kickstarter Day -- April 27 in History -- If A.D. and Ezra could have used Kickstarter, who knows what they could have fundraised far and above Cayuga's waters? Talk about synchronicity. Is it fate, the Poincaré Conjecture, advanced calculus, or some obscure mathematical formula, that some international landmark events occurred throughout the last 5,000 years on assorted April 27ths. To wit,
April 27, 4977 BC -- The Universe was created, according to Kepler. April 27, 1667 -- Blind and impoverished John Milton sold the copyright of Paradise Lost for £10; April 27, 1773 -- British Parliament passed the Tea Act; April 27, 1810 - Beethoven composed Für Elise (a favorite on the Cornell Chimes playlist); April 27, 1937 -- The first Social Security payment was made; April 27, 1945 -- Italian partisans captured Benito Mussolini; April 27, 1945 -- Volkischer Beobachter, newspaper of the Nazi party, ceased publication; April 27, 1947 -- Babe Ruth Day celebrated at Yankee Stadium; April 27, 1972 -- Apollo 16 returned to Earth; April 27, 1981 -- Xerox introduced the computer mouse; April 27, 1989 -- Beijing students took over Tienanmen Square in China; April 27, 1990 -- The 50th anniversary of barbership quartet singing convention was held; and April 27, 2006 -- Construction began on Freedom tower for a new World Trade Center in NYC.
3. Alice in Cayugaland -- Two score and five years ago, a wide-eyed freshman from New York City, I was catapulted from a modest garden apartment in suburban Queens to a gigantic rural campus in upstate Ithaca. I felt a bit like Alice, falling down a deep rabbit hole into a '70s wonderland of books, libraries, bell towers, pastoral quads, gorges and a cappella singing groups. Football star Ed Marinaro seemed the agile caterpillar, slicing roast beef effortlessly at the Statler Dining Hall cafeteria line and flirting with the co-eds. Wafting over me like the Cheshire Cat: the spirit of Morris Bishop, Cornell's renowned master of history, humor and verse. Even notable female a cappella group Hearsay does a smashing rendition of Jefferson Airplane's "White Rabbit". Remember the Queen's game of croquet, played with flamingo mallets? Number No. 58 on the Cornell Daily Sun's infamous list of 161 things every Cornellian should do: "Play croquet on the Arts Quad (wear your collar up)!"
4. SYNTHESIZE THIS! -- Ezra Cornell was the father of synthesis: a carpenter, farmer, inventor, mechanic, philanthropist and businessman. A true Renaissance man, he was, in a sense, Niche-less in Ithaca. He blended scholarship and pragmatism; cultivation of the arts and sciences with instruction in agriculture and mechanic arts.
Synthesis is the very core of Cornell. It's entered every field from science to music, every curriculum from biosynthesis (Plant Science) to plastics (Chemistry) and protein synthesis studies. And, after all, where else could Robert Moog have created his synthesizer?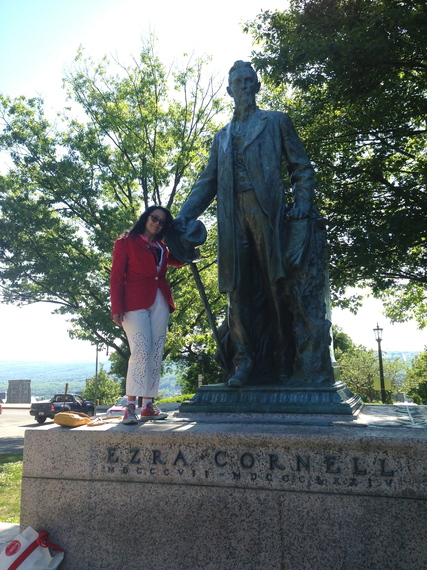 5. From MENTORS to INVENTORS -- At Cornell, mentoring is practically a declared major. Alums mentor Cornellians, who mentor entrepreneurs, who mentor undergrads, who mentor middle schoolers, who may soon be mentoring alums! From GSMU to EIR to GIRLSS to CCNET, Cornell could have invented the concept of mentoring. And, speaking of inventors, Cornell can boast some of its own: Air-conditioner creator Willis Carrier (1901); Poultry Science professor, chicken nuggets guy/State Fair BBQ sauce concocter Robert Baker ('43); medical choke maneuver guy Henry Heimlich ('41); Superglue inventor Harry Coover (PhD '44); Freon man Thomas Midgley ('39); and Palm Pilot wizard Jeff Hawkins ('79).
6. Alpha Beta and Hans Bethe -- Once again, the synchronicity of stellar physicists and Cornell University is astounding. How could so many NSF, NRF and DOD acronyms end up in one big 1947, $500,000 Navy research contract, which helped create a Lab of Nuclear Studies at Cornell. And what are the odds that these brilliant minds would converge on the Cornell campus? Hans Bethe, Richard Feynman, Robert Wilson, Dale Corson, all born in the same decade, all masters of particle physics. But... what does it really matter?
7. From Darrow to Yarrow. Both outspoken activists, Clarence Darrow and Peter Yarrow are similarly Cornell-friendly. Darrow ("you can only protect your liberties in this world by protecting the other man's freedom") quoted A.D. White in his public addresses denouncing Christianity. Peter Yarrow, folksinger and activist member of Peter Paul & Mary, said it all started with a folklore course known as Romp 'n Stomp. In Professor Harold Thompson's class, Yarrow sang Dust Bowl ballads and songs about freedom, slavery, and civil rights.
8. Nothing Glum or Humdrum about Rum -- It must be fate... Bacardi and Cornell, both turning 150, are joined at the hotel hip. Bacardi is prominent at the annual Hotel Ezra Cornell weekend, donating a good portion of the hard liquor mixed into the event's signature cocktails. And then there's "Dig up the Bottle of Bacardi on Slope Day." What more can I say?
9. FIRE and ICE -- The FDNY and Cornell, one renowned for its firefighters, one for its ice hockey, are politically and sesquicentennially linked. Both were sparked by fiery passion, icy tenacity and the NYS Legislature. A January 1865 act created a paid department to replace the volunteer firefighters. Close on the FDNY's heels, A.D. White championed a February 1865 bill to "establish Cornell University."
Then there's my College Scholar Program mentor, H. Peter Kahn -- an accomplished art historian, exuberant professor, printmaker, calligrapher, painter, gardener, set designer and mushroom collector -- who was also a volunteer firefighter. He died on duty in Trumansburg, New York.
And we can't forget Human Ecology nutrition major Chris Ganci, Cornell '99, who left a business career to join the FDNY after his father, Pete Ganci Jr, Chief of the FDNY, died on 9/11/01.
10. From Chimes to Rhymes
Recently I sat in the moss-green carpeted Andrew Dickson White library, remembering Ezra's 1865 words about Cornell: "..where any person can find instruction in any study..." A mere 150 years later, we are still celebrating the longevity of that incredible mission, and its significance in our daily lives.
If A.D. and Ezra could fast forward to 2015, to hear just one more chime and one more rhyme...
They'd marvel at all the alum
At the haunts that made us all hum
Fom Bud's Diner to Zinck's
As iconic as Sphinx
The parts bigger than the sum!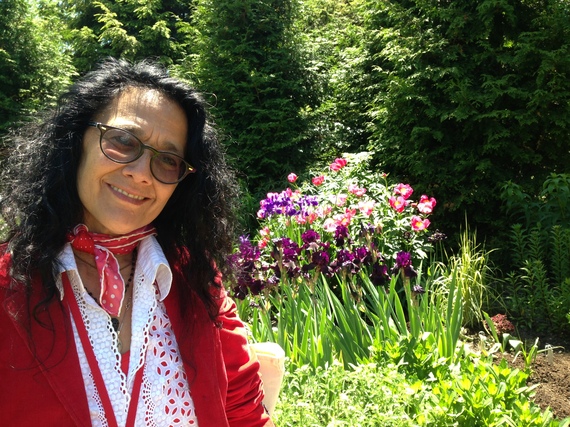 From the landmark Louie's Lunch truck
And Ken Dryden's way with the puck
The Supreme Court truth
With Bader Ginsburg, Ruth
Cornell's got pizzazz and pluck
From moguls Milstein and Tisch
To some of the smaller fish
From the Glee Club Choir
To Richard Meier
And the Statler Hotel's daily dish
Gourmet foodies like Nieporent Drew
And media babes beaucoup:
Ann Coulter, Kate Snow
Jane Lynch - what ho!
The historical rowing crew!
The Moosewood they would hail
Where we first took note of kale
And fennel and faro
And nutritious bone marrow
'twas the Organic Ithaca tale
They'd be stunned about how far
We'd come from one Bill --Maher
To another -- Bill Nye
The Science Guy
From Ithaca to Qatar
They'd blush at the grandiose realm
They'd be crushed by the poor Dutch elm
They'd love Isaac Kramnick
And Altschuler dynamnick
And salute the new Prez at the helm
The list is more than a mile
From Kurt Vonnegut to Sandy Weill
Harry Chapin's guitars
Sagan's billions of stars
Cornell simply does beguile.
From Dame's Rocket, the lush perennial
To the Dairy Bar -- oh so zen-nial
The tranquil Plantations;
All night conversations.
Amen to our sesquicentennial.
Popular in the Community