The month of March is not only the start of spring, but also Dolphin Awareness Month. Though Shedd Aquarium is located in the Great Lakes basin, we take great pride in providing dolphin awareness and education year round for our visitors. Unlike folks who live near or visit ocean beach communities, many in the Midwest never have the chance to experience the incredibleness of dolphins.
Most people think of the Atlantic Bottlenose dolphin when they hear the word dolphin. Despite being the most commonly known species of dolphin, there are actually 40 other living species of dolphins that look nothing like Bottlenose dolphins. The dolphins that reside at Shedd are Pacific white-sided dolphins. With only 16 Pacific white-sided dolphins in North American accredited facilities, the animals in Shedd's care provide a valuable glimpse into the biology and behavior of this species. For over two decades, Shedd has collaborated on research efforts with universities, government agencies and other members of the North American cooperative breeding program for Pacific white sided dolphins. Studying these animals increases our understanding of their biology, behavior, and sensitivity to environmental impacts—all of which allow us to better inform protection management strategies for those in the wild, and to provide better care for the animals at Shedd.
We have 7 Pacific white-sided dolphins at Shedd Aquarium. Over our many years caring for this species, we have seen three live calf births. Our latest calf born was Kukdlaa, who will be just one-year-old on April 18. By getting to know each animal personally over their entire lives, Shedd animal care experts are able to develop deep relationships with these animals. This level of engagement is critical for studying and monitoring milestones. Specifically for Kukdlaa, ensuring he was reaching all his healthy milestones was important for over the last year. Essentially what we refer to as 'milestones' for a calf are events or traits we look for in the immediate hours, days, weeks and months following a birth. Things like passing the fetal membranes, nursing, slipstreaming, gaining weight, taking solid fish and so on are essential. Health assessments done during this time are conducted just like a 'well baby' exam in a pediatrician's office. We measure the following: weight, length and girth. We collect some blood to be sure that all the animal's organs are functioning properly and signs that everything is developing the way it should be.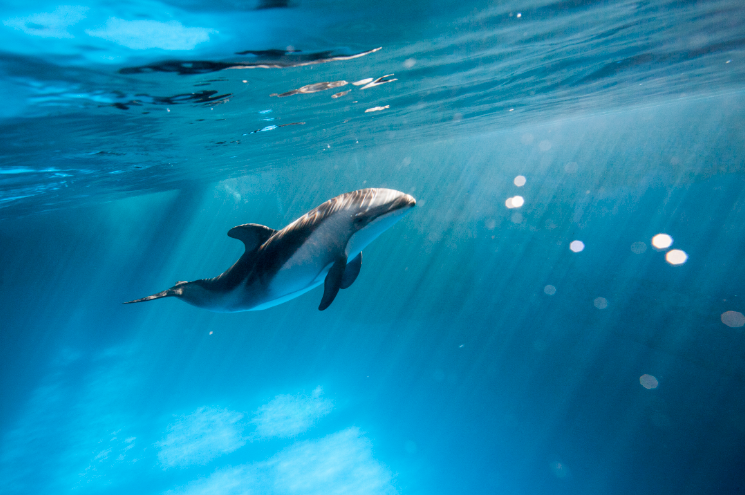 Through the knowledge we gain by having and caring for Pacific white-sided dolphins, it is our hope we can use this vital research to effectively help save dwindling marine mammal species remaining in the wild. I am forever grateful for all of the hard work done by colleagues in researching and understanding these species. Without their dedication, our successful conservation initiatives would be non-existent.
Calling all HuffPost superfans!
Sign up for membership to become a founding member and help shape HuffPost's next chapter
This post was published on the now-closed HuffPost Contributor platform. Contributors control their own work and posted freely to our site. If you need to flag this entry as abusive,
send us an email
.