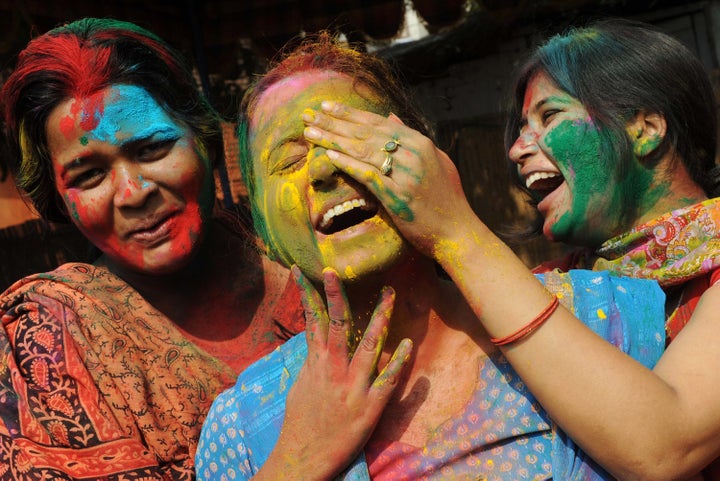 For Hindus around the world, Holi is a boisterous holy day, celebrated by playfully throwing colored powder and water on friends and family. Traditionally observed during the full moon, Holi is also known as the festival of colors, a springtime celebration of the harvest season associated with abundance and renewal. Indeed, the colors of Holi represent the blooming of love and nature, and a mirroring of desire in both the human and natural worlds.

The term "Holi" is likely derived from "Holika," the name of a demoness who was dispatched to destroy Prahlad, a great devotee of Vishnu. However, while Prahlad was saved by his faith and meditation on the divine name, Holika burned to death. To commemorate Holika's destruction through fire, many Hindus light bonfires for Holi that symbolize the victory of good over evil and the triumph of light over darkness.

Another popular Holi narrative involves the Hindu deity Krishna, often understood as an incarnation ("avatar") of Vishnu, and his amorous pastimes with his beloved consort Radha. According to the cultural traditions of the Braj region in north central India, Krishna would often tease Radha by sprinkling her with colored powder. For many Hindus, "playing" Holi each year entails reenacting this flirtatious gesture on a grand scale.

On an allegorical level, the romantic relationship between Krishna and Radha symbolizes the promise of the soul's union with the divine, and the pain that ensues from their separation. However, on a literal level, Krishna's relationship with Radha subverts normative social values and morality. Despite the fact Radha is a married older woman and Krishna has multiple romantic dalliances, their love is valorized and finds its greatest expression in Jayadeva's 12th-century Sanskrit poem, the "Gitagovinda."

Given this theological backdrop, during Holi, normative social values and gender relations are temporarily suspended as people incorporate divine examples of love and devotion into their celebrations. In India, celebrating Holi often involves name-calling, horseplay and innuendo. At is peak, Holi can be frightening and liberating, chaotic and colorful.

Historically, Holi narratives were transmitted through oral traditions, poetic mediums, passion plays, devotional songs, visual panoramas and textual sources. Since the advent of modern media, Bollywood films have become a creative source for imagining and distributing Holi stories throughout India and around the world. Perhaps the most famous Bollywood song celebrating Holi is "Rang Barse" from the classic Yash Chopra film Silsila (1981). In the film's iconic Holi scene, Amit (Amitabh Bachchan) openly reveals his hidden desire for Chandni (Rekha) in front of both of their spouses. Intoxicated by the colors and sounds of Holi, Amit is momentarily transformed into a modern day Krishna, with Chandni as his Radha, unabashedly displaying the true colors of their forbidden love.

Ultimately, Holi celebrates love and renewal in its many forms. The colors of love that animate Radha and Krishna's pastimes inspire us to blur the lines between human and divine love in search of transcendence and union. Similarly, the fire that consumes Holika empowers us to burn down the barriers that separate us from what is true and good. With the coming of spring, the festival of colors -- and all its magic, mystery and mayhem -- playfully beckons us to commune deeply and intensely with the divine and with each other.
Related
Popular in the Community