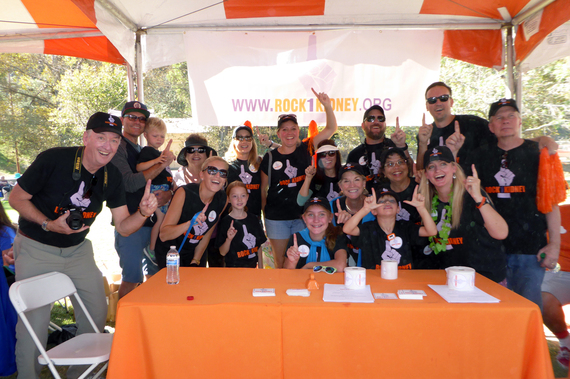 Donating my left kidney to my husband in 2012 is one of the best things I've ever done in my life. It is incredibly empowering and gratifying to save the life of the man you love and watch him regain his vitality. And being a donor hasn't hindered my life in any way -- it's only enhanced it.
One of the unexpected joys of being a kidney donor has been getting to know other kidney donors. Most donors I've met wish they had more kidneys to donate because the experience was so rewarding, and because the need is so great: 13 Americans die every day while waiting for a life-saving kidney transplant, according to the National Kidney Foundation.
So to help dispel unwarranted fear about kidney donation, I started a little nonprofit called Rock 1 Kidney that shares ways donors are "rocking one kidney" since donating. It's so inspiring to hear their stories!
For instance, when Ray was in his early 60s, he anonymously donated a kidney to a stranger "who needed it more than me." A few weeks later, he was back at work and hitting hiking trails as much as possible. Last year he even spent 30 days hiking the Camino de Santiago, an 880-km pilgrimage from the French Pyrenees across Spain. As Ray shared with Rock 1 Kidney, "Life with one kidney certainly does rock!"
There are so many more stories, and the only common thread is kidney donation. Kim donated to a stranger and was soon back on her motorcycle as a Patriot Guard Rider, a volunteer-run nonprofit organization that ensures dignity and respect at memorial services honoring fallen military heroes, first responders and honorably discharged veterans. Jose donated a kidney to a stranger who became a "great friend," and competes in races and obstacle courses as part of his active life. Rita donated a kidney to a friend and was so moved by the experience that she became a dialysis nurse to help more kidney patients.
Jennie donated a kidney to her aunt in 2005, and went on to have two healthy babies, start her own business and travel the world. British national Chris lost weight to donate a kidney to his cousin; now he hits the gym almost every day and plays "footy" 3-4 times a week with "lads half my age." Jennifer donated a kidney to her nephew -- the stay-at-home mother of six kids calls it the best decision of her life.
Doni donated to a single mom and ran a half-marathon in Seattle just 16 weeks later. Steve donated a kidney to a stranger who became like family and was soon back to work and volunteering as an EMT, lifting and carrying heavy patients with no problem, and playing on the floor with his three small grandchildren. Brenna donated to her dad and then finished her PhD, traveled to Portugal, Turkey, and Italy, moved halfway across the U.S., started a new job, got a new dog, and "would do it all again in a heartbeat!"
Dana donated a kidney to her father and pays even more attention to her health now, taking PiYo and Insanity classes, cycling, power walking and enjoying life as a wife, mom and teacher. Jeannette donated a kidney to a stranger as part of a paired exchange to save her brother's life, and enjoys skiing with her three daughters. Laura donated a kidney to her mom and now works full time, practices yoga, and volunteers with the National Kidney Foundation and California Transplant Donor Network. "I've never been happier!" she said.
And Maureen donated a kidney to her husband of 45 years -- it was incredibly special for them to celebrate their 60th wedding anniversary by returning to the altar where they'd vowed to love one another "for better or for worse." As she told Rock 1 Kidney, "Life is beautiful."
So I'd like to thank all of the kidney donors who offer hope and inspiration to the world. I wish you a very happy World Kidney Day!