If you take Seoul's J Line to the very end, you will arrive at Yongmun Station, where an increasing number of internationals are heading out on weekends. There is a white Jeep that will ferry you from the bustling subway station to Daol Art Center, a small museum nestled in a deep mountain valley surrounded by Korean pines. But the greatest treasure to be found at Daol Art Center is the workshop run by Seonmi Kim, a Korean-certified master craftswoman. Expats from across Korea make trips into the mountains to learn directly from Mrs. Kim how to make her legendary hanji paper dolls.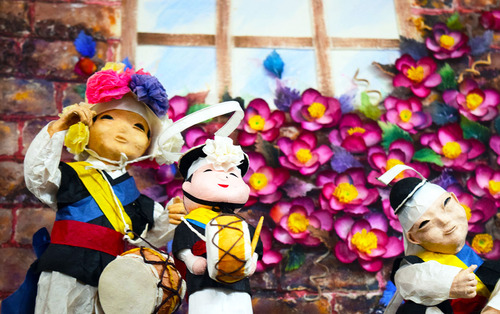 Hanji paper is made from the inner bark of the mulberry tree that grows in the mountains of Korea. It is uniquely textured and durable. The hanji paper dolls are extremely popular among those with an aesthetic appreciation of fine craftsmanship, and are increasingly recognized for their quality in the international community. These highly energetic sculptures (traditionally called dak jongi) are formed from wire and hanji paper. Most Westerners know hanji textured parchment from calligraphy, but it is also commonly used to make traditional dolls, boxes, and screen windows. Using the proper manufacturing technique, hanji paper can last 1,000 years. Western paper, in contrast, does not preserve well after 300 years. It can take as much as three to four months to complete a single hanji paper doll, and individual pieces often become part of a large set portraying the life of Goryeo Dynasty commoners, or folk dances from the Joseon Era.
This arduous manufacturing process is one reason that hanji dolls have never been produced on the same scale as Japanese kokeshi or Russian matryoshka. In 2016, they have even reached an "endangered status" within Korean cultural memory.
As factory-made, Chinese imitations flooded into souvenir shops near Gwanghwamun in downtown Seoul, the authentic dolls grew harder to find. Even the neighborhood Daiso, a dollar store chain, prominently displays plastic interpretations of the figures in their storefront windows--but none of them are domestically produced.
In the larger mansions of Korean art history, hanji paper dolls are often overlooked. Although they first appeared about fifty years ago, they were not even mentioned in Seoul Selection's Korea Essentials installment on handicrafts, which is a commonly-distributed series written to "furnish an international reader with insight and basic understanding of the arts and culture in Korea."
"We aim to counter this by selling traditional doll-making kits that are easy for laypeople to assemble," Mrs. Kim explained. "Each kit incorporates a plaster base, paper clothes, and glue." Although the directions are incredibly simple, the demand for craftsmanship is immediately apparent. Without concentration and precision, it is easy to misalign edges or oversaturate the paper with glue. Like chess, it's something that's easy to learn, but notoriously difficult to master.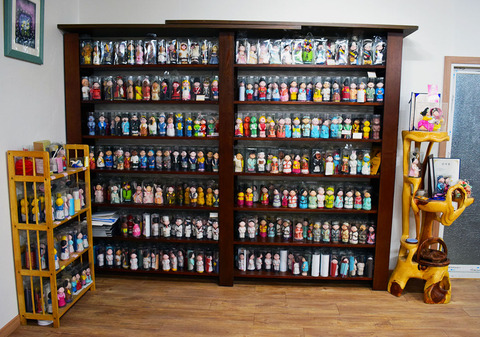 A samplling of the thousands of dolls Mrs. Kim has created using her patented and simplified method.
This is one reason why the Daol Art Center's simplified kit has sold well, having now introduced doll culture to young people around the peninsula. Mrs. Kim attributes this to the hectic pace of modern Korean life. "The balli balli ("hurry, hurry") culture isn't very conducive to hanji paper craft," she remarked. "The wire-frame dak jongi weren't suited to our fast-paced lifestyle. But the Daol Art Center kits make the art more accessible, and they protect the tradition from dying out. It also counters some of the old Korean superstitions about dolls!"
Mrs. Kim explained the superstition while working at a circular table at the center of her workshop: "Centuries ago, Koreans thought that the dolls carried bad magic. There was a traditional straw variety, in particular...people believed that those could be used as Voodoo dolls to curse enemies. So we have to counter that lingering stigma. We chose the name 'Daol' for our company because it means good luck. If you look closely, you'll notice all of our characters have chubby faces. That's because, in East Asia, a plump body is historically associated with wealth, prosperity, and good fortune. The Center helps to maintain this tradition as part of our 5,000 year old history. Education is our main objective."
While Daol Art Center is a private organization, it is not necessarily a profit-driven venture. Its contributions to the community have been repeatedly recognized by the Korean Ministry of Culture. In 2013, it even took first place at the Annual Korean Cultural Heritage Foundation's Exhibition, which brought together artisans from around South Korea compete for booth space in Incheon International Airport's Traditional Culture Center.
As a prize for their victory, Daol Art Center had the chance to sell over 5,000 doll-making kits to visitors to craft at Incheon Airport. The proceeds generated about 25 million won, which has helped the museum stay afloat financially. Ever since they closed down their Gallery at Lotte World, where foreign visitors could make a doll for 25,000 won a piece, they have been in search of a new market. They established the Yangpyeong gallery in October of 2015, and hope it will continue to attract tourists.
"My hope for the future is that we can ship hanji doll-making kits overseas," Mrs. Kim noted. "It's critically important that Korea's handicraft arts are passed down to future generations, because we want Korea's arts culture - and especially its doll culture - to be cherished, just as other countries' are."
REAL LIFE. REAL NEWS. REAL VOICES.
Help us tell more of the stories that matter from voices that too often remain unheard.