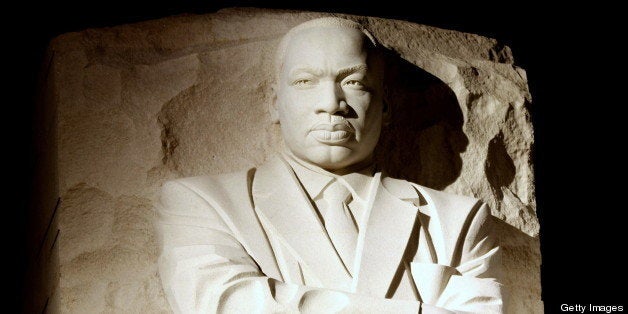 Dr. King told us that peace must not only be seen as a "distant goal," but also "a means by which we arrive at that goal." This week the possibilities for what peace can accomplish as both a goal AND a means to that goal is on full display in U.S.-Iranian relations.
Diplomacy has pried open jail cells in Iran's prisons and set five Americans free. When ten U.S. sailors inadvertently crossed into Iran's territorial waters, instead of sparking regional turmoil, U.S.-Iranian diplomacy released the sailors in less than 24 hours. Diplomacy is to thank for dramatically shrinking Iran's nuclear program to a shadow of its former size. Without a single life lost, or one drop of blood shed, what was once seemingly impossible became reality.
In short, peaceful, masterful, diplomacy did what no Tomahawk missile ever could, and the world is a safer place because of it.
This moment in history was made possible by the indefatigable work of our diplomats who refused to give up before U.S. sailors were released, U.S. prisoners were freed, and the world could be rest assured that there would be no Iranian nuclear weapon, and no war waged over this nuclear dispute.
All of that has been accomplished, and more. Implementation Day marks a new era for U.S.-Iran relations and global non-proliferation efforts.
New Era: Brought to You by People Power
This new era is a testament to the power of diplomacy and the power of participatory democracy. Without the people-powered, pro-diplomacy campaign to uphold the Iran deal in Congress this summer, we would not be here. This summer, anti-deal lobbying groups poured tens of millions of dollars in a bid to prevent this deal from being implemented at all.
To name just a token few of the pro-diplomacy organizations that pulled out all the stops to mobilize their grassroots, nation-wide constituencies to push for Implementation Day: The Friends Committee on National Legislation, the National Iranian American Council, J Street, Americans for Peace Now, Women's Action for New Directions, Just Foreign Policy, Jewish Voice for Peace, Council for a Livable World, Move On.org, CREDO, Win Without War, Peace Action, Vote Vets, Daily Kos, Pax Christi, National Council of Churches, US Conference of Catholic Bishops.
In Dr. King's legendary "Beyond Vietnam" anti-war speech, he said that "life and history give eloquent testimony to the fact that conflicts are never resolved without trustful give and take on both sides." Indeed, authentic "give and take" is at the core of Dr. King's message for how "a revolution of values" can "lay hand on the world order and say of war, "this way of settling differences is not just."
The crux of resolving the Iran nuclear dispute lies in the agreement to exchange Iran dismantling major components of its nuclear program, for the U.S. and the European Union to lift sanctions on Iran. Implementation Day officially began this process.
With that in mind, it's alarming to see escalating pressure on President Obama from both sides of the aisle in Congress to escalate non-nuclear sanctions at this delicate juncture in U.S.-Iran relations.
While sanctions imposed on Iran for terrorism or human rights reasons aren't prohibited by the Iran nuclear accord, they could block further progress in de-escalating tensions in the Persian Gulf, or complicating the release of remaining American prisoner Siamak Namazi, or tracking down FBI official Robert Levinson. To pass new sanctions at such an extraordinary moment of progress could send the message that Congress isn't interested in behavior change, and only interested in regime change.
Let's implore our lawmakers and electoral candidates to heed Dr. King's advice that conflict resolution requires trustful give and take on both sides. As we commemorate what would have been Dr. King's 87th birthday, we can celebrate what happens when world leaders take this advice, and choose peace not only as a distant goal, but also 'a means by which we arrive at that goal.'
Calling all HuffPost superfans!
Sign up for membership to become a founding member and help shape HuffPost's next chapter