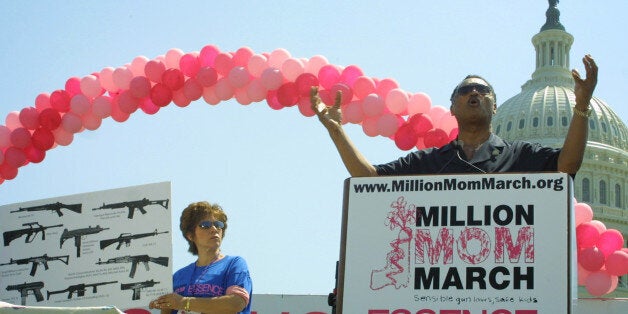 Exactly 15 years ago, I helped organize a 60-member St. Louis delegation sponsored by my synagogue, Congregation Temple Israel, attending the historic Million Mom March in Washington D.C. on Mothers Day, 2000. We were all ages -- from grade schoolers to retirees.
Many of us had spent hours the year before watching on television the aftermath of the Columbine High School mass shooting in May 1999. Again we watched in horror months later as preschoolers were led holding hands across the parking lot of the Granada Hills Jewish Community Day Care Center after another unimaginable shooting.
Every major Jewish organization and numerous synagogues across the country said "enough". Enough with senseless gun violence which was out of control in cities in every state. Losing 10 children a day in 2000 to gun violence was unacceptable.
The march, inspired by a New York mother, Donna Dees-Thomases, galvanized gun violence survivors, parents, physicians, law enforcement, clergy, celebrities and elected officials including President Bill Clinton, aiming for 10,000. However that Mothers Day, over 750,000 people from almost every state (including several countries) showed up at the Capitol, accompanied by those rallying in 70 other cities on the same day. Over 1 million people on May 14, 2000 demanded Congress do something about gun violence and at least, extend the expiring national assault weapons ban.
Caravans of busses arrived from New Orleans, Detroit and Chicago and the subway exits were mobbed. Inner city parents, emergency room physicians and Robert F. Kennedy's daughters were among those who spoke of loss. Hundreds of thousands of us were told to go back home to our states and determinedly work to pass policies to save lives.
A week before the Million Mom March, our daughter Sophie, then a first grader, wrote to Rosie O'Donnell and went on her show to talk about guns in schools. It was surreal to see our 7 year old on national television speak out more bravely than most of us. She highlighted the fear that she and other kids live with concerning gun violence.
Even more surreal, in the past 15 years the rate of gun violence has continued to explode, particularly in my own metropolitan area.
Eight children continue to be shot every day in the United States. Twenty innocent first graders and six educators were gunned down in their elementary school yet Congress turned a blind eye and did absolutely nothing. Over 100 school and university shootings have happened since that Sandy Hook tragedy on December 2012 and continue each month drawing little publicity.
In Missouri, gun deaths have outpaced automobile deaths three years in a row. St. Louis and Kansas City rank among the top 10 cities in the U. S. in gun murders. We recoiled as an anti-semitic madman opened fire last spring at the Kansas City Jewish Community Center killing four. More recently in St. Louis, two young sisters were shot and killed in a vacant lot by an unknown assailant but I guarantee most didn't hear about it. And that was just one of the shootings that occurred that particular day in my state.
Voters last August amended the Missouri constitution giving felons more gun rights, hamstringing prosecutors and allowing criminals back on the street. Our legislature debates each session how to increase firearm access, including this year expanding our "Castle Doctrine/shoot to kill" law while bills expanding background checks and removing guns from domestic abusers are completely ignored.
Most people remain numb to the daily media reports of gun deaths because either a) it takes higher numbers of fatalities to affect us or b) we've succumbed to the gun lobby influence or c) we believe it doesn't affect our neighborhoods... yet.
There is absolutely no appetite by the GOP majority party leadership in my state capital to prevent more violence. They blame lack of jobs, extreme poverty, inadequate schools while pushing "gun rights" talking points and the NRA's agenda to increase gun profit. They answer to those who insist President Obama will take away their guns although that has yet to happen.
As a mother, I felt optimistic 15 years ago that we could stop the horror of burying our children before their time. Yet today it's easy to despair that nothing will change as few in my legislature even bother to stand up to debate for those who are slaughtered by guns. I cannot accept this.
I cannot stand by and let survivors do the tireless work in order to prevent the rest of us from unimaginable pain.
That is why I work with like-minded legislators in every state through the American State Legislators for Gun Violence Prevention organization, along with mayors, police chiefs and prosecutors in my own state who believe as I do. I refuse to be silent as more mothers and fathers join that awful "club of grief".
We are responsible. We cannot allow the gun lobby to continue to flood our streets with unlimited firearms and ammunition. We can no longer stay home on election day and relinquish our voices producing obominable voter turnout. We cannot accept complacency when the actual power to save lives rests with ourselves.
I beg you to help me demand that our elected officials not be bought or silenced by the gun lobby. We cannot sacrifice any more.
I am positive on this Mother's Day that we can collectively finally make saving lives a real priority. It is long overdue.
Support HuffPost
The Stakes Have Never Been Higher
Popular in the Community