July is my father's birth month.
We'd always celebrate with a family gathering; if the weather was nice, badminton, lawn darts and a backyard barbecue were the activities du jour. If the clouds took over, plenty of conversation ensued indoors, streamers and celebratory décor looking down on our giggles and well wishes. The events always concluded with my dad eating his favorite chocolate crunch-filled ice cream cake.
It was a day filled with reminiscing, laughing and pondering the future. It was a time when we truly recognized that every day is nothing short of splendid, and that in the end, we're blessed to appreciate all life has to offer.
However, my father passed away earlier this year, five months shy of what would have been a celebration of his 64 years on Earth.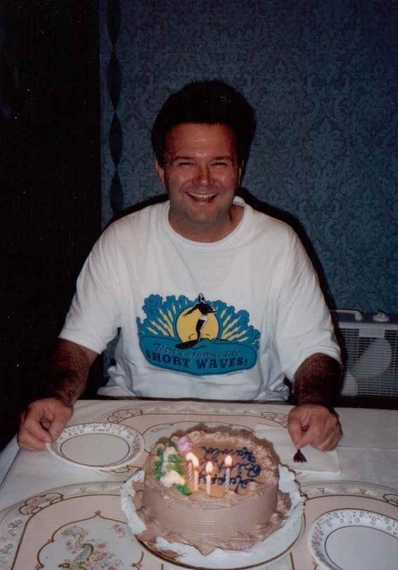 Learning to Like the "Would Have Been" Phrase
"Would have been" always struck me as a silly phrase in reference to those who passed away. People who said it were allowing themselves to wallow -- unnecessarily so -- in sadness. Noting the would-have-been age of the departed mentally prolongs a life that no longer exists, a kind of latching on to that makes the loss all the more painful. Cherishing memories and thinking of the deceased are one thing, but a continual blow-by-blow account of every birthday, anniversary and career would-have-been was hard for me to understand. I'd often cringe inside upon hearing others say their grandmother, who passed 27 years ago, "would have been 98 today." Same for headlines about celebrities who "would have turned 100 this week."
Yet as is common in situations where we hold tight to an opinion until it directly affects us -- at which point we're often open to new views and develop drastic shifts in perspective -- I quickly took a liking to the phrase after my father's death.
What's wrong, after all, in mentally bringing him back, be it looking through pictures, playing a recording of his voice or yes...recalling that July is his birth month and he would have been 64 years old. If the closest I get to having him back are moments in which I dream of him and in the beautiful memory of a Would Have Been, then in the end, I'm blessed. The day is nothing short of bittersweet splendor.
So, armed with a new appreciation for this world of Would Have Been's, I take great pride in letting everyone know that this month is my father's birth month. I reflect on what would have been, wondering what would have been said, what gifts I would have gotten him and who would have scrambled for that last piece of crunch-filled dessert.
It's our first July without him, the lawn void of darts, the grill covered.
In Death, A Celebration of Firsts
However, this first is also cause for celebration.
My father is no doubt on a journey we have yet to fully understand and I can only imagine that its awe far exceeds any game of lawn darts. In some ways, I view his departure as a birth, imagining him in a perpetual state of streamers and crunchies, if you will.
As such, I'm going to make it a point this month to not only remember the 63 year journey he had on this planet, but I'm also planning to celebrate what is now his first journey beyond the ones he had here.
As with birthdays, so it is with a loved one's death: it's a time of reminiscing, laughing and pondering the future. It's a time when we truly recognize that every day is nothing short of splendid, and in the end, we're blessed to appreciate all life has to offer.
Happy first birthday, Dad.