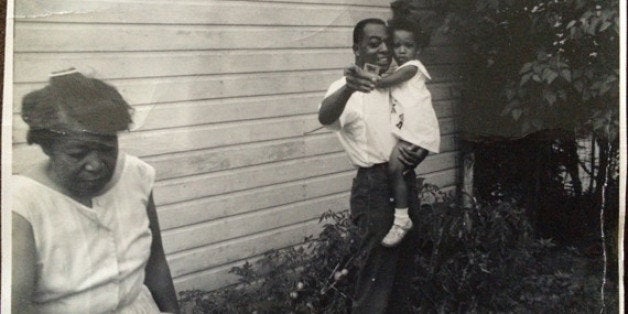 When God made Sunday afternoons, he was really doing his best work. As I sit here at my computer, at the time of this writing, I can't help but think about how beautiful this day is: the sun on its way to setting but still high enough... signaling to you that there is plenty of day left to enjoy. It's warm. The game is on in the background and the crowd is cheering the hometown team, and there is a particularly noisy bird chirping outside my open door. But, neither of these is the loudest sound in the room. That is coming from the paper calendar hanging on the wall, just loudly hovering; a sound only I can hear. Counting me down... tick, tock, tick, tock. "Shaun" it says to me. "Get ready. It is approaching... Father's Day."
My normal routine, around the Wednesday before Father's Day, is... I would call Dad and ask him what he wanted. He'd say, "Oh, baby, you are my present. You don't have to get me anything." "Yeah, yeah," and then I'd ask a couple more times and finally I would get the "Well, you know, I could use a shirt, or some towels, or some sheets." And, even though he expected only one, I would get all three. Then, I would go and buy some Father's Day cards. I would usually send Dad about 10 cards -- sentimental ones, funny ones, political ones and then some really racy ones. I'd sign them all and put them in the order that I wanted him to open them. (Sweet, beautiful ones first; racy ones last). I would then get everything gift wrapped, box it up and go to the post office and send it overnight. This meant Dad would receive the box on Thursday or Friday and open it right away even though he knew he was suppose to wait until Sunday. If the present was clothes, I could rest assured that Dad, being the sharp, too-clean dresser he was, would be wearing the outfit when he made his thank you call to me.
This year, there will be no call, no convincing him to tell me what he'd like, no running to the store to find his size, no search for close to a dozen cards to put on his mantle. After an extraordinarily valiant battle with cancer of the bile duct, Dad passed away on the night of April 30th. I won't say "lost" his battle because cancer is not, in any way, never has been and never will be, a "winner." Dad was a courageous fighter -- never wanting me or his other five children to see his struggle.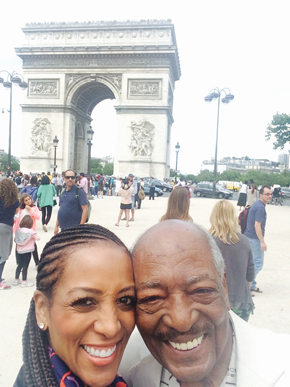 My father was an extremely young 84-years-old. Just last summer, we tore up the streets of Paris, France -- celebrating our July birthdays. He, my sister-in-law Carolyn and I walked the neighborhood of our rented apartment in the 16th Arrondissement like we actually lived there, visited the Champs-Elysees, the Arc de Triomphe, pushed through the crowds to get a picture of the Mona Lisa at the Louvre, covered the entire grounds of Chateau Versailles, were humbled by the beauty of Sacre Coeur and blushed at the naughtiness of Crazy Horse. We caught the bus, rode the train and cruised along the Seine River. Dad, the true jazz connoisseur, grooved in the Parisian jazz clubs until the wee hours of the morning and when we returned to our apartment; before retiring to bed, the three of us would go up to the upper deck and gaze at the lighted Eiffel Tower.
Five months later, I was home for the Christmas holiday. Dad, Mom and I went to dinner. I was just elated to be with my parents -- away from Hollywood. My parents were divorced when I was six-years-old, but they remained the best of friends. They lived on the same block, three blocks down from each other, and went to breakfast once a week.
During this particular dinner, I noticed that Dad got up a few times to go to the restroom -- he said it was the cheesecake he had just eaten. A few days later, he was still complaining about the cheesecake. And, two weeks later, he was complaining about the same thing. It took a lot of insisting on my part that, yes, cheesecake can wreak havoc on the stomach, but not for as long as two weeks. He went to emergency. They told him he had gastritis and sent him home with a bottle of pills. Even though I was back in LA, I was very in tune with how my Dad was feeling and I called his doctor myself and demanded that he be seen. That call began Dad's first of three hospital stays -- that "gastritis" was actually his kidneys shutting down and he was hours away from needing permanent dialysis. I flew back home immediately to Detroit -- one of many times that I would do so because I needed to be by my daddy's side to find out exactly what was going on with his health. Dad rallied, his kidney function got back to normal, but his other test results indicated something else was going on, they just didn't know what.
Test after test, exam after exam, I was there every step of the way. I had to be my dad's advocate because I knew he was the kind of man who never complained. So when the doctors would ask, "How are you doing today, Mr. Robinson?" and he would reply "Fine," I would say, "No, he's not. He's still throwing up constantly."
I will never forget the moment when the diagnosis came. Their suspicions that it was the absolute worst case scenario had been constant, but when you get the news it is still a shock. I was in my office at work and my phone started ringing. I had spoken to so many doctors that I knew the call was coming from the hospital. The moment is frozen in my mind. She said, "We got the test results back and, unfortunately, it is Stage 4 cancer." I grew up in the church -- raised Catholic. When Dad first got sick, one of the first things I did was ask everyone I knew for prayer -- every friend, every relative, every person of the cloth and 135,000 Facebook friends. I believed in the power of prayer and I believed it when I was told my father would be healed. As I held the phone and Dad's oncologist confirmed her worst fear, I looked up at the sky and said to God, "You failed me."
After that, Dad's health declined quickly. I would look at every small victory as hope that he was getting better -- he ate a little bit of applesauce, his blood pressure was normal, the infection was cleared up. While Dad was taking one step forward, I didn't allow myself to see the two steps back. With every new tube, needle, dose of medicine, my daddy was becoming less like the man who had, just months before, walked the streets of Paris saying "Bonjour" to everyone he met, even though it was 2:00 in the morning.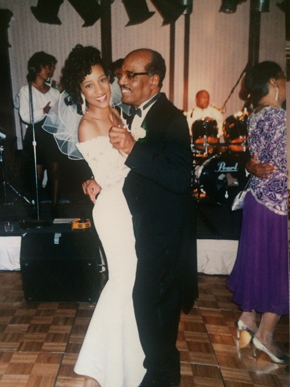 My last trip home came when the oncologist called me, as I was getting ready for work, and said my father was not going to make it through the night. I told my boss I was leaving immediately and quickly packed a suitcase that included a black dress and heels. By the time I got to the hospital, Dad was stabilized. He would be in the hospital another two weeks. I began what would become a month-long leave-of-absence from work to be right there by his side, sleeping in his room on a roll-away bed just feet from him.
When doctors would come in his room doing their rounds at 7:30 in the morning, I would be ready with my questions, right there in my scrubs that the nurses gave me for pajamas.
While in the hospital, Dad and I talked about life, as much as he could with the tube down his throat. We watched Netflix on my iPad, I played the Thelonious Monk jazz station on Pandora, I cut his toenails and we said, "I love you" many, many, many times. After doctors said there was nothing more they could do, I knew I needed to get Dad home because that is where he wanted to be. I wasn't going to let him die in the hospital. I ordered the at-home hospital bed, the bedside commode, the pads, the gloves and all other supplies. I was proud to learn how to change an IV bag.
I got Dad home on a Monday. He spoke in soft whispers because his voice was slowly going and his body was weak But when we got him in his bedroom and I said, "Dad, You're Home!," he was able to give me a high-five. Thursday night, as I was on his bed, he had very labored breathing. I held his hand and told him to rest and kept telling him I loved him. I told the CNA whom I had hired to care for him at night, that I was going to step out of the room and lay down for a few minutes because I was so tired. About 35 minutes later, I came back in the room and when I looked at the CNA, the way she looked at me, I knew. I looked at Dad and I could instantly tell he was gone. Ever the protector, he had waited until I left the room.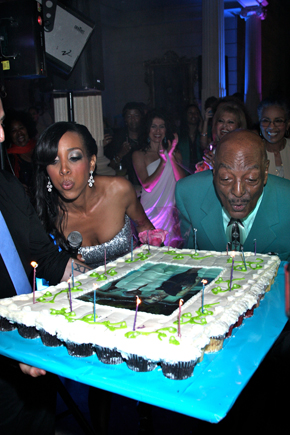 After church a few weeks ago, I was speaking to my pastor here in LA who asked me how I was doing. I told him that I was missing my daddy terribly and each moment of coping is different from the next. But, most of all, I was dreading the approaching Father's Day. I wanted to go to sleep on Saturday and wake up Monday morning with no memory of the day at all. I feared the day would bring back all the memories of the stomach problems, the hospital, the bedpans, the tubes, the extreme sadness all of my siblings and I felt on the day we laid him to rest.
My pastor then told me something that would completely change my perspective -- he gave me an "Aha Moment." He said that in all of his years of counseling people, he found that Father's Day ranked up there as one of the most painful days of the year. Not for people like me who had amazing dads that we have lost, but for those who never knew the love of a father. Those whose fathers abandoned them, who were physically or emotionally abusive, or otherwise unavailable.
He said there was a woman in our congregation who comes to church 51 Sundays a year. The one Sunday she will not step foot in church is on Father's Day. Her father is very much alive and living in the same city, only a few miles away from her, but the relationship was so very painful that it scarred her for life. "My father has been an alcoholic for most of his life and was emotionally and physically abusive to me, my sisters and mother," she told my pastor. She refuses to acknowledge a day that was created to celebrate a man who never celebrated any day that was suppose to be happy in their lives -- their birthdays, Christmas, graduation or her wedding.
He shared with me the story of a man who confessed, "There was never anyone there for me to call "daddy." For this fatherless man, the void was never filled by anyone -- not an uncle, friend or even neighbor. "I never even had a substitute daddy," he said. Father's Day for him represents absenteeism, desertion, heartlessness.
I thought about my friend who was given up for adoption when she was born. Twenty years later she was able to track down her father and, against the wishes of her friends, flew across the country to introduce herself to him, hoping, after he saw what a wonderfully kind, successful and beautiful daughter he helped bring into this world, that he would embrace her and she would finally have a father back in her life. She returned home after having a door slammed in her face, ironically telling her to "Go back to where you came from!"
I felt selfish that I had never thought about this before. I had never thought about it because when God chose my daddy, I got the complete package: loving, caring, always available, a great teacher. He was the one who made everything alright. My hero. He is the man in the black-and-white picture on my dresser, picking up my little three-year-old self and holding me close in my grandmother's backyard. He has always been there.
Amazingly, my pastor's words shifted my focus and actually made me look forward to this first Father's Day. I actually want to do something special. Maybe I will plant a tree. Maybe I will have some friends over for a party with the jazz that Dad loved. Maybe I will go visit some of the amazing fathers that I know. I know there will be tears but there will also be smiles and laughter; that's who my father was: a man who enjoyed life.
So, to all of you who have lost a father whom you have loved dearly and who showed you that love right back, I hope you can embrace Father's Day with a spirit of gratitude and courage. So, God didn't fail me at all. He gave me the greatest gift ever -- an angel to watch over me. And, this Sunday, I will celebrate him.
Calling all HuffPost superfans!
Sign up for membership to become a founding member and help shape HuffPost's next chapter