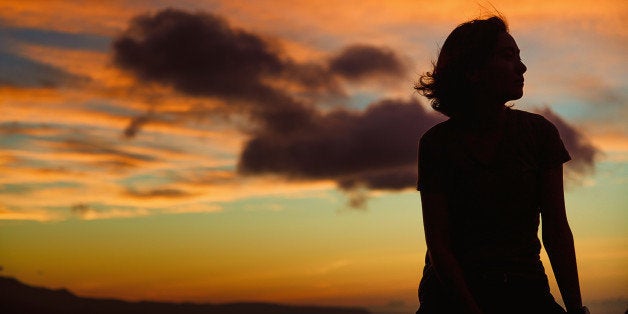 Paul Goodnight's painting Links and Lineage, in which he depicts a mother doing her daughter's hair and the daughter doing her grandmother's hair, whilst surrounded by a beautiful quilt, is a thought-provoking image of women's multi-generational lives. In his painting I see my mother, grandmother, and me surrounded by the events that have shaped our lives and our relationships with each other. I see what my mother and grandmother believed about themselves and the traditions they honored. How my emotionally silent yet incredibly courageous grandmother passed on her beliefs to my mother, and how my mother had the task of passing the beliefs she had inherited on to me. And how my mother and grandmother both lost their identity as people the moment they became mothers.
This Sunday is Mother's Day in America, and Paul Goodnight's painting is making me reflect on this tradition. I like the idea of preserving one day a year where we give thanks and gratitude to our mothers for all the care, love, and support they give. Recognizing and thanking our mothers is important! Yet, I also feel that something is missing from this tradition. As I think of the many sacrifices my mother and grandmother had to make as mothers, and how they lost their identity as women and people the moment their first child was born, my warm feelings about Mother's Day start to dwindle. I wonder if beneath the saccharine Mother's Day cards lies a troubling reality that collaborates with the disconnection between a woman's motherhood and her identity as a person, and how this disconnection is the cause of today's epidemic of mothers feeling exhausted and all-given-out.
Even though I never heard my mother and grandmother question their loss of identity as people whilst they were alive, or how their value and worth was entirely wrapped up in their role as mothers, on this Mother's Day I do not want to remember my mother and grandmother as mothers. I want to broaden my understanding of them by telling stories about who they were as women, outside of their role as mothers. And I want to honor these two powerful women by giving them flesh and bones that honors them as whole people.
I will remember the stories I heard my mother tell of how she traveled with girlfriends before she married and that she loved exploring different countries and cultures. How she once stood up against her teacher's-college professor because she felt that he had unfairly mistreated a fellow student and how that led to her being suspended until she apologized to him. My mother refused to apologize because she didn't feel that she had anything to apologize for, which meant that my grandfather stepped in to smooth things over and get my mother reinstated in teacher's college. And I will remember how creative my mother was. How she once made a float for a local parade entirely out of paper flowers and got first prize!
I will remember how my grandmother loved to sing, how she played the piano, and was a superb dressmaker. I will tell the story of how this short, quiet lady tricked the invading Japanese soldiers in Indonesia during the Second World War by hiding medicines I suspect she had stolen in her washing basket whilst Japanese soldiers marched through her house looking for them. And I will honor how my grandmother was a more knowledgeable chemist than my chemist grandfather was. How she would quietly give my grandfather the necessary information he needed so that he could dispense it as if it was his own.
I am fully aware that through telling these stories I will feel sad about how little I know about my mother and grandmother as women. I will be feeling the awful truth of how their identities were subsumed by the traditional care-giving role their generations upheld and how they were given few avenues to express who they were outside of being a mother. But I hope that through this exercise of broadening Mother's Day to include who our mothers are as people, the stories of the women who have come before us will not be lost or forgotten. I hope that through recognizing the talent and potential our mothers and grandmothers had outside of their mothering role, even though their family and generation did not allow them to realize it, we will recognize the talent and potential we have inherited from them. And I hope that by seeing our female ancestors as whole women, we will see ourselves as whole women who cannot be defined or limited by gender roles and stereotypes.
Calling all HuffPost superfans!
Sign up for membership to become a founding member and help shape HuffPost's next chapter