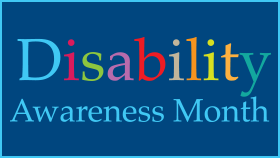 "We Are People First - Celebrating National Disability Month"
March is National Disability Month. As we take this time to recognize our co-workers, classmates, neighbors and family members who are disabled, we must accept that they want to be fully included in their communities – just like anyone else.
We want to celebrate how far we have come in such a short time, and look to a future where people are not judged by their disability. We need to reinforce the notion that those with disabilities are active participants in society. People are people first - their disability should not define them,
In 1987, President Ronald Reagan proclaimed March "Developmental Disabilities Awareness Month." This presidential proclamation called upon Americans to provide the "encouragement and opportunities" necessary for people with developmental disabilities to reach their potential. Thanks to this proclamation and to the 1990 passage of the Americans with Disabilities Act, workplace discrimination against people with disabilities is now unlawful. Those with disabilities now have access to programs that provide career planning, job coaching, and supported employment.
We are thrilled to celebrate the shift in expectations of those with disabilities. Thanks to improvements in healthcare, people with developmental disabilities are living longer, fuller lives. Passage of the Individuals with Disabilities Education Act (IDEA) in 2004 has further guaranteed early intervention, special education, and services to help transition high schoolers into adulthood. IDEA has truly opened a world of possibilities.
With all of this positive change, stereotyping of the disabled has surely decreased. But it hasn't disappeared. We are encouraged by sensitive portrayals of people with disabilities in film, literature, and onstage. Yet bullying of students with special needs remains a serious—and growing—national problem. Stereotypes continue to contribute to the high unemployment rate among people with disabilities. And we are still not free from unfortunate incidents of verbal and physical abuse, and of neglect.
Taxpayer-funded programs for people with disabilities, always under pressure, are now at risk of extinction in today's economic and political environment. Discussions at all levels of government threaten the hard work and advances made during the past 25 years. School districts across the country face shrinking budgets. Medicaid is under attack. Without Medicaid, funding will disappear for community-based residential programs and other services.
A quarter century after the creation of Developmental Disabilities Awareness Month, things have changed for the better. But we still need to fight not only for more advances but to retain the accomplishments of past years. It is a fight in which we must all engage. We cannot allow all the positive change we have fought for to unravel now.
Working together, we can reinforce the idea that disabilities can be dealt with directly and candidly. On behalf of The THRIVE Network and many organizations around the country and around the globe, we strive to show that people with disabilities are contributors to our society. We must continue to promote inclusion and awareness in order to break down social stigmas and barriers, and to open lines of communications.
Dedicating March as National Disability Month provides us with a time to reflect on our past efforts and to collectively celebrate our achievements for those with disabilities. As a nation, it is imperative that we take this opportunity to encourage and engage all citizens to continue to push for reform and increased programming. National Disability Month is a time to refocus our dedication to turning dreams into realities. We must ensure that regardless of the physical and mental challenges we live with day to day ― we are all human beings who deserve to be treated as such.
REAL LIFE. REAL NEWS. REAL VOICES.
Help us tell more of the stories that matter from voices that too often remain unheard.